India real estate sector finally seems to be getting its regulatory framework in place, albeit in fits and starts.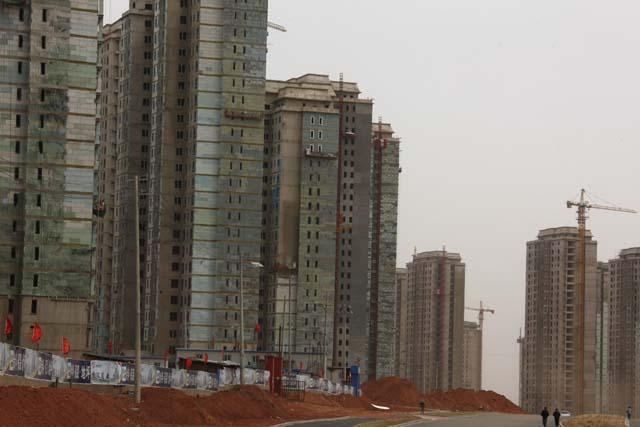 Image: The new Real Estate Bill aims to stamp out illegal practices from the housing sector. Photograph: Reuters
After chit funds, real estate was probably the last remaining frontier for cowboy entrepreneurs.
For decades, unscrupulous developers could get away with blue murder, thanks to an acute housing shortage, lack of organised resistance among buyers, avaricious political patronage and the absence of any governance frameworks and redressal mechanisms.
In recent times, judicial oversight and some high-profile orders from the Competition Commission have gradually started sending strong signals about dealing with recalcitrant builder behaviour.
And now, finally, comes the Real Estate (Regulation and Development) Bill.
This was in the works since 2007, introduced in Parliament in 2013 by the United Progressive Alliance government, and now cleared by the Cabinet on April 7, 2015.
It is worth noting that while land is a state subject, regulating contracts and transfer of property are on the concurrent list.
The Bill puts in place a sector-governance framework across four broad areas:
(i) Creation of an independent regulatory authority: This follows similar constructs in electricity, telecom, airports, insurance, capital markets, and (hopefully!) the proposed regulators for coal, rail, ports and highways.
India finally seems to be getting its regulatory framework in place, albeit in fits and starts.
Real estate regulatory authorities (RERAs) will be established in every state and be paired with real estate appellate tribunals (REATs) to consider appeals against orders of RERAs. All commercial and residential projects now need to be compulsorily registered with RERA.
(ii) Prevention of diversion of funds: This has been the bane of real estate development, where cash-strapped developers ran a chit fund like ponzi where advances from newly-announced projects were used to fund past projects.
The Bill now provides for a compulsory deposit of 50 per cent of the total amount realised from buyers into a monitorable account in a scheduled bank - to be used only for the construction of the designated project. (Critics argue that the dilution from the earlier proposed 70 per cent down to 50 per cent still allows developers to divert substantial funds.)
(iii) Mandating consumer protection measures: These safeguards were long overdue and had seen high-decibel advocacy by real-estate gurus such as Deepak Parekh. They relate to:
Specifications in a project not being altered at the free will of the promoters unless the consent of at least two-thirds of the buyers of the project has been obtained;
Preventing the promoter from accepting advance payments or application fees of more than 10 per cent of the cost without entering into a written agreement with the buyer;
Prescribing stringent penal provisions for violations that could lead to the de-registration of the project and penalties that could range between 5-10 per cent of the project cost;
Introducing the right to claim refund, with interest and compensation, in case a promoter fails to deliver.
Prohibiting the sale on the basis of super-area, by making it compulsory for promoters to advertise carpet area when selling a project.
(iv) Stopping 'flying below the radar': Only projects registered with RERA can be bought or sold.
Developers will have to mandatorily disclose all details on the regulator's website, such as layout, design, approvals from various authorities, details about brokers and so on.
A developer will not be able to market any project unless all approvals are in place. Property buyers will be able to check details about a project online.
They can also monitor the progress of construction and lodge a complaint if it is not completed on schedule.
With this goody bag for consumers do concerns also exist?
Yes, and the biggest, of course, is that a bunch of current projects could get delayed as developers adjust in the short to medium term to the discipline of earmarking designated funds for specific projects. Also, waiting for all approvals to fall into place is likely to stretch the working-capital cycle.
Prices may adjust upwards as carefully camouflaged 'super-area' quotes stand exposed against the harsh glare of 'carpet-area' pricing.
The 'developer' crowd does not sound overtly happy. They feel the new regulatory provisions obsessively target them only while other concerned authorities are not even addressed.
Specifically, they would like states to set-up a single-window clearance system for some 50 project-related approvals.
Authorities also need to commit that all infrastructural linkages will be provided, for which external development charges are paid to local authorities.
The issuance of completion and occupation certificates from authorities should also be brought under regulatory supervision as these, along with other permissions, are areas well-known for rent-seeking behaviour.
Overall, the Bill does indeed create confidence in the market for real estate. It sets the stage for ushering in many more credible domestic corporates and also gives comfort to foreign investors.
It may also result in better access to bank funding with enhanced overall credibility of the sector.
All this is expected to take around a year as this Bill awaits approval by Parliament after which the regulator comes into being and settles down to its task.
Vinayak Chatterjee is the Chairman of Feedback Infra. vinayak.chatterjee@feedbackinfra.com;