As he gets ready to relinquish charge, Rohit Nandan tells Anjuli Bhargava he's happy he could do his bit.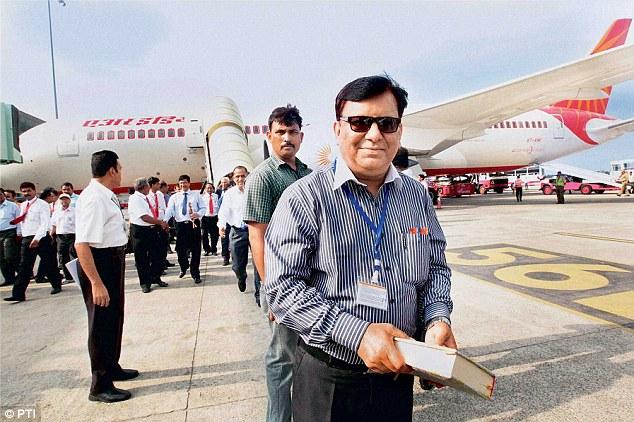 We finally manage to meet one day before his term ends. Rohit Nandan, 58, has been at the helm of national carrier Air India since 2011 — longer than many others did — and I have been chasing him for a lunch with Business Standard since May this year.
He gives me almost no warning (we speak at half past one and he wants me at the venue at 5 pm), refuses to heed my suggestion (of meeting at United Coffee House) and calls me to Airlines House for tea.
I warn him he will have to arrange something for tea since I have to write about it.
By the time I reach, he has forgotten about the impending tea — and me too, by the looks of it. But I am ushered in more or less on time.
He's still awaiting final orders from the government but he is likely to be around for another month before his successor Ashwani Lohani takes charge. Nandan and I have met only once before and that too, recently, yet he is totally at ease.
It had struck me last time as well. He is remarkably calm and composed for someone at the head of what must be one of the most chaotic public sector assignments.
Maybe it's his composure that has earned him this long stint — a stint he never really wanted as I had heard soon after he took charge.
To get his side of the story, I ask how he found himself in this job and do people actually willingly take up chairmanship of Air India?
Did he, in 2011? Well, he didn't really. As a joint secretary in the civil aviation ministry at the time, he was asked whether he would be willing and he was reluctant.
Things in Air India at the time looked even less attractive than they do today. Losses were high and mounting, salaries were not being paid and unrest was almost at a peak.
The benefits of the merger with Indian Airlines were few and far between; its problems loomed large. He initially resisted but agreed to take it for three months till someone else was found for the job.
Orders were quickly issued, which explicitly stated that he was taking charge against his wishes.
"At that time it was quite a frightening situation. There had just been a strike, finances were not looking too good, fuel bills were unpaid… not a tempting job."
Moreover, he had no experience of running a company and says he felt quite "unequal" to the job. "I was quite apprehensive about my own abilities too," he adds.
But life has its own ways of teaching you and he slowly slipped into the rhythm. And looking back today, he thinks he has managed to achieve some things although there is a long way to go.
Finances do look better. When he took charge the airline was making a Rs 1,800-crore loss over variable cost.
It discontinued flights, restructured routes, improved planning and tried to sell harder.
The airline made a small cash profit of Rs 6 crore in 2013-14 on international operations.
He's also happy with the entry into Star Alliance.
Eleven days before he joined, Air India's application for membership of the alliance was suspended.
It became a bit of a bug for him and he went after it with a missionary zeal. But perhaps the biggest thing that has helped matters is the lack of unrest.
There's been remarkable peace in an airline usually fraught with trouble.
After the wide body strike (in 2011) and the dismissal of 13 employees, including pilots — unique in aviation history in a way — things quietened down. For the last 38 months, not a single man-day has been lost.
The implementation of the Dharmadhikari committee report, which has placed pilots of wide and narrow bodies on par, has also helped. The merger that happened had largely been an unhappy affair, especially for the employees.
Employees of the erstwhile Air India and erstwhile Indian Airlines were always at each others' throats, claiming that one side was being favoured at the other's expense.
The pay parity that the report achieved has brought the quibbling to a minimum.
"Of course, you will still find those who crib, but at a macro level the hostility is greatly reduced."
Is it really so hunky-dory, the sceptical journalist in me asks. Is there something he didn't manage quite so well? He's self-effacing enough to admit that a lot remains to be done — although what he mentions doesn't strike me as the gravest of problems.
Monetisation of Air India properties simply hasn't happened. Procedures in India for this kind of sale are intimidating and progress has been largely tardy.
The state of the real estate market hasn't helped either. On-time performance — he wanted to reach a higher target — remains a regret.
"But when I compare with network airlines all over the world, it is not as bad as it sounds," he says, like it's a consolation prize.
I am determined he drinks tea so I interrupt to ask what happened to it: although he asked for it when we started, it is yet to show up.
Late, like Air India's flights, I think. It finally appears and is a frugal affair — tea for him and cold water for me since I don't drink tea.
No biscuits, no snacks, no nuts… we appear to have saved some of the taxpayer's money.
The conversation moves to the present and I ask whether he really thinks bureaucrats are the right kind of people to run an airline? He doesn't think it matters.
"What do you need to run an airline? You need to be a good manager and have strong common sense. Also, see the number of private airlines in India — or the world, for that matter — that have shut shop over the years. Were they all run by bureaucrats?"
Running an airline is not an easy business is his main contention. What about government ownership? Isn't the bureaucratic and political interference too severe?
Are we all imagining things? Ownership is not an easy question to answer.
He thinks that depends on what the aim is. If the idea is just to run a profitable company, private ownership could be the answer.
If you want the airline to meet social objectives and perform certain tasks, ownership may have to vest in the government.
"This is a larger call. India is an emerging, evolving country with its own unique structure and social commitments. My answer to this is, you must decide what you want and proceed accordingly."
So when will this airline make money? More important, will it ever make money? He says there's no reason why it can't.
Anyone who owns a company has to invest in it. Air India, to his mind, suffered the most due to a lack of equity infusion.
Now that this has changed — the government has already put in Rs 20,000 crore — he thinks there's hope.
"How can you have such a small capital base with a turnover of Rs 25,000 crore? It won't work."
He says it worked in the early days because there was a monopoly. But when people saw brand new sparkling planes, they started migrating.
"Why wouldn't they?" What interests him other than airplanes and airports?
Do chief executive officers (CEO) of airlines really have a life outside of it? I know from my interactions with CEOs over the years that it is an intense and addictive job.
I also find out that Nandan does the regular stuff: watching movies, reading, listening to music and travelling interest him as and when he can find a free moment.
For the time being he's done with Air India and Delhi — the city, he says, has been daunting for him — and is looking forward to heading back to his own state and home, Allahabad, the place where he intends to hang up his boots.
Photograph: PTI