A collaborative approach can yield better results in reforming labour laws that can be implemented in the whole country, instead of different states following different norms in their own jurisdictions.
That approach could also help the governments convince the trade unions to see merit in these reforms, says A K Bhattacharya.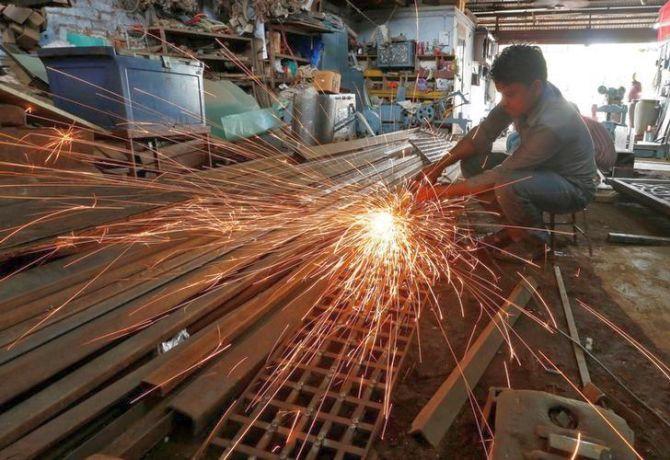 Labour reforms appear to be in the air.
Governments at the Centre as also in the states are busy undertaking all kinds of labour reforms. But there are crucial differences in the way the Centre and the states are approaching this idea.
For instance, just a few days ago, the government of Jammu and Kashmir announced its plans to push ahead with labour law reforms.
In its Budget for 2018-19, the state government declared that it would soon finalise a uniform employment code.
The proposed code will subsume in itself all its existing 260 different labour laws.
It is of course a different matter that merely converting all these laws into a single labour code may not necessarily yield the desired outcomes of flexibility in hiring and firing of employees, decent wages with improved work conditions and an attractive compensation package for retrenched workers.
For realising those goals, you need specific changes in labour laws, not just unification of several existing laws into one code.
Ideally, those changes should ensure that employers should be as free to hire workers when they need them for a project as to lay them off when they don't need them or when the project gets over.
And laying them off should entail a reasonable cost for the employers so that any such decision is taken only after considerable thought.
Such retrenchment, therefore, should be always accompanied with a decent amount of compensation for the affected employees.
It is not yet clear if the unified employment code of the Jammu and Kashmir government will incorporate these elements.
And even if they do, you still may not be sure if the changes will immediately result in a tangible improvement in its investment climate.
Consider what happened to states like Rajasthan, Madhya Pradesh and Maharashtra, which have reformed some of their labour laws in the last couple of years.
But these are yet to make a visible impact on the labour market or the investment climate in these states.
Rajasthan even permitted retrenchment of workers without government permission for enterprises employing below 300 persons instead of the earlier limit of 100 employees.
But the value of investment proposals received by each of these three states in the last two years has seen no significant uptick, growing at a pace even slower than that in the entire country.
Indeed, the value of investment intentions in Rajasthan fell in 2016, compared to that in the previous year, and Madhya Pradesh saw a similar trend in 2017.
However, it will be wrong to use these investment intentions data to conclude that labour law reforms are not needed to improve the investment climate in the country.
This is because labour law reforms alone can't improve investment flows.
There are many other equally important factors that help boost investments.
These include the availability of skilled labour, robust infrastructure and a growing market for goods and services.
What is also ignored is that a reformed labour market can attract more investment flows only after a time lag.
Moreover, the enforcement of the relaxed labour laws and the degree of administrative efficiency play a crucial role in ensuring that these reforms yield the desired results.
So, it is possible that investment flows in these three states could improve in the coming years after a time lag and particularly after the implementation machinery of the state becomes more efficient.
And Maharashtra might do better than Rajasthan or Madhya Pradesh because of its better infrastructure or availability of skilled manpower.
It is important to note here that while some states are going forward with labour law reforms, the Union government has chosen a slightly different path.
Initially, soon after the Narendra Modi government was formed in May 2014, it had plans to formulate four labour codes - one each on industrial relations, wages, social security and industrial welfare.
These codes were to subsume in themselves all the existing 46 labour laws.
This proposal, however, has not made much headway.
Also on the back burner is the plan to allow retrenchment without government permission in enterprises with employees below 500.
Instead, the Modi government has introduced a far more fundamental change in the regulatory framework for workers without going through the long-winded and tortuous path of getting Parliament to amend the law.
A draft notification to allow fixed-term employment in all sectors of the economy has already been issued and it is expected to be notified on February 8 if no objections are received.
Such fixed-term employment can be offered, provided all such employees are given wages similar to those for permanent workers and that they remain entitled to all statutory dues of permanent workers.
Of course, the scope for exploiting the fixed-term employees is thus limited, but the Centre has through this change ushered in an exit policy for labour.
And all this without getting the law changed.
Another move is afoot to amend the contract employment rules to allow contractual workers perform core functions of an enterprise.
This, too, will introduce a major flexibility in the country's labour market.
These developments raise two concerns.
One, the idea of the states and the Centre implementing labour law reforms in their separate ways following different methods may not secure optimum results for the economy.
Two, an obvious attempt to bypass Parliament to change rules governing the labour market is not a sustainable strategy. It can even be counterproductive in the long run.
It would be better for the Centre and the states to sit together and agree on a set of reforms that are necessary for labour laws in a model that was followed for the rollout of the Goods and Services Tax (GST).
A collaborative approach can yield better results in reforming labour laws that can be implemented in the whole country, instead of different states following different norms in their own jurisdictions.
That approach could also help the governments convince the trade unions to see merit in these reforms.
Photograph: Amit Dave/Reuters