The high drama of startups speed-dating with angel investors is hard to match, but will India get a new economy at the end of it?, asks Rahul Jacob.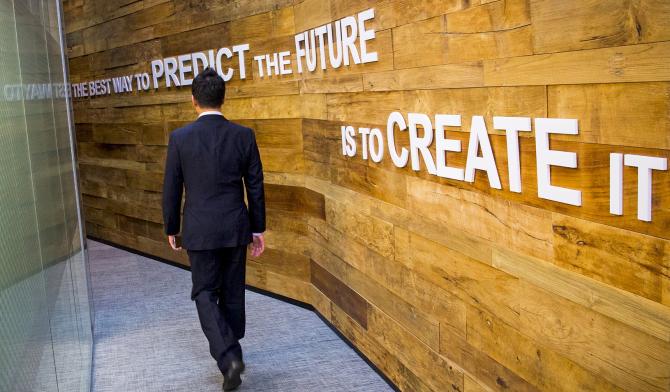 Image: India is witnessing a boom of startups of late, will these upcoming firm redefine Indian economy?, experts doubt. Photograph: Reuters
In the world of startups, quick five-minute presentations on stage before a panel of angel investors are often referred to as "shark-tank investing."
Startup founders, who often look about half the age of the panelists, have minutes to make their pitch before being peppered with questions.
"It's like T20 cricket, but it's a five-over event," says K Ganesh, the Bangalore-based investor who says this form of shotgun evaluation works for such early stage investing because for business plans without a balance sheet and a track record much of the future is unknowable.
"Even if I spend two months researching an investment, more analysis is not necessarily correlated with success. Anyone who says otherwise is smoking (something)," he says.
And yet neither the instant cricket metaphor nor the shark-tank one quite capture what these events are like.
The free flow of ideas and searching questions between panelists acting as mentors and youngsters on stage are nothing like the made-for-television gladiatorial contests that tycoons like Donald Trump presided over in decade-old shows like The Apprentice. Those were crushing for participants.
These, by contrast, are energising and inspiring, more love-fests than shark tanks. A recent article in The Economist likened the bubbling of ideas and innovations in Silicon Valley to Florence in the Renaissance.
It is an overstatement in the South Asian context, but one that captures that heady excitement of this environment of speed-dating well.
Rajan Anandan, managing director of Google
This summer, Venture Engine, a competition started by Rajan Anandan, the managing director of Google India and Southeast Asia who is Sri Lankan, hosted its annual event for startups in Colombo.
Anandan, a prolific angel investor in India and Sri Lanka with his own money, had founded an investing arm, Blue Ocean Ventures, in 2012 with a friend, Prajeeth Balasubramaniam.
They sought to give venture capital a foundation in Sri Lanka, whose economy had been pounded by 30 years of civil war.
Anandan recounts that for the first 12 months, nothing happened. The competition has since caught the fancy of the local media, entrepreneurs and investors.
Unusually, the Venture Engine event this year began by looking back at businesses that had won earlier contests.
Their progress reports provided a snapshot of how far these businesses had come in a year or two. Anandan apologised for keeping everyone "in a windowless room in one of the most beautiful islands in the world", but then added, "Focus and attention is what startups are all about."
The event was at the Ozo hotel in Colombo, which, like the Galle Face hotel, is so close to the Indian Ocean that it seems like a vertical ocean liner about to set sail.
One of the first to speak was a diminutive woman named Charitha Abeyratne who has started an eco-tourism business called Saraii that turns the logic and the maths of contemporary hotels on its head.
Saraii creates rooms that cost 15% of the typical going rate, using, for instance, platform beds from old railway sleepers disposed of by the government.
Abeyratne had raised 12 million Sri Lankan rupees in an initial round of funding in 2013 and was looking to raise 100 million Sri Lankan rupees.
At 60% occupancy, Saraii was breaking even, largely because its costs are so low. From the sidelines, Anandan and Balasubramaniam alternately sounded like proud parents and business professors. Anandan explained Saraii's capital efficiency with a reference to the famously unprofitable luxury chain founded by Adrian Zecha and previously owned by DLF.
"It's an economical Aman, an Aman that's profitable," he said.
The soft-spoken Abeyratne argued that large five-star hotels were running out of ideas: "Some of these hotels send us guests for a bike tour (Saraii does this for its guests). How much does it take to curate a bike ride?"
Next up was Takas, which launched three years ago off a power point presentation and is essentially a Sri Lankan Flipkart — with important advantages.
Per capita incomes in Sri Lanka are higher, distances are less and 4G dongles are available about as easily as water out of a tap; the mobile internet speeds in Colombo made the Indian digital highway seem a pot-holed joke by contrast.
Top sellers for Takas are mobile phones, TVs and hard drives, but even Timberland shoes priced at $150 have sold well. Average order value is $143 — "which is very, very high," interjected Anandan, predicting Takas would be profitable in a couple of years.
Among the other presenters was a very innovative infotech company Omak which, through a product called Reztguru, provided a reservations and feedback interface with diners and profiled their eating habits but also somehow doubled as a back-office restaurant management system.
The company had just debuted in Indonesia as well.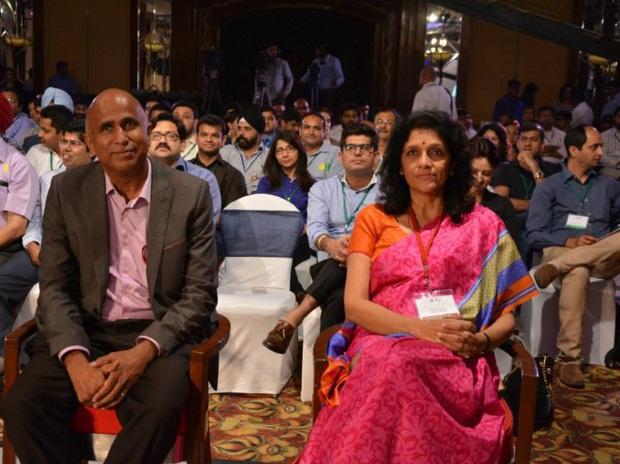 Meena and K Ganesh
This interim report on businesses that had a track record of a couple of years completely overshadowed the afternoon's presentations by new companies seeking funding. Anandan later described that gap as quite natural. "A year is a life-time for a startup," he says.
The winner at Venture Engine 2015 was a made-to-measure men's shirts company called Stripes & Checks, which plans to use fine Italian cotton and webcam technology to snare customers far from Sri Lanka.
One of the judges on the panel — a distinguished group including Padmaja Ruparel of Indian Angel Network, Frankie Fang from Beijing's LGT Investment Consulting and Sandeep Reddy of Peepul Capital — had lost his bags en route from New York. Stripes & Checks tailored a shirt for him in a matter of hours.
It was a neat trick, but their plans to master the alleys and nooks and crannies of "the $2 billion Indian custom tailoring market" seemed naïve, given how little men pay for tailored shirts in India, which paradoxically cost much less than readymade shirts, let alone Stripes & Checks' $135 prices for Italian cotton shirts.
Events like Lanka Engine and TiE the Knot, also sponsored this summer in New Delhi by The Indus Entrepreneurs (TiE), — and indeed so much of e-commerce as represented by Flipkart and Housing.com — is as much about the suspension of disbelief as about hard-nosed expectations of future profitability.
Gross merchandise value is not something someone trained in generally accepted accounting principles would accept. But, angel investors, by definition, are not accountants.
"It is almost like gambling," quips K Ganesh, who with his wife, Meena, has very profitably sold an education business to Pearson, the UK-headquartered education company, and has since funded businesses like BigBasket.com and runs Portea Medical. He has a point: hitting the jackpot is so so lucrative and the entry costs relatively low.
The value of angel investments tracked by Innoven Capital increased by 81% to Rs 70 crore in fiscal 2015. "With startups, I only need to be right one in a hundred times," he says.
In contests such as the one hosted by TiE in a garish ballroom at the Sheraton in south Delhi, "the risk is an investor is taking a decision under pressure. There is a fear of missing out," says Ganesh.
This might explain why decisions are made so quickly. The husband and wife team behind a popular wedding events portal called Wed Me Good had just finished their presentation at the TiE event.
The manically energetic moderator, Raman Roy, who headed General Electric's BPO arm before starting and selling businesses of his own, had shouted like an auctioneer, "Rs 3 crore for a 15% stake."
Scarcely minutes later, the couple from XLRI Jamshedpur and Delhi School of Economics had offers for the money they had asked for.
It was a slick presentation, good on the long game (the Indian wedding industry is estimated to be worth $40 billion) and the small arresting detail; a recent hit innovation was whistles placed at every table at a sangeet to express appreciation for the song and dance numbers.
The content is mostly generated by enthusiastic users, eager to share their wedding photos and advice and relive the event that way.
Questions were raised about how scaleable the revenue model of charging suppliers of tents, hotels, and mehndi specialists a listing fee was, a concern shared by Ganesh who elected not to invest in the firm after initially expressing an interest. The confidence of the couple on the stage was unshakeable, however.
"We are not flexible on valuation," said Wed Me Good's Anand Shahani.
"We are already bigger than Bride Story (a similar wedding events portal in Indonesia)."
It was left to Meena Ganesh, dressed in a spectacular Day Glo pink and orange silk saree and one of the judges that afternoon, to raise a concern so profound that it sounded like an indictment. In a tradition-bound country where people still mostly leave the choice of partner to their parents, how independent were couples likely to be in choosing wedding photographers and venues?
"Yes, weddings are big business, but you are really going after a small section in urban areas," said Meena Ganesh. "Most people (in India) do what their parents tell them."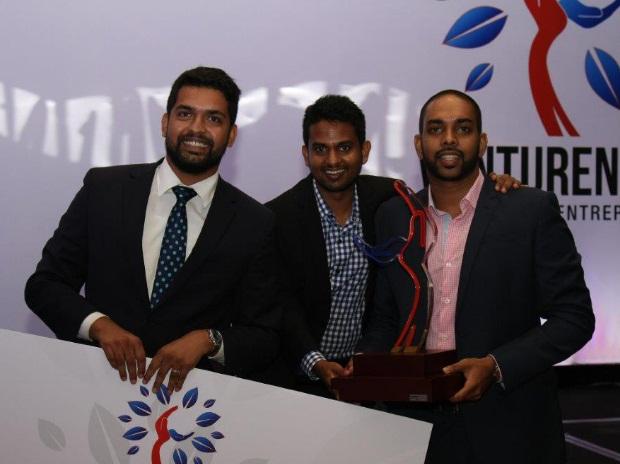 (Left to right) Udara Rathnayake, Kalana Jayasuriya and Gajan Vinothan of Stripes & Checks.
Shahani was unfazed: "It's a huge market. No one has been able to disrupt it. We are off to a great start. Let's build the leader in the $40 billion wedding market!"
It wasn't much of a rebuttal, but it worked. Also on stage that day were two geeky youngsters with even more outsized ambitions that took one's breath away.
Their search engine Arya was pitched as a more sophisticated Google.
One of the slots for that afternoon fell free because the firm selected had received funding before they even appeared on stage.
So the organisers announced during the session that they would give two minutes each to five new contestants. As the audience is usually entrepreneurs waiting like Cinderella to meet their life-changing angel-investing prince, about 30 entries immediately came in.
"Two of the wild cards also got funded," says Roy, sounding awestruck weeks after the event.
"When we started, we used to beg angel investors and entrepreneurs to attend. Today, there is a pitch happening every weekend at events organised by the Indian Angel Network."
For all the excitement events like these generate and for all the good ideas that are on offer, the hunt for unicorns — businesses valued on paper at more than $1 billion — in India is getting tougher with every month.
For every company like Oravel Stays, which owns OYO Rooms that raised $100 million recently, there are increasingly persistent questions about the viability of, say, the countless hyperlocal online grocery chains — about 25 at last count. Can so many get rich so fast competing with rock bottom prices to sell cereals, lentils and brinjal?
A former finance professional who has just founded a startup explains why all the excitement in Indian business is now about startups.
(Even the venerable Ratan Tata has been reincarnated as a poster-boy angel investor, his very mixed investment record heading the Tatas a distant memory.) The former finance professional's reasoning is unsettling, even troubling.
"It's so difficult to build an offline business in India, so difficult to get the permissions to actually build and start a hotel," he says.
The corollary to this strange predicament is that many Indian startups essentially "concentrate on eking out efficiencies, not creating new opportunities." Startups in India broadly have the mindset of private equity firms in developed economies who in essence are trying to work, say, steel and auto plants harder rather than build new ones. Most of the action, he says, is among aggregators of business (retail groceries, for instance, and taxis) rather than in new businesses.
India's poor record on job creation risks being perpetuated. The distressingly overladen delivery men for Flipkart and Snapdeal are numerous and polite, but it is hard to view these jobs as a new dawn for the Indian economy in the way that business process outsourcing and call centres were a couple of decades ago. In addition, the obsession with money-raising has handicapped innovation, says Sharad Sharma of ISPIRT.
"The Valley celebrates a David vs Goliath mindset," Sharma told a conference on entrepreneurship. "Today, in India we are redefining entrepreneurship as 'We will win because we have money'. We have contaminated our thinking to believe 'Money wins markets'."
Startups that grow into large businesses such as Uber and Ola have, in fact, created thousands of new jobs, drawing people into the taxi driving profession who were earning much less doing other jobs as well as aggregating fleet taxi drivers who were under-utilised and underpaid.
But, this is still not job creation on the order of the garment industry in Bangladesh, the assembly of iPhones in China or BPOs in India.
Valuations for startups may be stratospheric, their job creation potential unproven when set against the oft-repeated 12 million entering the job market every year, but there is a great deal of energy and churning in the economy as a result of this flow of new ideas connecting with capital in a more seamless way than ever before.
In a country with India's rigid social and corporate hierarchies and a bureaucratic modus operandi, the channels of communication between seasoned investors and fresh out of college entrepreneurs can only be a good thing. Every week, says Roy, someone who knows someone who knows him "will email me to say, 'Raman Uncle, mil lo.'"
Once he's invested, Roy reports in a manner that suggests he loves it, most entrepreneurs will call and say, "'I need to see you at 3 pm.' They think it's their right."
Priyanka Gill, founder of a women's fashion website called Popxo.com that is one of Anandan's 60 investments in Indian startups, credits him with getting her to move to India from London and concentrate on scaling up the business..
Earlier this year, the site passed 2 million unique visitors a month. For investors with as many investments and responsibilities as Ganesh and Anandan, finding the time to mentor involves a phenomenal juggling act.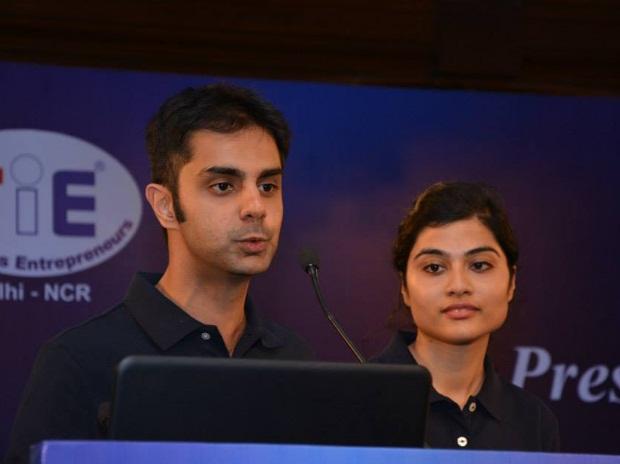 Anand and Mehak Shahani of Wed Me Good
At a dinner at a friend's home in New Delhi, I bump into Anandan's wife, Radhika Chopra, and ask her how her husband makes time to manage his diverse investing portfolio and his demanding day job as head of Google for the region, pushing for more regional language content on India's internet.
"Look at him; he's exhausted," exclaims Chopra, who has a startup of her own named after the house she grew up in in Lutyens Delhi. Anandan laughs out loud when he hears his wife's assessment, but says he doesn't get that actively involved.
"I help on demand. If a founder sends me an email, I will call them during the day. Even in ten minutes, you can say, 'That's a good idea. Let's do it.'"
Once you start working with creative youngsters who promise the next big thing, it becomes an addiction.
Roy is reminiscing about an American boss who mentored him at American Express decades ago before abruptly switching tracks to rue the overabundance of information technology startups and their paucity in manufacturing. "I met this guy who can turn garbage (plastic) into fuel."
"He has put his life savings into it. He has this dream," recounts Roy, his face lighting up as he talks about his latest investment. "I have no idea if it works."