Subrata Roy of the Sahara group is back to square one after his plan to leverage trophy assets abroad falls through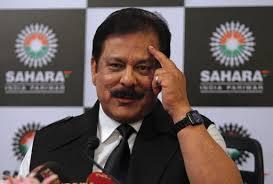 For Subrata Roy, the jailed chief of the Sahara group, 2015 had begun on an optimistic note.
The Supreme Court had more or less cleared his group's plans to raise funds by mortgaging hotel assets in London and New York.
It was a win-win situation for Roy because it looked like he could come out on bail without actually losing control of his crown jewels: Grosvenor House in London and Plaza and Dream Town in New York.
A month and a half later, it seems Roy is back to square one.
And Miami-based Mirach Capital Group, which was first seen as a white knight for offering the sweet deal of a junior loan with the already mortgaged hotel assets as collateral, has turned the villain.
Sahara has said it has initiated legal action against the entity and its Oman-born Indian-American promoter, Saransh Sharma, for alleged cheating and forgery.
An unfazed Sharma has called Sahara's charges frivolous and has claimed right of first refusal for the hotels.
Sahara had bought the three hotels in 2010-2012 for $1.5 billion.
It owes $900 million to Bank of China against this property. Last year, independent experts had valued these assets at $1.72 billion.
Roy is in jail since March last year for not complying with a Supreme Court order to refund over Rs 24,029 crore (Rs 240.29 billion) to 29.6 million debenture holders of Sahara India Real Estate Corporation and Sahara Housing Investment Corp.
He needs to submit Rs 5,000 crore (Rs 50 billion) in cash and another Rs 5,000 crore (Rs 50 billion) in bank guarantee to secure bail.
The group has so far deposited Rs 3,800 crore (Rs 38 billion) and has given about Rs 1,800 crore (Rs 18 billion) in post-dated cheques -- the sale consideration for some domestic properties.
The money raised from the three overseas hotels was to help the group in securing the bank guarantee part of the bail.
Sharma and a lady officer were in the Supreme Court on January 9 when the court gave its go ahead for $1.05 billion (over Rs 6,200 crore) raised by Mirach to be given to Sahara.
So was Sahara's corporate finance head, Sandeep Wadhwa. However, the court put the condition that for this money to be brought into India, Sahara had to take the permission of the Reserve Bank of India as the Securities & Exchange Board of India, or Sebi, and the amicus curiae had raised concerns about possible violations of the Foreign Exchange Management Act .
During the day, Sahara lawyer S Ganesh had presented a letter from Bank of America , which showed $1.05 billion in the accounts of Mirach earmarked for the deal.
The letter said the money would be available till February 20.
Based on this letter, the Sahara lawyers also got the negotiation facilities in a conference room within the Tihar prison complex where Roy is lodged. Everything was in place.
All that was left was for Sahara to get the RBI nod and sign on the dotted line.
Fresh revelations
Then, in the first week of February, Reuters put out a report in which a BofA spokesperson said the bank was not involved in the transaction at all.
Allegations of fraud and forgery began to fly thick and fast. Sahara says independent checks it conducted suggested that the letter produced to the Supreme Court was indeed forged.
In an email response to queries, a Sahara spokesperson says the deal was broken due to "Mirach's criminal conduct and lack of financial capabilities to honour" such huge commitments.
The spokesperson says the agreement required Mirach to take over the Bank of China loan ($900 million), provide a junior loan of $650 million to Sahara against the three hotels, and invest $400 million in Indian Hospitality Company.
Sahara then asked Mirach to provide proof of funds, for carrying out its commitments.
According to the spokesperson, Mirach agreed to provide a letter from BofA covering the above amount.
"Mirach vide its email dated January 5 asked Sahara to approve the draft letter attached with this email, so that BofA may issue a letter certifying that $1.05 billion was parked in the bank account of Mirach for these transaction," the spokesperson adds.
Sahara approved the contents of the draft letter, whereafter Mirach demanded $2.625 million as compensation for blocking the funds.
"After receiving this retention/ blocking fee, Mirach vide its email dated January 7 sent a letter on the letterhead of BofA, certifying that Mirach had $1.05 billion in its bank account and the said fund was blocked on instructions of Mirach till February 20 for the aforesaid transaction," the spokesperson says.
Sahara claims that Sharma, his CFO and another lady officer met the counsel for Sebi and amicus curiae and assured that they have enough funds for carrying out the transaction.
But, Sahara received a shocker when the branch manager of BofA, "namely Mr Nunos, informed through his email dated January 31 that the said letter purportedly issued by him was neither done by him nor signed by him."
Sahara then sent an officer to the US to confirm the veracity of the BofA letter who confirmed that the letter was indeed forged. On February 2, Sahara "filed an affidavit in the Supreme Court informing it of these disturbing developments."
Sahara claims that it then confronted Sharma "who has not been able to confirm the veracity of the BofA letter." Sharma told Business Standard that the mail came directly from the bank to Sahara and "a simple metadata test can confirm this." He cited differences over valuation as the reason for the deal breaking down.
"Historically, Sahara has demanded a premium and unrealistic valuations for the offshore hotels.
For example, Roy believes these properties are worth $3 billion, miles away from reality as the Plaza loses money under mismanagement, and Grosvenor House is supporting the other properties.
Our group, along with previous interested investors, has persistently made several direct, fair offers since our entrance into this transaction. Our recent offer of a $2.05-billion package, through loan or sale, has gone unanswered," he said.
For its part, Sahara says the due diligence was done by foreign lawyers and it would not have paid the $2.6-million fee to Mirach if it had any doubt about its credentials.
Court documents reviewed by Business Standard show that while choosing Mirach, Sahara had turned down attractive offers from marquee names such as M&G Real Estate, an arm of British financial giant Prudential, Land Securities, Oakdene Finance and Madison Capital.
Business Standard wrote to the representatives of these institutions, asking if they would be open to talk to the Sahara group again.
While an M&G Real Estate spokesperson said she wouldn't want to comment, an agent for Land Securities said: "This is a matter of confidentiality between myself and retained clients."
Representatives of Madison Capital and Oakdene did not respond.
While the amicus curiae demanded that an independent agency be appointed to supervise the money raising process, Sahara is confident that it can convince the court of other avenues.
On Tuesday, the group moved the Supreme Court seeking an extension of six weeks for skype facilities granted to it within the Tihar complex.
Roy would be hoping that his men don't get it wrong this time.
Image: Sahara chief Subrata Roy