ONGC is a pioneer in India in the field of exploration and production of oil and gas. But once these areas were thrown open to the private sector, it chose to concede the leadership position to the private players, says AK Bhattacharya.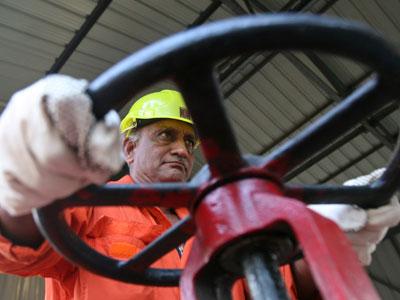 Over the last several years, public sector undertakings or PSUs have been known for playing second fiddle to the private sector.
Worse, PSU managements have remained largely passive players in most businesses where they operate.
They have conceded leadership to the relatively new private sector players, as has happened in civil aviation and telecommunications in the last two decades.
There are, of course, exceptions in some areas, but they only confirm the broad trend. One exception that has come to light in recent months in a very unusual way is in the energy sector.
The country's largest public sector oil and gas producer, Oil and Natural Gas Corporation or ONGC, is a pioneer in India in the field of exploration and production of oil and gas.
But once these areas were thrown open to the private sector, ONGC chose to concede the leadership position to the private players.
It showed neither a penchant for taking on the private sector or a desire to launch an aggressive plan to protect its share in the business.
Used to operating in a sector that was for long a public sector monopoly, it continued to live with its complacency and lack of business enterprise even after the private sector was allowed to enter.
Its response to competition was not very encouraging.
It retained its importance as a significant player in the sector, but its growth suffered.
You could blame the Union government and its policies for the relative decline of ONGC; but the public sector mindset was no less responsible for its relative decline.
For instance, it delayed initiating production work in the offshore blocks it had acquired in the Krishna-Godavari basin off the Andhra Pradesh coast.
That was puzzling because in its adjacent blocks was India's private sector giant, Reliance Industries Limited or RIL, drilling and producing gas in volumes that were large enough to raise that venture's valuations and even secure new equity partners giving it attractive returns.
Why didn't ONGC start drilling and producing gas from its blocks?
Those were the days prior to the current downturn in the prices of crude oil and gas. Nothing stopped it from doing that.
With economic growth picking up, the demand for oil and gas was rising rapidly and India's dependence on imports was rising at an alarming rate.
There were no convincing answers to this apparent inaction. Yet, sometime last year, the top ONGC management woke up all of a sudden.
Even as the production from the RIL blocks began coming down quite remarkably, the ONGC board started wondering if some of the gas belonging to its blocks had migrated to those owned by RIL and was contributing to the latter's gas production.
This is also where ONGC began departing from its earlier lackadaisical approach to preserving and promoting its own business interests.
How ONGC woke up to the flowing out of its gas to the blocks owned by RIL is a fascinating story.
Sometime in July 2013, according to reports, ONGC's top management had an inkling of what might be happening and wrote to the regulator, the Directorate General of Hydrocarbons or DGH, informing it that the company had a suspicion that gas belonging to its blocks could be flowing out to those adjoining them and owned by RIL.
Several months went by, but nothing much happened till March 2014 when ONGC's newly appointed chairman and managing director, D K Sarraf, decided to inform the company's board of these developments. It was a rare occurrence. Those who believe that independent directors do not act at board meetings must be pleasantly surprised.
Two independent directors on ONGC's board opined that the company must take all necessary steps to stop the flow of its assets to somebody else's blocks.
Even more revealing was the stance adopted by Giridhar Aramane, who was then joint secretary in the petroleum and natural gas ministry and representing the government on the board of ONGC.
Mr Aramane asked ONGC to initiate legal action and even make the government a party to the dispute.
The then petroleum and natural gas secretary, Saurabh Chandra's concurrence was obtained and a case in the Delhi High Court against RIL was indeed filed in May 2014.
A year and a half later, the experts' body that was appointed to examine if ONGC's gas flowed to the blocks owned by RIL has come out with its findings. If these are anything to go by, gas worth about Rs 11,000 crore has indeed flowed out from ONGC's blocks.
The Delhi High Court had directed that the government must come out with an action plan within six months of the experts' body submitting its reports. How the government wishes to compensate ONGC for its losses will be keenly watched. Will it mean that ONGC will have to be at least compensated for the profit it lost as a result of the volume of gas that flowed to RIL's blocks?
Or will the government come out with some other remedy?
For now, however, India's energy sector is busy debating what could have resulted in ONGC's assertion of its rights.
That its gas may have been flowing out was known to its management for quite some time. So why was action contemplated only after the new chairman was appointed?
Or has the timing of the petition something to do with the political situation that prevailed at that time?
Remember that general elections were held in May 2014 and the petition too was filed the same month.
The United Progressive Alliance government had turned lame duck by April 2014. There was also then a possibility of a change in government after the elections.
Was ONGC emboldened to initiate action because of the prevailing political environment? And did the civil servants also press for such an action plan for the same reasons?