Anjuli Bhargava, who, as a rule, does not trust god-men, and has little respect for Ramdev, admits that Patanjali products are not only cheap, but are indeed very good.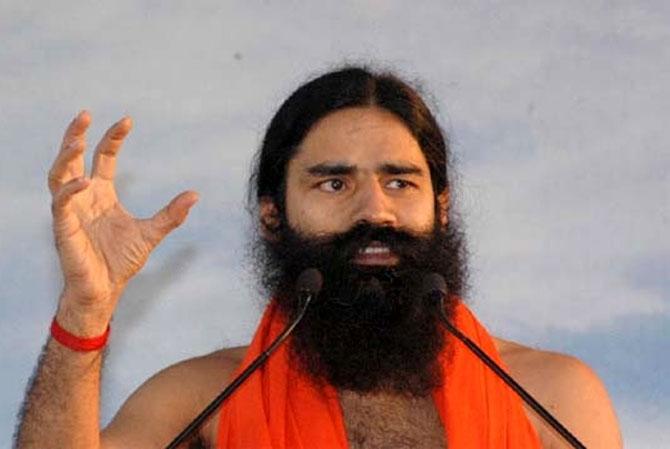 Wild horses wouldn't drag me there was my first response when my friend suggested we head for the Patanjali store, placed awkwardly in the midst of a particularly traffic-congested and honking-infested stretch on the Mehrauli-Gurgaon Road in south-west Delhi.
While I had been hearing rave reviews of the products, I, like many others, found it hard to take the word of a man not exactly known for his product development skills.
As a rule, I don't trust god-men and would stay as far away as possible. So I told my friend that the man fails to inspire confidence in me and I wouldn't trust anything he sold - no matter who says what.
I am partly bullied and partly embarrassed into accompanying my friend (with her telling me I was too snooty). Detecting a hint of truth in what she says, I succumb while meekly registering my protest.
On entering the store, my reservations double. No, triple. It was dark, dingy, crammed with stuff on shelves with no apparent sense of order.
Tiny sounds make me look down every few seconds because I expect a rat to be nibbling at my toes. You have to peer to read labels - lighting is not a strong point of the Baba. I think to myself that Delhi's ruling party members would enjoy shopping here - the store has such an 'aam aadmi' feel.
There is a scruffy, young shop assistant who looked like he didn't quite know why he was there. "Nothing better to do... so selling stuff at the Patanjali store..." was his expression throughout.
Ask him a question and he'd point indifferently in some direction. If you were smart enough you found what you'd asked for. A world away from, say, a Spencer's with gleaming shelves in neatly arranged sections where you have to work hard to avoid bumping into the alarming army of eager shop assistants.
With my friend's prodding and the praise of various people ringing in my ears, I gingerly pick up two bottles of shampoo, a packet of cow's ghee and a few other small items and hand it all to a man in a crisp white kurta-pyjama with chandan on his forehead at the cash counter - who looks like he should be conducting a 'havan' instead.
When he states my bill amount, I urge him to reconsider, convinced he has failed to charge for half the items. He hasn't.
The ghee runs out faster than I thought and a house guest takes both the shampoo bottles from my house (she has no time to go and buy), so I return a bit embarrassed second time to the store.
I had no plans of returning - I had come under duress to start with. But I know the chances of bumping into someone - my friend who roped me in included - were abysmally, or rather reassuringly, low.
Unlike a Spencer's where all shoppers look focused and aloof, here I see other shoppers looking at each other and the stuff tentatively. People shop but with each other's support.
A young man sees me confidently pick up two packs of shampoo (he can tell I don't look like the Patanjali store-type), so he hesitantly asks me if they are good and then decides to buy both, shyly adding that he will take them for his wife.
A young plump woman is arguing with the shop assistant since she refuses to leave without the atta that they appear to have run out of. She tells me a bit angrily that it is excellent and one of the reasons why she was here. She buys several packets of muri - Rs 10 packs of puffed rice that she says have got her off "all this junk like Lays and other unhealthy stuff".
She leaves with a kilo of basmati rice, so I too buy one packet to try. She - as if to return the favour - buys the handwash, shampoo and aloe vera gel I had picked up.
The shop assistant incidentally has changed - he looks roughly the same as the last guy but this one is far more driven. Sensing my hesitation, he pushes a pickle, hair oil and a few other small things I am unsure I need into my unwilling arms - there are no trolleys to wheel here and certainly no space to wheel them around. My bill again appears much smaller than it should.
On my fifth visit (so far done five), I bump into someone I know. That's when I realise the Patanjali threat - which I have been reading columns and articles about in the newspapers of late - is real. Despite the Baba.
Photograph: PTI