The sad part is that it is corporate war that is exposing the chink within the system.

Subodh Kant Sahay, a cabinet minister writes a letter to the Prime Minister on February 5, 2008 stating, "I would like to bring to your kind notice that M/s SKS Ispat and Power Limited (SKS) have applied for two coal blocks for their steel plants in the State of Chattisgarh and Jharkhand. A brief note in this regard is enclosed. I shall be grateful for your personal intervention in this matter."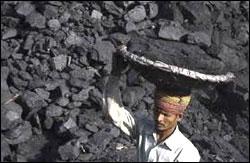 The "personal intervention" is almost instantaneous. Next day, on February 6, the Prime Minister's Office (PMO) sent a "most immediate" note signed by a director, Ashish Gupta, to the coal secretary stating "please find enclosed for action as appropriate a copy of a letter submitted to the Prime Minister by Subodh Kant Sahay, Union Minister of State for Food Processing Industry (Independent charge), along with a note regarding allotment of two coal blocks to M/S SKS Ispat and Power Limited for their steel plants."
As if on cue, the screening committee does the needful by issuing the letter of allotment on the very same day i.e. February 6, 2008.
Nothing wrong, I guess, in ministers and MPs writing letters seeking intervention of PM especially when it involves huge sums of investments into their home states. But what is stunning is that the brother of Subodh Kant Sahay happens to be in the Board of SKS and was reportedly present in the Screening Committee meeting of February 6, 2008 when this matter was discussed.  
As usual the Minister denied it at first, then diffused and finally stonewalled any further questioning by the media.
Then came Kapil Sibal. To a pointed question on these issues in a popular TV Chat show Sibal replied a "petition on these facts was filed in the Delhi high court by Prakash Industries Ltd, (PIL)" and added triumphantly "And the judgment has been rendered that these facts are false, and the high court has imposed a penalty of Rs 250,000 on the petitioner."
Surely, Sibal the Minister was referring to Para 61 of the Judgement of a Single Judge Bench of the Delhi high court in PIL Vs Union of India which dismissed the petition with "costs of Rs 250,000".
What Sibal the lawyer failed to reveal is that a division bench of Delhi HC had on July 20, 2010 directed "that there shall be stay of realisation of costs as directed by the learned single Judge in paragraph 61 of the order impugned."
In short, Sibal the politician is doing what he does best, misleading the nation.
Confusion compounded
Now that the core of the Sibal's argument stands demolished, let us explore the Order of the Delhi HC and its relevance to the discussion on hand.  According to Para 40 of the Judgement the "entire thrust of PIL's argument has been that it was arm-twisted into signing a JVA with Respondent No. 4."
And yes Respondent No. 4 happens to be SKS Ispat and Power Limited - the very company in which the brother of Subodh Kant Sahay happens to be a Director. And why did PIL go to court and what was its dispute with SKS? Let me elaborate.
According to PIL, it applied for Coal Blocks in Fatehpur, Chhattisgarh on January 12, 2007 for setting up a power plant of 625 MW. Simultaneously, SKS too applied for the same block stating it was seeking to set up a power plant of 1100 MW. However on January 24, 2007 it entered into an MOU with the Chhattisgarh Government for setting up a 600 MW power plant. 
At the core of the dispute is how much coal is to be allocated to SKS from the said coal block and shared with PIL. The petitioner, PIL, contended that it must be only for 600 MW as it is the basis on which SKS entered into an MOU with the state Government and forms the basis of recommendation by the State Government to the coal ministry and not 1000 MW for which the ministry actually allotted coal.
The crucial question now is whether coal for a 1000 MW power plant was allotted to SKS subsequent to the letter from the minister or prior to it, as claimed by the minister.
According to the Extract of the Minutes of the 47th Appraisal Committee held in Delhi on 23 and 24th April 2012 "It was informed that Fatehpur Coal Block was allocated jointly to M/s SKS Ispat & Power Ltd (SKSIPL) and M/s Prakash Industries Ltd (PIL), vide letter dated 06.02.2008 by Ministry of Coal."
That clearly settles the matter that coal was not only allotted but allotted in a favourable ratio of 62 per cent for SKS and 38 per cent for PIL on February 6, 2008 and not 50-50 as it probably hoped. How much was the influence of the minister in getting this done is anybody's guess.
But there is another twist in the tale. It was argued in the Delhi HC by counsel for the Minister that the "recommendation was not for the allocation of coal blocks for the power project of SKS in Chhattisgarh but for it steel plant in Jharkand." [Para 37 of the HC Order]. Steel? Jharkand? Surprises never cease, do they?
But if indeed it were so, why should SKS enter into an MOU with the Chhattisgarh Government for setting up a power plant? How could coal be allotted on the recommendation of Chhattisgarh government for a steel plant in a neighbouring state viz., Jharkand? Where is the recommendation from the Jharkand Government seeking coal allotment or for that matter an MoU? 
If coal were already allotted prior to February 2008, why should the brother of a minister be in an official government meeting in which he has no business? Why should the minister be writing to the PM for allotting coal to a company which has already been allotted coal? Crucially, how many letters has the minister written for coal allocations for such projects in his home state of Jharkand?
More questions
That is not all. To buttress his arguments the counsel for the Minister argued that "The letter written on February 5, 2008 was considered by the 36th Screening Committee which was considering allocation of coal blocks for non-power sectors." The implication is that allotment for power plant of SKS in Chattisgarh could not have been possibly done on that day, being reserved for allotment for non-power blocks.
It is pertinent to note that the decision to jointly allocate the Fatehpur coal block to both PIL and SKS had already been taken by the Screening Committee at the meeting held on September 13, 2007 subject to the condition that both parties form a JV Company. This was done in the last week of January 2008 and once intimated to the coal ministry, the final allotment letter was issued in the first week of February 2008 when the screening committee met once again.
This is a simple truth that no one wants to explain.
It may not be out of place to mention that there is no other allotment to SKS in non-power sectors, either in Chhattisgarh or in Jharkand, in February 2008 or for that matter subsequently. That implies that the letter of the minister was only for ensuring a favourable allotment ratio and not allotment per se. 
What is indeed galling is that SKS had alleged that PIL has already been declared a willful defaulter in a list prepared by the Reserve Bank of India (RBI) during the court proceedings. [Para 33] Further, it also pointed out that PIL had statutory and contractual over dues of Rs 40,533 lakh and contended that PIL can "never raise the required resources in view of their past track record and financial position of the company." [ Para 34]
If that were a contention of a senior counsel in a Court of law the moot point is how the government can allot coal to a "wilful defaulter."
Remember it is with this "wilful defaulter" SKS entered into an MOU in January 2008 and got its share of coal allotted. PIL for its part is no saint either. It entered into an MoU with SKS and as an afterthought, protested.
Whatever be it the fact of the matter is that the mess is far too complicated and the stench overwhelming! If the explanation of the minister was brazen, the defence offered by his colleague Kapil Sibal was atrocious.
Nevertheless all these have put one of the several coal block allotment to intense public and media scrutiny. The sad part is that it is corporate war that is exposing the chink within the system. If only PIL had not gone to the court and accepted lower coal allotment, the letter written by a Union Minister would not have become a focal point in Coal-Gate.
Thank Lord for small mercies for only God knows how many ministers, how many companies and how many letters have influenced Coal-Gate. For starters can the ministers answer some of the questions raised here?  
---
The author is a Chennai-based Chartered Accountant. He can be contacted at mrv@mrv.net.in