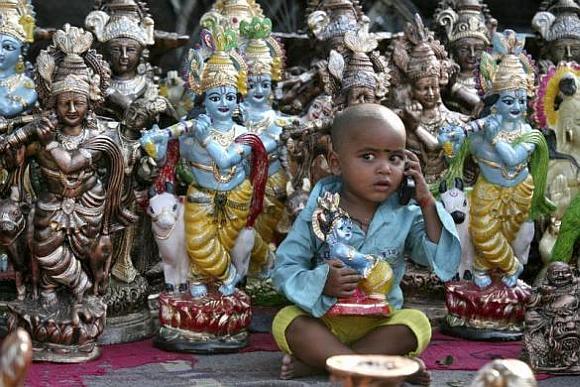 Trai, in its directive, said that service providers would have to pay consumers for all dropped calls: Re 1 per call, subject to a maximum of Rs 3 a day.
Justice Rohinton Fali Nariman, while striking down the Telecom Regulatory Authority of India's decision asking service providers to compensate subscribers for dropped calls, called it 'arbitrary, ultra vires, unreasonable and not transparent'.
These words pretty much sum up Trai's knee-jerk reaction to the problem that had become a hot political issue last year.
True, Trai cannot be faulted for its intent: as the regulator, it should indeed worry about the quality of telecom services.
But in its eagerness to be seen as strict on service providers, it overlooked some basic factors.
The first factor Trai overlooked is that the licence conditions allow up to two per cent of calls to be dropped.
But Trai, in its directive, said that service providers would have to pay consumers for all dropped calls: Re 1 per call, subject to a maximum of Rs 3 a day.
This was a violation of the licence conditions and the Supreme Court rightly saw through it.
The second is that there exists no mechanism in the world to tell a dropped call from voluntary disconnection.
The Trai penalty was open to abuse.
It would be perfectly possible for a rogue customer to disconnect a call and then claim compensation.
What also contributed to the problem of dropped calls was spectrum migration. The first lot of spectrum was issued for 20 years, after which service providers had to buy it afresh.
Many bought spectrum in a different frequency subsequently.
This led to customers migrating from one band to another, causing unavoidable technical glitches. It takes up to a year to sort this out. Trai jumped the gun in imposing the penalty.
The dropped-call penalty would have raised the cost of doing business for the service providers.
Not only would they have to pay compensation, they would also have to set up call centres to handle compensation claims and maintain an army of lawyers and technical experts to sift through the claims. Naturally, service providers are now relieved.
This case was being eagerly watched by other sectors as well which were worried that they could be penalised for faulty service delivery, even if that is partly caused by circumstances beyond their control.
The lesson to be learnt by regulators as well as the government is that the quality of any service can improve only when the right inputs are available -- a penalty cannot always solve the problem.
For instance, penalising the airline need not necessarily address the issue of flight delays; instead, the problem of flight delays could be addressed more effectively by improving the airport infrastructure.
Similarly, the issue of clogged telecom networks can be addressed through additional spectrum.
Here, the regular auction of airwaves, coupled with the nod to spectrum sharing and trading, has helped matters. It has also helped that the central government has been exhorting its offices across the country to host telecom towers.
Homeowners are reluctant to rent out their terraces to such towers because they fear the radiation they emit can be harmful to their health; this has impacted service quality.
One of the justifications for the penalty was that the service providers had under-invested in equipment and the penalty would bring them to book.
But with number portability, and the existence of over half a dozen brands, any service provider that cuts corners and offers poor service is bound to lose customers.
In case the service providers collude with fellow service providers to maintain similar levels of service, the matter should be addressed by the Competition Commission.
The penalty was never the right solution.
Image: Prem (3), the son of an idol vendor, plays with a mobile phone in front of the idols of Hindu god Krishna. Photographs: Ajay Verma/Reuters