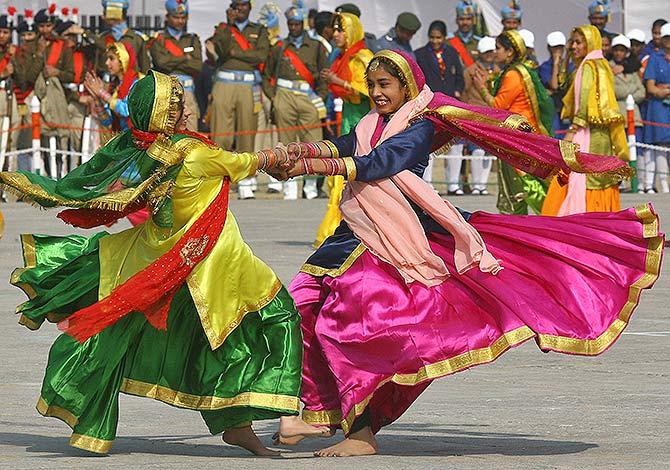 Image: Dancers perform in Chandigarh. Photograph: Ajay Verma/Reuters
Parthasarathi Shome's take on 2016 through a looking glass
A United Airlines BusinessFirst toilet bag brought in by a recent visitor amazingly lists the country of origin of every part of that little manufactured item: bag, socks, comb, eye mask, toothbrush, dental pick, tissue, earplugs, pen, mint, pouch, and lip balm made in China, toothpaste made in Thailand, B4 hand sanitizer made in USA, Chamomile towelette and Cow Pat hand cream made in England and packaged in China.
Five star hotels, cars and their interiors, electronic music systems and even compacted music are known to be built of assembled parts and materials from across the world.
Obviously so are the minutest items.
Thus, first, given the predominance of China on the list, who can confidently predict that China will be overtaken; rather, even with its slide, China should remain on top of trading nations and continue to deliver commensurate economic benefits to its citizenry.
India, by contrast, has just had one of the worst quarters in export earnings.
A big year for state and local elections, 2016 will provide interesting applications of game theoretic strategy models while any role of ideology in the separation of political parties and their splinters recedes further.
Thus, second, rising costs of Indian democracy will be in economic terms: direct financial cost of elections and non-functioning of parliament pre- and post- last parliamentary elections, the opportunity cost manifested in time lost in productive activity undermining the demographic dividend and capital investment, and decidedly arresting the likelihood of getting into that United Airlines source list. 'Make in India' will need concerted effort, well beyond prevailing signals.
Moving on from trade, monetary policy is likely to continue being merely exogenous rather than structurally sound or anchored.
One reason is the nature of components of measured inflation and a second is the long wait for robust modelling.
Thus, third, the outcome will continue to be risk in taking investment decisions and a tough call for savers to select appropriate savings instruments with adverse impact on economic growth.
Fourth, trumpeting over improved ease of doing business ignores a glaring component that taxation related hurdles are perceived to have remained the same.
The Income Tax Board has been issuing taxpayer supportive directives to field officers as never before.
This is a commendable break from the past. Why then taxpayers by and large have been making similar complaints as before remains a question.
The Board has to give incisive attention to this issue through taxpayer surveys so that meaningful conclusions could be drawn and appropriate action taken beyond circulars.
Fifth, while on taxation, the GST should be addressed. Remarkably, its structure has essentially not remained a taxpayer or tax administration concern.
It has entered the political arena in a big way, begging the question whether it behooves professional assessment. Nevertheless, the chief economic advisor's committee has made seemingly independent recommendations.
The centre and states may ignore them though I hope I am wrong.
If the CEA's recommendations are acceded to by political factions and levels of government, India may yet have an initially acceptable, though far from perfect, GST. Otherwise it would not assist economic growth or be globally recognised.
Sixth, regarding local governance, in an unexpected turn of events, Kolkata is turning out to be one of the cleaner cities and perhaps the cleanest metropolitan city.
This magic has been wrought through installation and management of public toilets, garbage compactors after collection, disinfecting drains, cleaning up lakes, rejuvenating parks and constructing attractive walkways, completing flyovers and clearing away leftover concrete and rubble under them.
By contrast, and contrary to anticipation, Bengaluru suffers deterioration.
The collapsed condition of its roads has been rendered proverbial by the media. Excruciating impact on one's constitution is unavoidable while traversing them.
On top, heaps of garbage at street corners, parks and ponds comprise a perennial sight.
Where did the surveyors who recently declared it as the cleanest city go, to arrive at their conclusion? Varanasi too, by all counts, has remained as before despite the initiation of PM's Swatchh Bharat campaign at Assi Ghat.
There is little indication that compatriots are ready to embrace public cleanliness or social consciousness.
Seventh, cities are suffering from unsustainable levels of pollution, Delhi being the most polluted city. India just signed a global agreement on climate change that promises to limit temperature escalation.
This is positive but it will hardly protect the average Indian's quality of life from free fall.
The Delhi government's odd-even license plate policy may seem draconian but the Supreme Court has reassuringly endorsed this swashbuckling step. More cities should follow it and more metro systems initiated.
Banning new diesel vehicles should be supported.
Eighth, endorsement by United Nations General Assembly of India's inclusion in the Security Council is a significant step though its success can be assessed only when the Security Council accepts it, a burdensome obstacle to overcome.
By the same token, India's role in the G20 nations was enhanced through active participation and contribution in OECD's formulation of recommendations to minimise tax avoidance by multinationals globally. Enhancement of that role in 2016 has to be forged.
In addition, India has waited in the wings for an IMF quota increase while China has been fully successful just as with Security Council membership. Palpable IMF quota increase needs to be pushed forward.
Ninth, poverty reduction cannot be disassociated from non-performing loans by banks to big business while farmers end their lives, the former said to fuel the wheels of democracy.
Without conscious recognition of this tripartite link and resolve to reset it, poverty is bound to remain the most convenient and used political agenda item. 2016 does not promise change.
Tenth, safety and security in the country have crumbled.
It is immaterial whether it is wrought with abominable communication from the information super highway or inexplicable wrath of one community against another.
Greater public resource allocation is crucial. 2016 may turn out to be a watershed for how all levels of government are perceived in containing it.