Certainly, the economy is more stable than before — inflation is down, fiscal and current account deficits stand reduced, and forex reserves have gone up, says TN Ninan.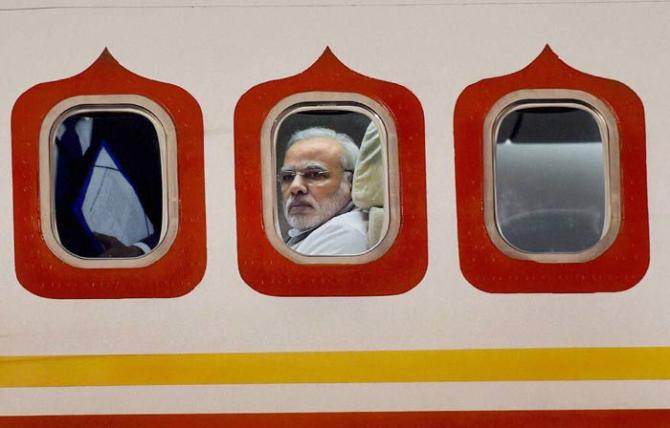 Narendra Modi on his special aircraft as he arrives at Brasilia International Airport in Brazil. Photograph: PTI
Addressing a rally in Mumbai's Shivaji Park a year ago, Prime Minister Narendra Modi was incensed that he was being asked for an account of his first six months in office, by people who (he said) had ruled the country for 60 years.
Now, after 18 months in office, Mr Modi has started giving detailed accounts of his record — at the economics conclave in New Delhi, the Asean business summit in Kuala Lumpur, and elsewhere.
How good or bad is it?
Certainly, the economy is more stable than before — inflation is down, the two deficits (fiscal and current account) stand reduced, and forex reserves have gone up (though foreign debt has too).
Much of this has to do with the drop in oil prices, but it is to the government's credit that it seized the opportunity to free diesel prices and impose fresh "carbon taxes".
When it comes to growth, the GDP number is good, but not supported by other numbers: on credit growth, foreign trade, freight movement, corporate performance and industrial production, while agriculture has suffered successive droughts. The one serious uptick is in indirect tax collection, but will that one green shoot cover an entire field?
How successfully has the government removed infrastructural obstacles?
There has been action aplenty: coal auctions, a discom rescue package, more highway project approvals, a bid to salvage power projects stranded for want of fuel, more spectrum for the telecom companies, and a programme for urban renewal.
The problem is that many of the solutions announced are half-way houses (not enough spectrum was offered, for instance), while some attempted solutions have not worked as expected: e.g., the coal auctions for power projects.
The government could have done better — especially on the banking front, where the package solution is unconvincing even as non-performing assets have increased by 27 per cent in the year to September.
As for potentially transformative projects, the story is again of action, but with qualified success.
If Rahul Gandhi had done his homework, he could have told his student audience in Bengaluru that Swachh Bharat money has remained unspent in many states, half the 10 million new toilets constructed are said to be not in use, and the Supreme Court had to pull up the government for slow progress on cleaning the Ganga.
An incredible 190 million Jan Dhan bank accounts have been opened, but the corollary of an expanded Direct Benefit Transfer programme has not materialised.
The ambitious programme for creating renewable energy capacity has seen a remarkable drop in solar power prices, and the pace of capacity creation has picked up sharply.
Still, the first half of the year saw barely a third of the full year's target achieved.
The 'Make in India' thrust has been supported by announcements on more liberal foreign investment rules and some initial progress in improving the ease of doing business.
But the key mega-projects – the two freight corridors and the Delhi-Mumbai Industrial Corridor – are still in their early stages; full completion of the freight corridors is targeted for 2019, while the first phase of the massive industrial corridor is still at the stage of land hand-over and tenders being issued.
Meanwhile, a key rural initiative (issuance of soil cards to farmers) has been reported to be well short of target.
In short, the government has made its initial moves, good and not-so-good, while the roll-out in some cases has been slow.
The goods and services tax is stuck in Parliament. Freeing factors of production like land and labour has been given up or not attempted, and hardly anything has been done on administrative reform.
While it is reasonable to expect that the over-all tempo will pick up in 2016, not enough "structural and institutional" change – claimed by Mr Modi – is on display to justify the boast of a "take-off stage" and a "new business environment".
Last week's Ruminations, on the Pay Commission, had mistakes in the interpretation of some of the numbers. My apologies to readers for any confusion this may have caused.