Nirmala Sitharaman's maiden Budget has not disappointed but vision and details, particularly for the revival of agriculture, are missing, says Mahendra Dev.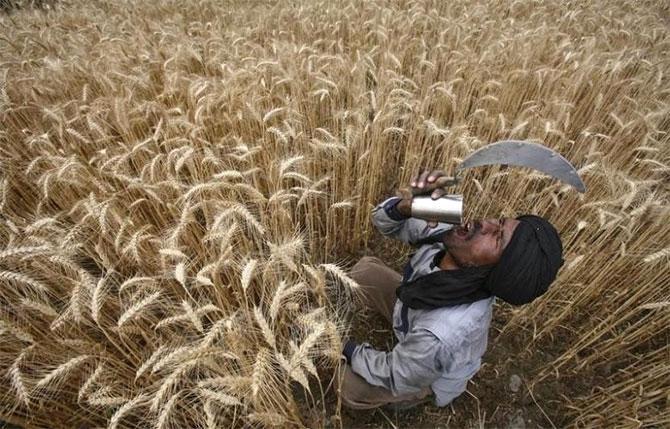 Both agriculture and non-farm sector in rural areas have been under distress in recent years. The agriculture GDP growth rate declined from 5 per cent in 2017-18 to 2.9 per cent in 2018-19. In fact, it was -0.1 per cent in Q4 of 2018-19. In general, rural incomes have been low.
In this context, one expected a big push for agriculture and rural areas. The finance minister has not disappointed and informed that: at the centre of everything that we do, we keep gaon, garib, aur kisan. But, vision and details particularly for the revival of agriculture is missing in the budget.
Some of the announced measures for agriculture are: zero budget farming, support to bamboo and timber for generating renewable energy, and forming 10,000 new farmer producer organisations, scheme for fishing and fishermen. The government will work with state governments to allow farmers to benefit from e-NAM.

These announcements may not be enough to revive agriculture and double the farm income. In the interim Budget, the government announced PM-Kisan for farmers. The government with a massive mandate should have concentrated on long-term policies for transforming agriculture.
First, agricultural marketing reforms should be a priority.
Agricultural markets have witnessed only limited reforms. The Essential Commodities Act should be removed. We have been talking about APMC reforms for the last two decades. But the states have not shown any urgency in reforming agricultural markets.
The central government including NITI Aayog should work with states in undertaking marketing reforms. For a better price discovery, agriculture has to go beyond farming and develop value chains comprising farming, wholesaling, warehousing, logistics, processing and retailing.
Second, agricultural exports should be promoted with various policies.
Banning exports hurt farmers the most. This is one of the reasons for the glut in farm production and low prices. There is need for a long-term consistent policy on exports and futures markets. India processes very limited quantities of fruits and vegetables. It should promote food processing in a big way.
Third, the PM is giving a push to water conservation and management.
The Economic Survey talks about increasing water productivity in agriculture. The Budget should have focused on giving incentives for reduction in water-intensive crops.
Fourth, the Budget has not talked about reducing subsidies and increasing investments.
For example, we still have high fertiliser subsidies of nearly Rs 80,000 crore which distorts the soil and cropping patterns. Similarly, we have high water and electricity subsidies for agriculture.
On rural areas, the Budget mentions some schemes like Ujjwala Yojana, Saubhagya Yojana for ease of living for rural families.
Some programmes like PM Awas Yojana, PM Gram Sadak Yojana, scheme of fund for upgradation and regeneration of Traditional Industries, ensuring safe and adequate drinking water for all, Swatchh Bharat Abhiyan and PM Gramin Digital Saksharata Abhiyan will help agriculture and rural families.
Allocations under central sponsored schemes are more or less similar to last year. Some of the big ticket ideas like recapitalisation of Rs 70,000 crore for public sector banks and Rs 100 trillion of infrastructure over 5 years will also help rural areas.
To conclude, the finance minister has not disappointed rural India but vision for the next five years and bold measures are missing.
Agriculture is a state subject and the Centre has to work closely with states in reviving this sector as implementation is the key.
The massive mandate of the new government will help such coordination.
The income from agriculture is not enough for farmers. Thus, we have to walk on two legs, ie, agriculture and rural non-farm sector for raising incomes of farmers and other rural population.
Mahendra Dev is director and vice-chancellor, IGIDR, Mumbai.