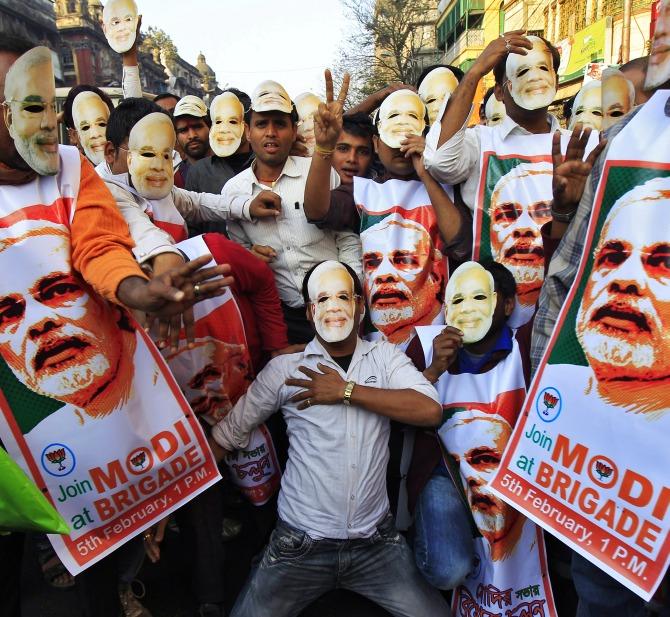 The Budget won't create the millions of jobs Modi had promised in his election pledge, says Sunanda K Datta-Ray.
'It's clearly a Budget,' said George W Bush when shown a document.
'It's got a lot of numbers in it!' But the numbers in Arun Jaitley's Budget don't spell much hope for millions of young Indians languishing for want of appropriate employment.
They wouldn't be gainfully absorbed even if every small and medium shop in the country takes advantage of the finance minister's flippant generosity and remains open not just on Sundays but round the clock.
The focus on shops and shopkeepers is understandable but even Narendra Modi's Gujarat ventured beyond traditional occupations to tackle the challenge of massive unemployment.
Gujarat hasn't always been so robust in creating jobs.
At one time unemployed peasants in drought-stricken Panchmahal district, whose rocky soil makes cultivation difficult at the best of times, were set to work on erecting earthen bunds.
They and their employers knew it was only a way to dignify the dole because the first monsoon shower washed away those bunds.
By all accounts, Modi did away with such unproductive charity by taking advantage of the Gujarati genius for commerce that was already famous throughout East Africa.
'We are the youngest country with 65 per cent of our population below 35 years of age,' his posters proclaimed last year when rallying national voters with the Abki baar, Modi sarkar slogan.
'We are the world's largest democracy and we have a huge domestic market to feed.'
'No country has such an opportunity as India to create jobs with human capital and abundant natural resource.'
The boast that the National Democratic Alliance government created 60.7 million jobs in five years while the United Progressive Alliance before it was able to create a 'paltry 15.4 million jobs in 10 years' must be taken with a pinch of salt like all election propaganda.
But there Is no mistaking Modi's appreciation of what former UPA minister Kamal Nath calls one of the two biggest challenges India faces, the other being agriculture.
As a Congressman, Nath can be expected to pick nits.
But Jaitley's boss was even more forthright, albeit in somewhat clumsy language.
'The options in front of us are clear: One leads us to a disaster with no jobs for our youth; the other understands the importance of skill development and employment for the youth and has a proven a track record of performance on this front.'
The campaign rhetoric concluded, 'that option is Narendra Modi.'
Thanks to Jaitley, his government's third Budget belies that boast.
Former West Bengal chief minister Jyoti Basu, too, ignored unemployment -- one reason why the Left Front was routed.
During their 34 years in power, the Marxists changed the face of the countryside.
They also generated a revolution of rising expectations.
The sons of cultivators, who owned modest fields, went to school and sometimes college, and were no longer prepared to till the land.
They yearned for white-collar jobs and bhadralok status.
Their aspiration might have been satisfied if the Left Front had encouraged investment and industry.
It didn't, and the disappointed youth took to Naxalite violence, joined the rootless criminal underworld, migrated to other states or flocked to the Trinamool Congress.
Jaitley hopes that a mere Rs 1,000 crore or Rs 10 billion (against Rs 2.18 lakh crore or Rs 2.18 trillion for infrastructure) will 'incentivise' -- a dreadful bit of jargon that no literate person should use and be allowed to get away with -- potential employers.
Undoubtedly, an improved infrastructure will create opportunities.
So will smart cities, skill development, revived traditional works, and Modi's Make in India and start-up initiatives.
But these don't amount to a frontal attack on unemployment.
Worse, reliance on the spin-offs from other programmes indicates that the gravity of the danger is still not sufficiently appreciated.
The strategies outlined in Jaitley's Budget won't create the millions of jobs needed to dispel the despair and cynicism of militant youth in the Red Corridor running from Nepal to Tamil Nadu.
Even Jawaharlal Nehru University rebels might be less defiant if a buoyant job market allows them to look forward to a brighter future.
It is as true today as it was on March 2, 2014, when Modi said, 'India needs a job revolution to fulfil the aspirations of the youth.'
His finance minister should help him redeem that election pledge.
IMAGE: Youth voted for Modi in the hoope that he would bring them jobs and a new future. Photograph: Rupak De Chowdhuri/Reuters