GST, a much needed reform that widens the tax net, promises to strangle many legitimate businesses while they wait for the tax administration and systems to catch up, says Rahul Jacob.
Illustration: Uttam Ghosh/Rediff.com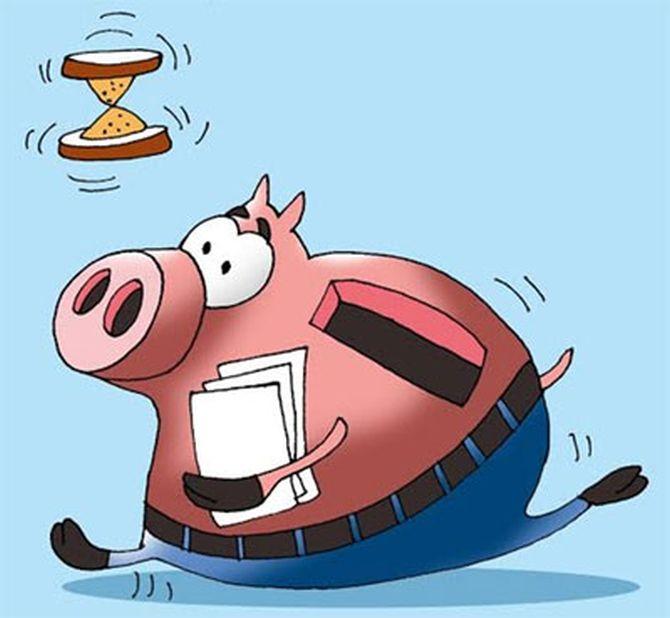 Spend even 10 minutes discussing the problems of filing online forms under the new GST regime with a business accountant and you will get an earful: Routine address amendments for different branches of a company are an ordeal and the application programming interface is not ready.
Talk to small firms and they are either turning away business while they struggle with the Goods and Services Tax (GST) or are at their wits end seeking advice.
Chartered accountants are in such high demand that they likely command a premium higher than IITians on the marriage market.
Exporters waiting for tax refunds from the government are going to be desperately short of working capital over the next couple of months during peak shipment period to Western retailers ahead of Christmas.
Garbage collectors have few takers for plastic because firms, which recycle it, are still figuring things out.
There will be scapegoating aplenty as people point at the faults of the GST Network, but the real culprit is this government's tendency to set unrealistic goals and then charge ahead pell-mell ignoring the advice of experts.
The genius of the GST structure elsewhere in the world lies in its simplicity, which has been overturned by an "Only in Lutyens' Delhi" complexity and endless revisions.
Contrast India's experience with Malaysia's timeline for GST, which announced it in October 2013 and followed through with a single six per cent rate on April 1, 2015.
Registration of businesses above the threshold for the tax started six months before the launch.
Back in March itself, many business confederations in India were pushing for a delay of GST to September 1 because the GSTN was still being tested, enrolment of businesses was lagging and several state governments were not ready.
The frenetic activity by the Narendra Modi government has seemed refreshing to many.
The government deserves credit for speeding up turnaround times on processing documentation at our ports, pushing ahead with the bankruptcy law and getting GST across the finishing line.
But its partiality for what the American management thinkers Jim Collins and Jerry Porras called Big Hairy Audacious Goals is proving a huge handicap.
Collins and Porras used the term to describe visionary companies and leaders, who used them as a way of galvanising employees.
When such goals lack adequate preparation or are ill-conceived to begin with, they remain little more than a wish list.
Or worse, upend the stability of the economy. Exhibit A: Demonetisation which, 10 months on, still seems a satire straight out of Rushdie's magic realism. Exhibit B: GST, a great idea, Kafkaesquely executed.
In April, Reuters quoted officials at the National Mission for Clean Ganga as saying that the 2018 deadline to clean the Ganga was "impossible", in part because much of the funds had not been disbursed.
How much time was required to clean the Rhine, a giant industrial sewer in 1970? Germany, home to the dynamic Mittelstand and Mercedes, succeeded, but it took decades.
The task of ending open defecation by half a billion Indians by Mahatma Gandhi's 150th birth anniversary in 2019 is worthy but utterly unrealistic, especially in the absence of constant communication in rural India to use toilets, not just build them.
Members of the ruling party keep piling on bombastic claims. Recently, Uttar Pradesh Chief Minister Yogi Adityanath told The Indian Express that in just six months he had made a "75 per cent improvement" in correcting the state's reputation for caste-biased civil service appointments.
He promises that in a couple of years, Uttar Pradesh will provide employment to "people of other states".
Then there is the new junior human resources development minister, Satyapal Singh, presumably tasked with building up the skills of millions of Indians who have not completed secondary school, a big and patriotic goal if ever there was one.
Instead, he suggests that Indian Institute of Technology students be taught about the Indian who invented the plane and about trees in the Ramayana that required no water because they contained an elixir.
None of this is laughing matter because the consequences of such fantastical talk and absurdly short deadlines are so serious.
GST, which should be a huge positive for the economy, has been devalued and compromised.
Robin Moses, CEO of Reach Accountant, an accounting software company, says he expects India to take longer than the 18 months Malaysia's much less complicated GST system needed to settle down.
The economy was only slowly recovering from demonetisation, a form of waterboarding the informal economy and drowning parts of it, all the while brazenly insisting that we were being taught to swim.
GST, a much needed reform that widens the tax net, promises similarly to strangle many legitimate businesses while they wait for the tax administration and systems to catch up.
Inaugurating the Sardar Sarovar Dam recently, the prime minister said: "You know me, I can't do small things. With 1.25 billion people with me, I can't dream small."
Big Hairy Audacious Goals or BHAG is just the sort of acronym this government would adopt, but it is proving a self-defeating way of managing the economy.