Economic performance is affected if large numbers of people are out of work, or at such low levels of income as to force under-consumption, observes T N Ninan.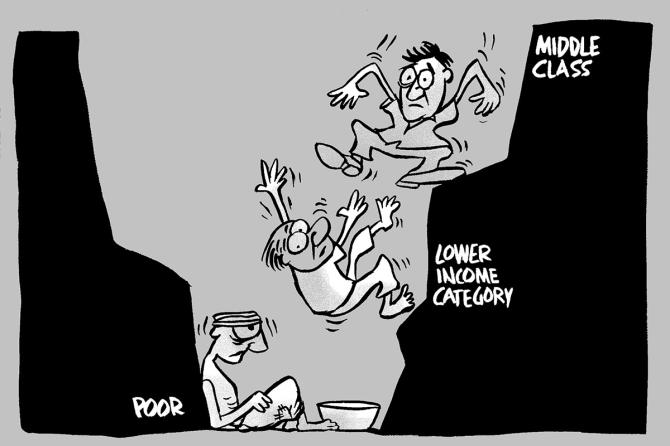 In discussing current macro-economic numbers, most commentators have rightly chosen to view the latest quarterly GDP (gross domestic product) growth number, for April-June, in the context of the economic impact of the lockdown a year earlier on account of Covid.
So while growth over that crisis period last year is a handsome 20 per cent, GDP remains about 9 per cent lower than in the year before.
But with somewhat tenuous logic, government spokesmen have argued that the growth that has been achieved goes beyond the effect of the 'low base' of 2020-2021.
With greater credibility, they have also argued that growth would have been higher without production bottlenecks, especially the shortage of electronic chips, which has affected the production and sales of cars and consumer durables, and also of shipping containers.
This latter has not come in the way of impressive growth in merchandise exports, which in April-August was a spectacular 67 per cent.
Unlike GDP, exports have grown also when compared to a year earlier, by a reassuring 23 per cent.
Some of this growth comes from the resurgence in global economic activity, and the effect of a commodity price boom.
Regardless, after a decade of virtually stagnant merchandise exports, it is something to celebrate.
And given the general recognition that rapid economic growth is possible only with rapid export growth, what has been achieved augurs well.
What has attracted little attention, meanwhile, is something that perhaps only the Indian Express has pointed out: That private consumption in April-June this year was lower than four years earlier, in 2017-2018.
Other components of GDP have grown since then, namely government consumption and capital formation, while the trade deficit has shrunk.
Note that the comparison is with the period immediately before the introduction of goods and services tax, which, it is generally acknowledged, disrupted large swathes of employment-intensive small and medium enterprises.
It is also a fact that the nationwide lockdown towards the fag end of 2019-2020 caused large-scale unemployment and reverse migration from urban to rural areas.
Taken together, these two factors make it all but certain that if overall consumption has stagnated over four years, it must have declined in the lower-income reaches.
This is, of course, the story of greater inequality, widely debated amidst the turbulence of the last five years, since the demonetisation of November 2016.
And what is striking is the government's tendency to gloss over the subject when discussing macro-economic numbers.
Indeed, the government's chief economic advisor has gone so far as to deny that the economic recovery is K-shaped, the better off are getting even more well off, while the poor have got destitute.
Recall that a Pew survey's findings, reported in March, were that the numbers in India's middle class have shrunk by as much as a third, with 32 million slipping into the lower-income category while 35 million have slipped from that category to join the ranks of the poor, whose numbers have therefore swelled.
The economic recovery since, if it has not been accompanied by a recovery in employment and consumption, is almost certain therefore to be K-shaped.
In such a context, it is not enough to focus on GDP -- although that one number, reduced to a per head basis, remains the primary indicator of well-being because it is almost always positively correlated with standards of living and the indicators of health and education.
Hence, the distribution of income and therefore the pattern of economic growth have become a matter of even greater than usual concern, and not just because of obvious humanitarian concern about those being left behind.
Economic performance too gets affected if large numbers are out of work, or at such low levels of income as to force under-consumption.
Both affect aggregate demand, restrain capital investment, and therefore reduce the economy's growth potential.
Henry Ford could see in 1914 that paying his workers better would lay the groundwork for boosting consumer demand.
That is what the government should be trying to engineer today, along with a lowering of the currently high levels of unemployment.
Feature Presentation: Aslam Hunani/Rediff.com