Image:
All images for representational purposes only
Photographs:
Rohit Gautam/Careers360.com
Princi Sharma, Careers360
An upcoming field in India, there will be a demand for qualified optometrists in the years to come. However, the field still has no regulator.
FAST FACTS
Programmes: Bachelor of Science (BS) Optometry, Master of Philosophy (MPhil) Optometry, Doctor of Philosophy (PhD) Optometry
Specialisations: Contact lenses, low vision, binocular vision, glaucoma and occupational optometry
Institutes: Elite School of Optometry (Shankar Netralya); BITS, Pilani and Bausch and Lomb School of Optometry at L V Prasad Eye Institute, Hyderabad
Job roles: Optometrist at eye hospitals/clinics, product executive and trainers, entrepreneurs
Vipin Buckshey did a three-year Diploma in Optometry in 1977 from AIMS, New Delhi.
A Padmashree awardee, he runs his own company Visual Aid Centre, which employs a team of ophthalmologists and offers eye care and treatments.
He says optometry is an area where dedication and truthfulness matters a lot. "It's a field full of opportunities, you just need to be focused and grab it," he shares.
What is optometry?
The term optometry is derived from the Greek word 'optos' (means eye or vision) and 'metria' (means measurement). Optics is a science, which deals with the structure, function and working of the human eye, while optometry is a primary eye care profession.
Manisha Ghai, Cure Max MultiSpeciality, New Delhi shares that her job is not merely technical in nature. "It is super specialised now, involving a whole more lot," she shares.
Optometrists deal with eye testing and providing solutions to patients who suffer from conditions like partial sight, hereditary vision defects, squint and weakening of eye muscles, by suggesting the use of proper vision aids such as spectacles or contact lenses.
They also provide pre-operative and post-operative care to cataract patients.
ALSO READ: '21st century belongs to creative minds'
Please click NEXT to continue reading...

Optometrist vs Ophthalmologist

Image:
Elite School of Optometry says India requires up to 1.5 lakh optometrists
Photographs:
Courtesy Elite School of Optometry, Chennai
The latter are doctors trained to even undertake eye surgeries, when necessary.
If an optometrist while diagnosing the eye finds anything severe, he sends the patient with his report to the doctor, who gives the prescription.
Rising demand for optometrists
"In our country, around one-fourth of the population needs to wear glasses. But only 10 to 15 per cent actually do," shares Thulasiraj Ravilla, executive director of Lions Aravind Institute of Community Opthalmology, Arvind Eye Care System.
Optometry is an area where the country needs huge number of professionals.
Prof Krishna Kumar, Principal, Elite School of Optometry estimates that India requires 1 to 1.5 lakh optometrists.
"That is why a large number of new optometry schools are coming up every year," he shares.
Training programmes
To practise as an optometrist, it is essential to possess a Bachelor's degree in Optometry (BOptom).
This is a four-year course in which the first three years of learning is followed by a year of internship to gain clinical experience.
Bausch and Lomb School of Optometry at L V Prasad Eye Institute, Hyderabad offers a five-year integrated course in MSc Optometry and Vision Science in collaboration with the University of Hyderabad.
Elite School of Optometry offers Master of Philosophy (MPhil) Optometry and Doctor of Philosophy (PhD) Optometry.
Some diploma courses and other short-term courses are also run by some institutes.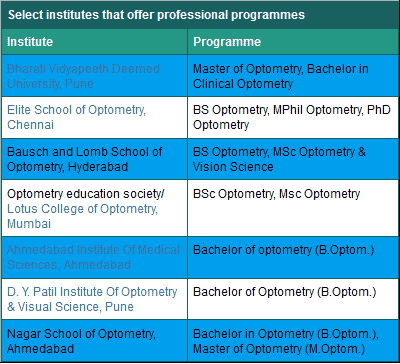 'Start your own practice or work with big companies'

Image:
Vipin Buckshey (inset) pursued a diploma in Optometry from AIMS, New Delhi
Photographs:
BotMultichillT/Wikimedia Commons
In this brief interview, Vipin Buckshey, Padmashri Optometrist and contact lens specialist and owner of Visual Aid Center, Delhi tells us what it takes to pursue a career in optometry and offers advice to students.
What is required to be a good optometrist?
I think this is an excellent career but you need to be focused. Be sincere and committed to your patients.
Remember that there is no shortcut for success. Whatever you want to achieve, you must go for lots of hard work.
What are the career opportunities in this field?
You will get multiple opportunities. You can start your own practice or work with big companies.
I did Diploma in Optometry from AIMS, New Delhi, then worked as an Ophthalmic Executive at Lawrence & Mayo, Delhi for five years.
I always wanted to start my own clinic and did so in 1982. Now, I work with a team of ophthalmologists.
What is your advice to students?
I would say that you just need to identify your interest area and choose the right path.
I always wanted to start my own clinic and I focused on that only. And always remember -- treat people like patients, not like customers.

Aspiring professionals, beware of bonds

Photographs:
BotMultichillT/Wikimedia Commons
Signing bonds
Some institutions set up by companies in the eye care industry have a different system.
Training is offered as per commercial needs of the company.
They keep students as trainees for more than a year and provide them with a stipend, and later on when offering them a permanent job, ask them to sign a bond saying that they will have to work there for another three to five years.
No regulator
Optometry is an important field but in India there's still no regulator or licensing system for optometrists.
"We hope that the new Health Bill will address this issue," shares Prof Krishna Kumar. There are some initiatives by private bodies to regulate this area."
Optometry Council of India is one such non-governmental initiative. It came into existence in 2002," he adds.
Surging demand for professionals

Image:
An optometrist uses an ophthalmoscope to check the retina of a patient
Photographs:
Slick-o-bot/Wikimedia Commons
Work opportunities
Job roles include, assisting ophthalmologists in hospitals/clinics, working in retail optical shops, owning retail showrooms, starting a practice, and as product executive or trainers in spectacle and lense manufacturing companies.
You can also  join NGOs that work on  vision problems of people in rural areas and urban slums.
"Working with NGOs provides optometrists an opportunity to work for the good of the society and also give the opportunity to learn a lot from the number of cases they deal with," shares Prof. Krishna Kumar.

Salary package
"An optometrist can start his job as a trainee with a salary package of Rs. 7,000 to 25,000," says Subodh K Khanduri, General Secretary, Indian Optometric Association.
"A good optometrist can earn over Rs 20,000 per month as a product executive or trainer or professor in any institute," shares Prof. Krishna Kumar.

Optometry has a huge demand for professionals but requires focus. Identify your interest area and then plan your career along this path.