Image:
XAT is often considered more demanding that CAT. Here is how you can master it
CAT is history. XAT is what you should be looking forward to. Here is how you can approach the entrance test for XLRI, Jamshedpur.
XAT has historically been conducted on the first Sunday of January for admissions to XLRI, Jamshedpur and other 74 Business schools across the country. It has, over the years, proven to be more demanding and difficult than CAT.
The table above shows a clear trend of reduced number of questions- from 120 in 2008 to 104 in 2009 to 101 in 2010. The difficulty level of each of the three sections, and thus the overall test, is very high.
What you must know about XAT
The test duration is 140 minutes = 120 minutes aptitude + 20 minutes essay
Each question has 5 options
It is assumed that each question is worth 1 mark (XAT does not explicitly state it)
There is progressive negative marking- penalty for incorrect answers goes up in each section with increase in incorrect attempts.
In 2008 and 2009, 25 per cent of the marks were deducted for the first six incorrect answers in each section. 50 per cent of the marks for every incorrect answer thereafter.
In 2010, 20 per cent of the marks were deducted for the first 5 incorrect answers in each section. 25 per cent of the marks for every incorrect answer thereafter.
No sectional time limit- you can choose to allocate time to each section based on your strengths.
With the test being high on difficulty level, sectional cut-offs for XLRI have historically been in single digits and overall cut-offs in the range of 32 to 35. For other institutes taking XAT scores, the cut-offs go down much further.
Change in approach:
After a battery of national tests such as IIFT, FMS, JMET, SNAP, NMAT, you will need to go back to single-minded and absolute focus on accuracy. Hence, as much as you will need to focus on what to attempt, you will also need to, very carefully, strategize on what not to attempt.
The structure and complexity of most of the questions in XAT is unlike what you would have encountered in other tests.
You will benefit immensely by familiarizing yourself with different question types by solving last 3 years' actual XAT tests, which are available for FREE (with detailed explanatory answers) on TestFunda.com.
In addition, you will need to spend enough time on detailed analysis reports after every successive mock XAT. They will provide you with a trend analysis of where you have fared well (questions to be attempted) and where you are struggling (questions not to be attempted).
Bird's eye view of the last 3 years' XAT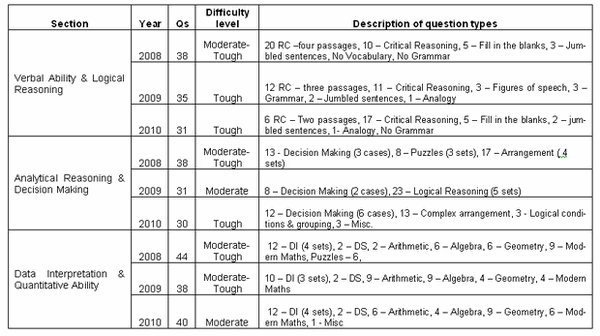 Illustration: Uttam Ghosh

How to approach Verbal Ability and Analytical Reasoning in XAT

Image:
Grammar and Vocabulary questions may be fewer but this doesn't mean you don't focus on them entirely
Verbal Ability and Logical Reasoning:
The table shows a clear trend in the reduction of emphasis on RC and increase in emphasis on Critical Reasoning. The other two lessons which are tested are Jumbled sentences and Fill in the Blanks. Pure Grammar and Vocabulary questions are almost non-existent.

Things to do right now:
Go back to your study material and solve short but dense CAT passages.
Increase your reading of literature, philosophy, sociology, anthropology and quantum Physics articles in these last weeks to XAT.
Go through a rigorous study of the Critical Reasoning topic; understand different flaws in reasoning; solve ALL the different question types implicit, conclusion, inference, assumption, strengthen, weaken, analogous, unrelated argument. Download the FREE Question of the day booklets from TestFunda. It has some very difficult Critical Reasoning questions.
Practice 6 statement jumbled sentences and 4 blank fill in the blank questions.
Analytical Reasoning and Decision Making:
This section predominately comprises ethical dilemma- decision-making questions, and arrangement problems. The single and multiple-question decision-making cases reflect choices that need to be made in scenarios reflecting real life.
The solutions are presented in the form of 5 equally appealing answer choices. As a future manager and decision-maker, you are expected to not only make a logical and rational choice but also one that is in sync with socially acceptable norms and behaviour.
In the exam, when you are faced with two extremely compelling choices- one logical and one ideal, it may help to choose the ideal answer option.
Things to do right now:
Read up on the Decision-making lesson and identify do's and don'ts of arriving at the optimal choice. Go through the solved examples, understand the reason for choosing a particular answer option and more importantly, eliminating the other options. Go through a few ethical dilemma cases which can be found easily on the world wide web.
Solve difficult to very difficult arrangement problems. Download TestFunda Puzzle of the week FREE ebooks and solve the different varieties of cases.
Illustration: Uttam Ghosh
The key to cracking Data Interpretation and Essay Writing in XAT

Image:
Keep these things in mind while approaching DI and Essay Writing sections
Data Interpretation and Quantitative Ability:
The quants questions are spread across different lessons and you can choose to concentrate on your strengths, apart from 3 to 4 DI cases comprising 10 to 12 questions in the section. Most of the questions require sound understanding of topics.
Questions on geometry, coordinate geometry, linear programming and probability test fundamentals. Knowing formulae is important, but knowing formulae alone and not the theory behind it rarely helps.
The questions have been known to be verbose (a lot of wordiness) which makes the process (of choosing which ones to attempt and which ones to leave) time consuming.
Things to do right now
Browse through the lessons that you have practiced for CAT. It will help to have a closer look at the concepts and solved examples in  coordinate geometry, sequences, progressions and series, determinants and matrices, calculus, probability & linear programming. Additionally, solve a few questions from all the topics and take a couple of topic level and question level tests to brush up and get a handle on tricky question types.
Revise important formulae. You can download a FREE ebook of 'the 50 most important formulae at TestFunda.
Essay writing:
At the end of the 2 hour aptitude test, you will be handed a sheet of paper on which you are required to write an essay within the given 20 minutes. A topic / subject / issue / argument  is given that you need to analyse and then provide your views / opinions / counter-arguments.
Although essays are not read for shortlisting candidates for the second round, the essay writing section needs to be taken seriously as some interviewees have reported to have been asked the relevance of their essays in the interview.
Things to do and take care of
Go back to basics and practice the art of essay writing as you had done during school. Jot down all the important points that come to your mind before even beginning to structure the essay.
A good essay has a coherent point of view with interesting introductory and closing ideas. Use relevant life examples and avoid jargon, cliches, slang, abbreviations, sms lingo, hyperbole and unnecessary beating around the bush.
For those of you who are in the habit of using a computer or may not be in the habit of writing much, do practice enough to ensure your hand-writing is legible and spellings are correct.
Read up on the lesson on Essay Writing from your study material to get complete insights into writing winning essays.
Illustration: Dominic Xavier
What you must remember while appearing for XAT

Image:
Keep a positive attitude and remember these things while appearing for XAT
Last 15 years' XAT essays
2010: Earth provides enough to satisfy every man's need, but not every man's greed
2009: The Inherent vice of Capitalism is unequal sharing of blessings and the inherent virtue of Socialism is equal sharing of misery
2008: The consequence of gender imbalance - Third world war
2007: Economic Growth without environmental damage a mirage or a reality
2006: India has one of the largest pools of talented manpower, but few innovations and patented products.
2005: More than one billion Indians: A gigantic problem or a sea of opportunities.
2004: Asked at the age of 83, as to which of his project would he choose as his master piece, Frank Lloyd Wright, the architect answered, 'The next one'.
2003: To give real service, one needs to add something that cannot be bought or measured, like sincerity and integrity.
2002: Indian Economy in the Post WTO Era.
2001: Economic Growth without distributive justice can only lead to violence.
2000: Ships are safer in the harbour; but they are not meant for the same.
1999: That is what a Television really is; it is another eye so you can see anywhere; another part of your heart so you can feel and care about things you never felt and cared about before; another ear to hear strange music. It is the first and only International language.
1998: Max Weber, a German Sociologist, defined state as an entity that has a monopoly over legal violence. India proves that the converse is also true; if criminals cannot be punished by the law, in effect they become the state.
1997: By the third or fourth week of the term, business school had succeeded in afflicting me with a variation of the Stockholm syndrome, named after the incident in which a hostage in a Stockholm bank robbery fell in love with one of her captors.
1996: There is no right way of doing a wrong thing.
Things to remember during XAT:
XAT is a supreme test of accuracy.
On analysing the trends and cut-offs of the last 3 years, you may need to attempt less than 50 questions spread across all the 3 sections. Even with an 80 per cent accuracy, you have a very good chance of clearing the cut-offs.
You may want to take (three to four 30 to 60 second)  mini-breaks in the test. A highly engaging test like XAT may increase the frequency of fatigue due to prolonged periods of intense concentration.
Data in the questions as well as the answer options is dense and complex -- it will help to spend enough time evaluating a question and its options and not rush through it with a cursory glance.
Ensure you have had a good look at all the 5 options before zeroing down on your choice.
Illustration: Uttam Ghosh