Image:
Image for representational purposes only
Photographs:
Catherine Benson/Reuters
Princi Sharma, Careers360
As per an order by the ministry of HRD, technical education in distance mode will now be fully regulated by AICTE. Keep an eye before applying online.
If you are planning to enrol in AMIE, AMIETE, DIPIETE or similar  correspondence courses in technical education, do wait for some time.
The Ministry of Human Resource Development (MHRD) has withdrawn its decision of recognising these courses in perpetuity for equivalence in Central Government jobs.
Now the institutions conducting such courses will have to apply for recognition from the statutory regulator, that is, AICTE in this case, and it will decide about the new regulations for them.
What is the issue?
An order dated 10/07/2012 by MHRD says, "All those students who are enrolled with the institutions with permanent recognition up to 31.05.2013 would be eligible for consideration in accordance with MHRD office memorandum/ order in force pertaining to their course for equivalence in Central Government jobs.
However, these concerned orders will cease to have effect from 01.06.2013 onwards.
After 31.05.2013, based on the review by the regulator i.e. AICTE, a decision on continuation of the certification of equivalence of degree/diploma shall be taken by statutory regulator.
And the statutory regulators should review the fresh proposals/ extension as per their statute and regulations."
Please click NEXT to continue reading....
What is the issue?
Photographs:
Catherine Benson/Reuters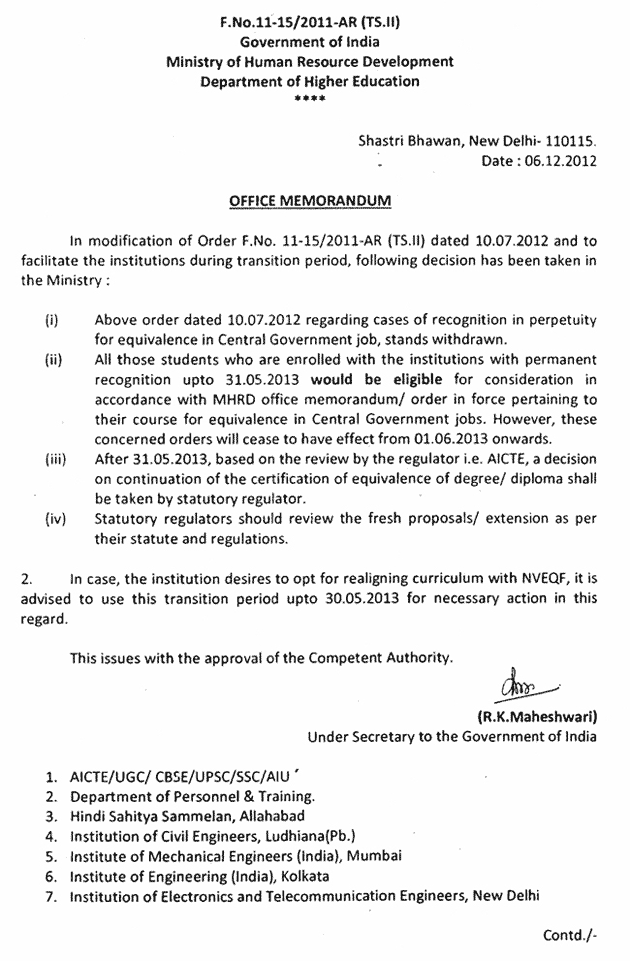 The HRD notification means that now the institutes concerned conducting courses in correspondence mode will have to take approval from AICTE before June 1, 2013 to make sure that the students enrolled after May 31, 2013, could pursue well approved courses.
But another issue which comes up here is that AICTE presently does not recognise correspondence courses, so it will have to make new policy for such courses.
Click NEXT to know what the AICTE has to say to this....
AICTE explains its stand
AICTE has already started working on new regulations.
AICTE chairman Dr SS Mantha shares, "Currently AICTE does not recognise distance/correspondence courses in technical education. But many institutions including some universities are running these courses on the basis of perpetual approval given by MHRD."
"Now After the recent order given by MHRD, AICTE will make rules and regulations regarding this," he added.
AICTE had earlier appointed a committee headed by Prof Anandkrishnan and on the basis of the recommendations of that committee, it will make regulations for distance learning in technical education.
"By March, we should be able to release the handbook of procedures and regulations for the conduct of technical education either in distance or hybrid or blended mode", says Mantha.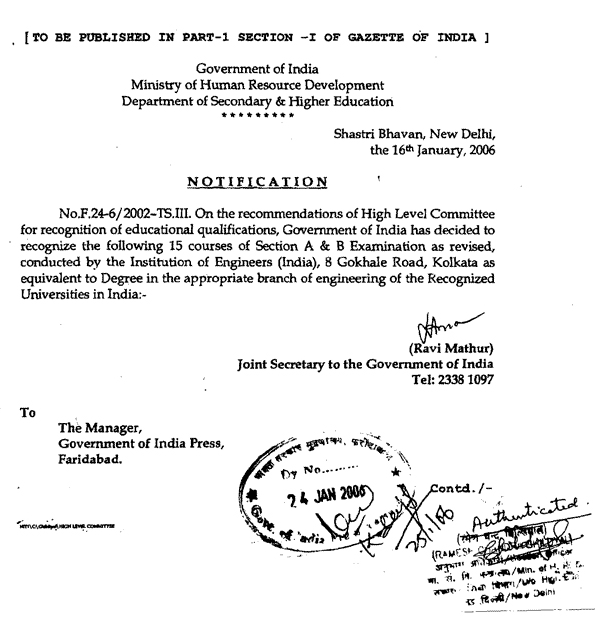 What institutions say
Photographs:
Courtesy Careers360.com
Shocked by the MHRD's decision, institutions says that they will now respond only after the publication of AICTE guidelines.
"We would apply to AICTE for approval and would abide by its guidelines and regulations," says the spokesperson of The Institution of Surveyors.
Some other institutes say that they would apply as soon as possible.

Students should wait and watch
So until the completion of the process, it might make sense for students to hold on before getting themselves admitted to these distance learning engineering programmes.
If you enrol after May then check with the institute and AICTE about approvals and keep an eye on AICTE website