95,000 CAT takers scored zero or less marks this year. Here's why!
Ashish Jha
Of the 1.74 lakh candidates who appeared for CAT 2013, 95,000 scored zero marks or obtained negative marks.
A total of 1.74 lakh candidates had appeared for the Common Admission Test held between October 16 and November 11, 2013.
The CAT 2013 results, however, shows that 95,000 candidates who took the test this year either scored zero marks or obtained overall negative marks.
The pie chart below compares overall performance of candidates in the CAT 2013: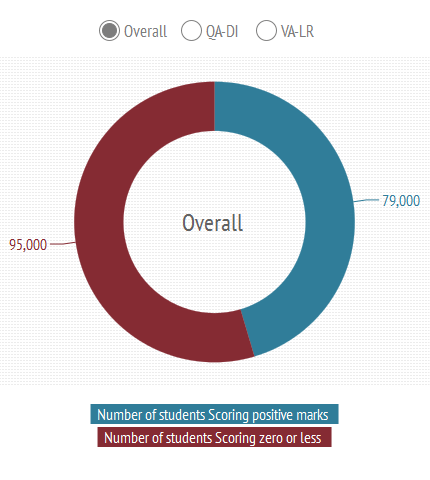 The score cards released by the Indian Institutes of Management on January 14 reveal that the candidate who did not even answer any of the questions in the CAT 2013 paper, had scored around 55 percentile.
The CAT 2013 convenor Dr Rohit Kapoor, refused to comment on this statistics.
The official score card of a CAT 2013 taker who did not attempt a single question, has a percentile as high as 55.
In other words, the candidates who had left their paper blank would have managed at least 55 percentile this year.
The score card below also implies that those candidates who would have scored at least one mark would have emerged with anything more than 55 percentile in their CAT 2013 exams.
Please note that the score card shown below belongs to a candidate who did not attempt a single question in CAT 2013 paper.
The scores in the separate section, however, does not show 'zero' as CAT scoring is based on a standard process of scaling and equalisation.
The candidate whose name has been withheld appeared for the CAT 2013 in the morning session on October 16, 2013.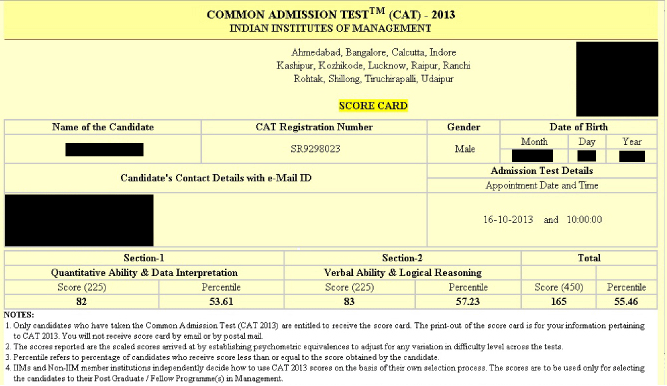 A score of '0' in the Quantitative Analysis and Data Interpretation section equals 53.61 percentile and the same in Verbal Ability and Logical Reasoning puts a candidate on 57.23 percentile.
Refer the pie charts below for section-wise performance of candidates.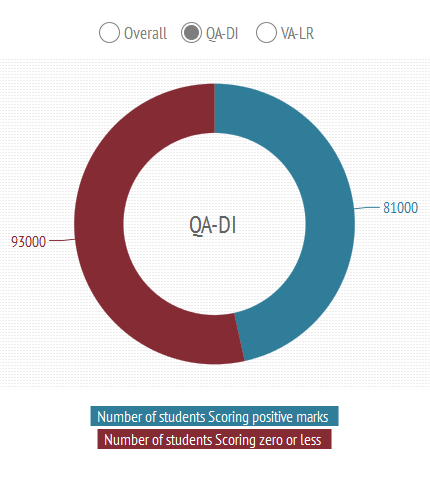 The overall percentile for a candidate scoring zero in both the section is 55.46 percentile.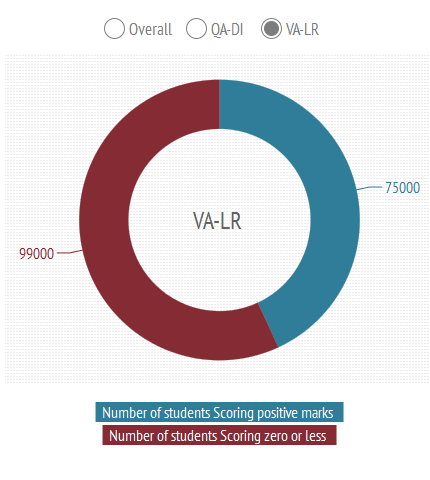 Please click NEXT to continue reading...
Image:
For representational purposes only
Photographs:
Ahmad Masood/Reuters
Are CAT takers non-serious?
When the total number of registrations for various MBA exams declined this year followed by further dip in the number of actual test takers, b-school directors and authorities took consolation by assuming that the number of serious candidates would be more this year.
The top b-schools had remained confident that the low numbers will not affect them as the reduced number of test-takers only show elimination of non-serious candidates and their applications based on interest of quality aspirants will remain intact.
CAT 2013 convenor, who had earlier stated that there are more serious candidates despite the decline in the number of CAT registration this year, said that "we don't comment on any such statistics."
"The score cards of all the CAT takers have been put on the website. Further, we don't look and analyse such details of the candidates," said Dr Rohit Kapoor, CAT 2013 convenor.
PT Education Head Sandeep Manudhane said that the numbers suggest low quality of CAT takers. However, he advises candidates to wait for other MBA exam results like XAT and NMAT, before making their decision on scrapping their MBA plans this academic year.
Is negative marking making the hole?
Experts and MBA trainers, however, attribute this number to ill-preparedness for the prestigious exam and also to an imbalance between total attempts and accuracy level.
Gautam Puri, vice president, Career Launcher, a portal that offers preparatory resources for various entrance examinations, however, attributed the huge number of candidates scoring zero or below to candidates' lack of focus towards accuracy.
"A major reason for CAT takers scoring zero or less is their lack of focus on accuracy level."
According to the CAT 2013 scoring process, each correct answer adds three marks and for each wrong answer, one mark is deducted.
The CAT 2013 carried a total of 60 questions equally divided in two sections of 70 minutes each.
Image:
For representational purposes only
Photographs:
Carlos Barria/Reuters
CAT 2013 witnessed the lowest number of CAT takers
CAT 2013 Results: Key Highlights
According to the CAT 2013 convenor Dr Rohit Kapoor, this year's result show that a total of eight candidates, all male, are in the 100 percentile bracket.
The next level of 99.99 percentile is occupied by 10 candidates out of whom one candidate is female.

After the CAT result, the admission process to IIMs and other top b-schools enters into the second stage which will include CAT cut-off based short listing of candidates for the Group Discussion, Personal Interview and Written Ability Test depending on the selection criteria of the respective b-schools.
"With the declaration of CAT 2013 results, all IIMs have started their respective shortlisting process," he said, adding, hopefully most of the IIMs will announce their short-list by end of January 2014.
The IIMs altogether are expected to shortlist about 15,000 candidates for the next round of selection process, against the total of 3335 this year(with the addition of 115 seats added this year).

Still, CAT 2013 witnessed the lowest number of CAT takers as compared to past years.
The final number of CAT 2013 registration dropped to 1.94 lakh and total number of test takers further fell with only 1.74 lakh candidates appearing for the test.
The CAT 2013 was held in a 20-day window from October 16 to November 11, 2013.
The 20-day testing window which followed a consistent exam pattern remained glitch free except Day-10 when a wrong question appeared at a few test centres.
Image:
For representational purposes only
Photographs:
Sahil Salvi/Rediff.com