Parita Patel, a born and bred Mumbaikar, has found herself returning, again and again, to an unknown -- probably forgotten -- part of Jharkhand to teach girls.
This is what compells her do it.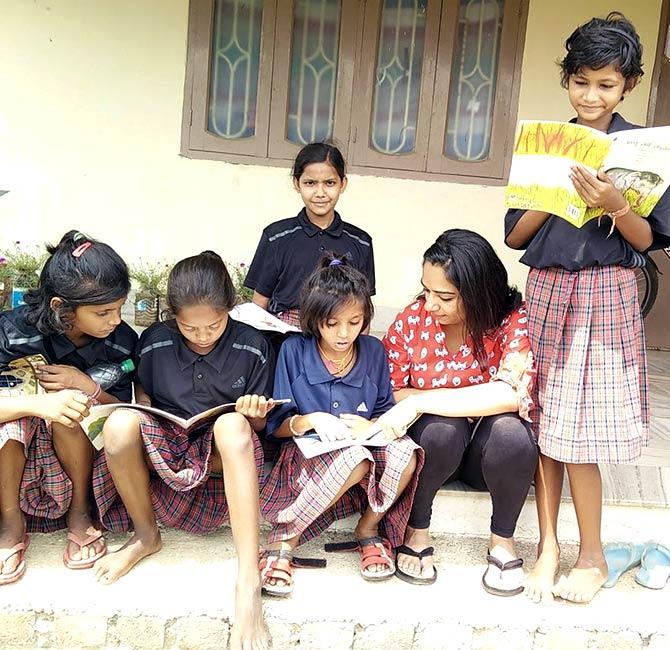 There's nothing like kicking back in the monsoon sunlight with Ruskin Bond. Parita Patel, second from right, introduces the girls of Yuwa to that little joy.
All photographs: Courtesy Parita Patel
It's 8.30 am on Monday and I'm at Yuwa's lab, checking my emails before the day begins. I'm hurrying through them because, soon, about 80 students will descend on the campus for the 8.45 am assembly session before school starts at 9 am.
Just then, eight-year-old Neeti walks in quietly and sits next to me. She wants to know what 'estimate' means; she heard one of the older students talk about it.
She listens to my explanation for it, smiles shyly, tells me she's glad I'm visiting and slinks away.
This quiet moment, and the possibility of many more, is why I'm back every year to this unknown, or probably forgotten, part of east India.
The girls here are some of the brightest I've ever met. Their big smiles hide experiences that would probably break the rest of us. Their journey towards a quality education may have brought them just a few doors down the road, but it has been quite a walk.
How Yuwa India is giving poorly served girls in Jharkhand the chance to dream.
Video: Courtesy Yuwa India.
I first heard of Yuwa when the magazine I worked for carried a story on Yuwa's women football coaches. The work done by Franz Gastler and Rose Thomson Gastler in a faraway place then sounded so impressive.
Teaching a bunch of girls football and English got me interested because it brought together two things I'm very interested in -- sports and education. So, the next time I had some vacation time, I was ready for some different kind of fun.
Since that first time in 2014, I've been back three more times.
What had begun as tutorial classes before and after their school is now a full-fledged Yuwa school with over 80 girls. Where there were once 5 am English classes that took place in the biting cold, there's now a regular day school that offers science, mathematics, social sciences and Hindi.
All through this, the eagerness to learn and learn some more hasn't diminished. They're ready for whatever is asked of them.
An early morning presentation of a science topic of their choice? Yes!
Reading a book when some of their friends are playing an impromptu game of badminton? Yes!
Helping a younger schoolmate with a project? Always, yes!
They study, they play football, and they sing One Direction songs with Aussie cricketers :)
Video: Courtesy Yuwa India.
I get caught up in their enthusiasm, too.
At my everyday job, I tire of the same things easily. After years of working a similar profile, I feel burnt out and find it difficult to get excited even about new projects. I complain about minor things that I really shouldn't be doing.
But you wouldn't know that about me at Yuwa.
Here, I'm willing to take on anything that's asked of me (that doesn't involve the using and teaching of mathematics).
I don't complain unless it's about a mess someone's left behind.
I feel lighter in my mind; I am happy every day here.
And since at the core of most experiences in life is selfishness, the reason I keep coming back is that other than the joy of teaching, and the awe I feel at meeting some incredibly cool people, I like myself more at Yuwa.
Scroll down to see some of the moments that make volunteering at Yuwa so inspiring.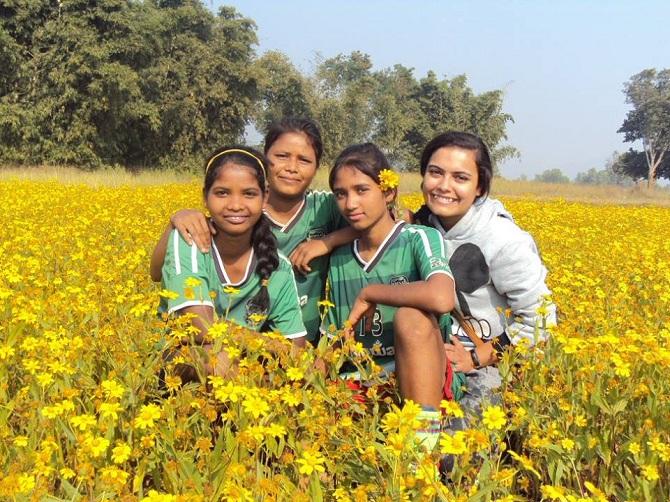 2014: The meek shall inherit the earth? Ha! say the Yuwa India girls.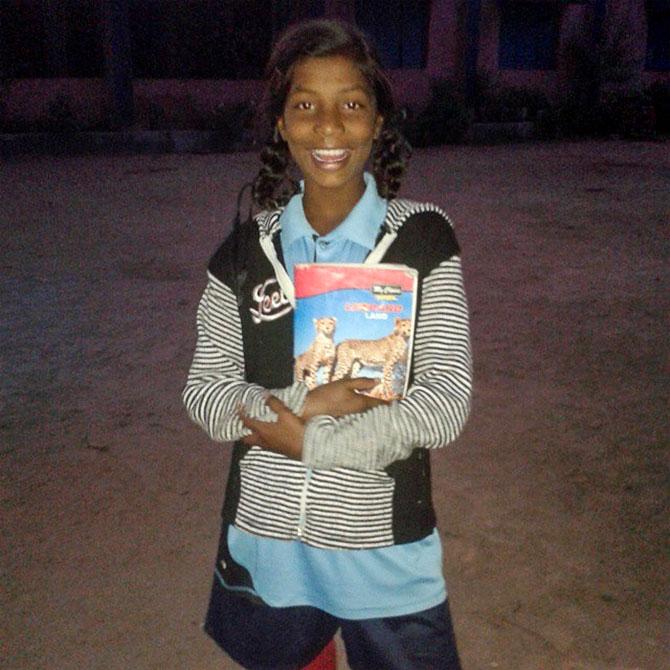 2014: I know the future is bright because she wants to know why someone came up with the concept of vowels and consonants, and why no one teaches her about the inventor.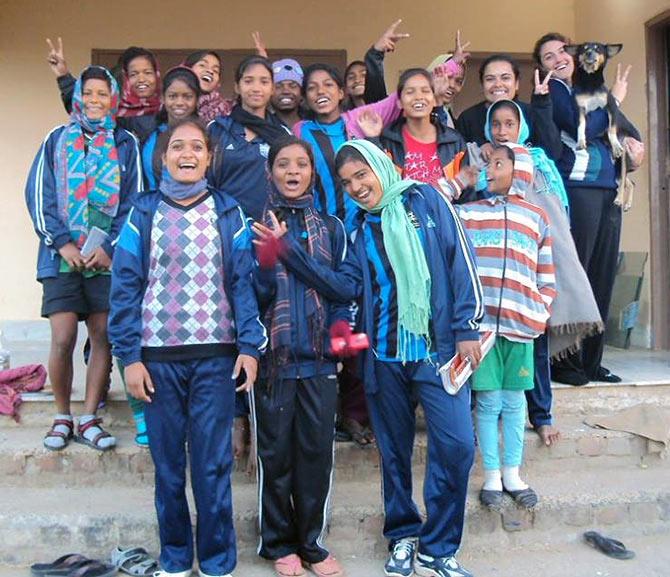 2014: A 5 am English and Maths class with Marta, the dog.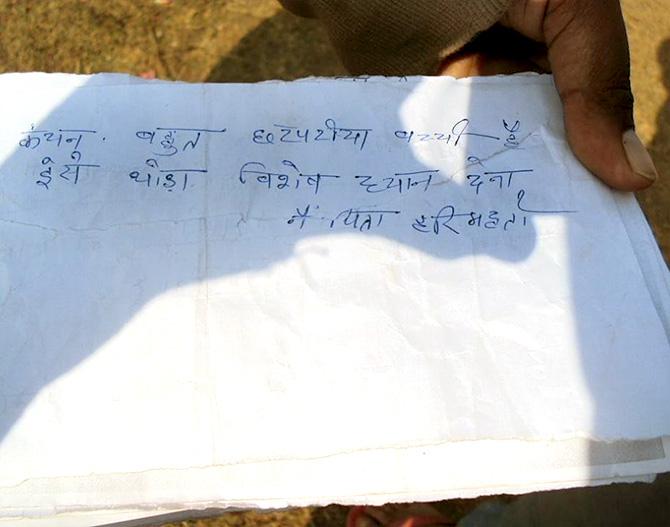 2014: The note from a concerned father on the back of a permission slip allowing his daughter to join a Yuwa picnic. It reads, "Kanchan is a mischievous child. Please pay special attention to her."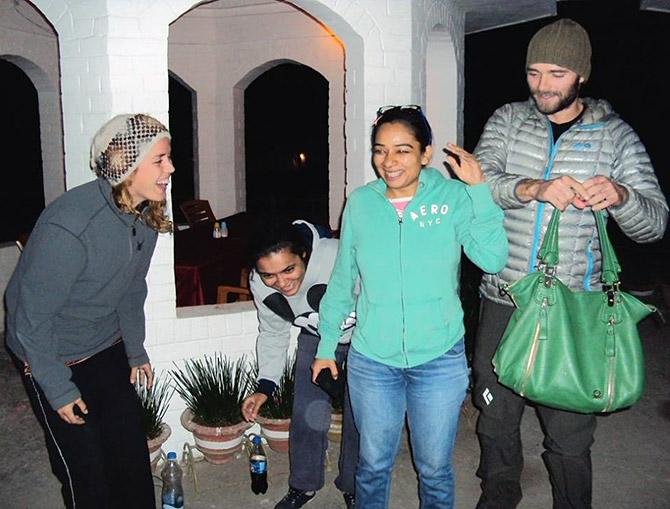 2014: The present (and the future) is bright when Yuwa education director Rose Thomson Gastler, left, and co-founder Franz Gastler, right, are around.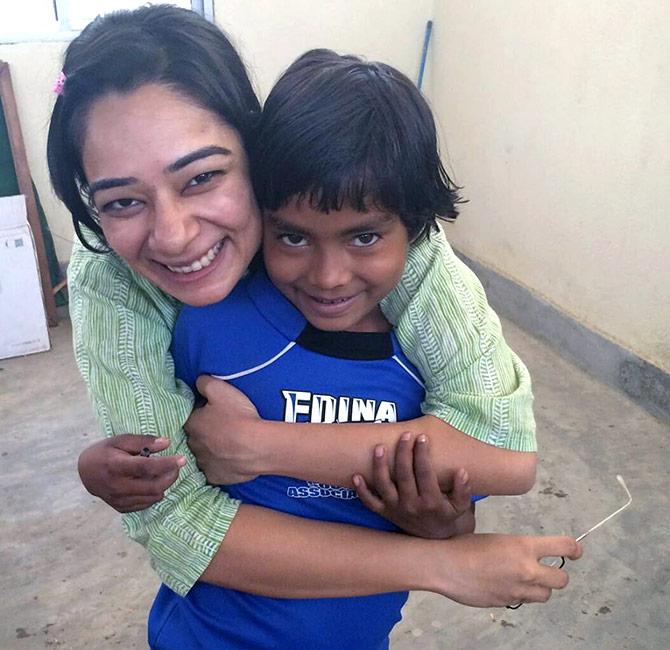 2015:

With the "chhatpatiya" Kanchan, who was the same a year later.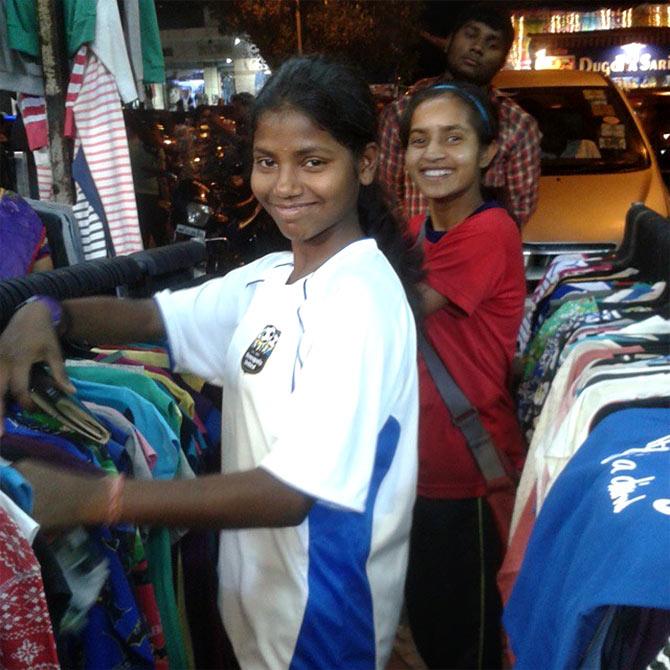 2015:

Girls will be girls. We went shopping in Bandra when the girls were in my city for an event. My ties with the Yuwa girls don't snap when I am away; we often text each other.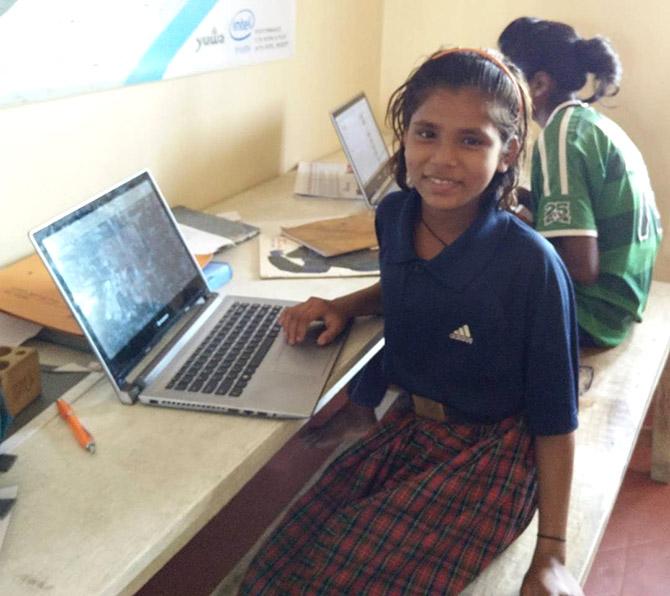 2016: "By the time you come back next year, I am going to be so good at computers," she said.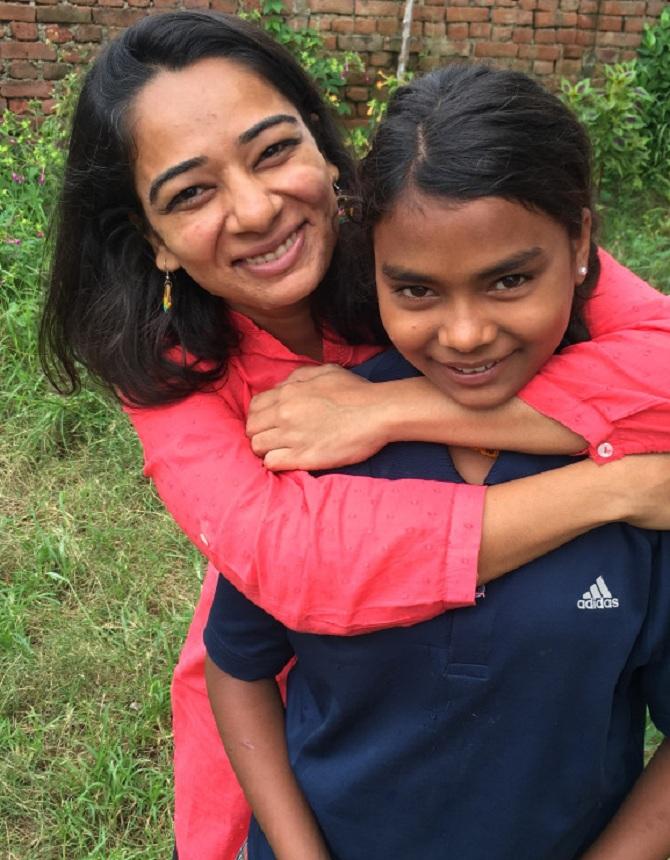 2017: With Kanchan this year.
2017: The future florist and flight attendant.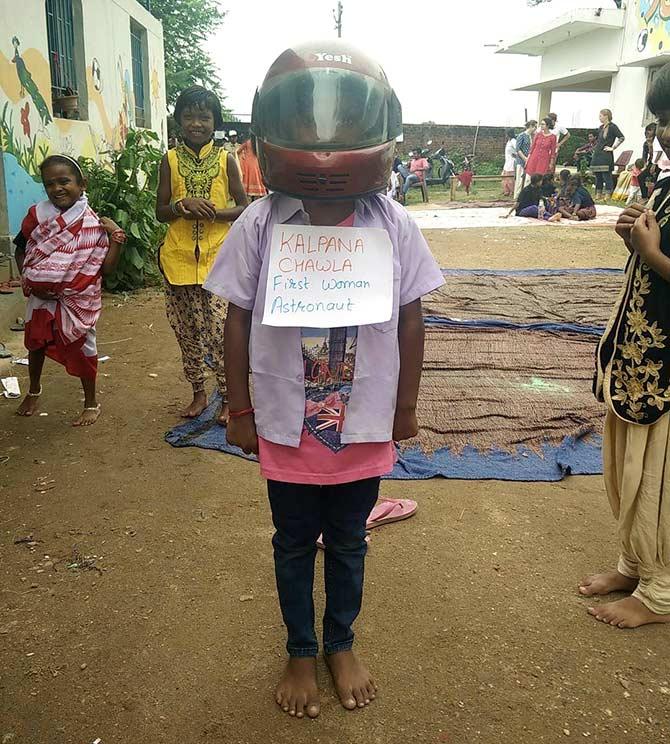 2017: A special guest to celebrate Independence Day with Yuwa.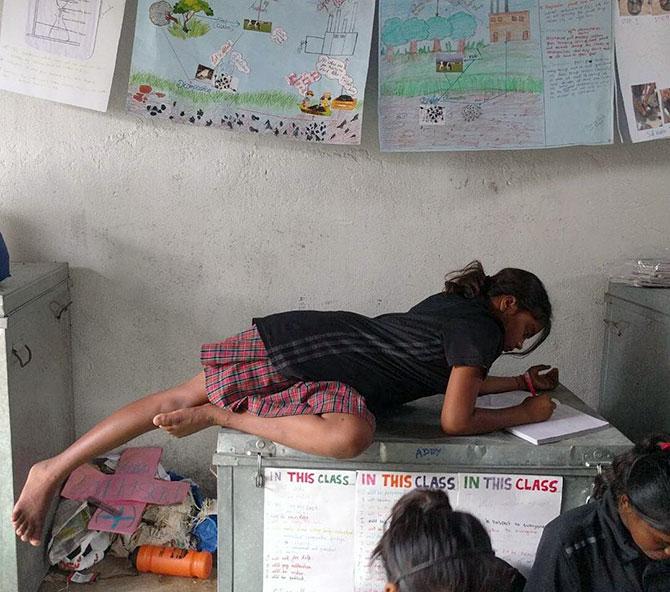 2017: And finally the photograph that seems to embody what Yuwa stands for: The freedom to study however you want.
Parita Patel is a freelance journalist from Mumbai who was previously an editor for Femina (one of the best-selling women's magazines in India).
She has returned to volunteer at Yuwa in Jharkhand four times between 2014 to 2017.During her time here, Parita usually teaches creative writing and English classes.
---
To donate, please visit http://www.yuwa-india.org/donate
Interested in volunteering or interning at Yuwa? Email apply@yuwa-india.org for more details.