Roopam Asthana, CEO and whole-time director, Liberty General Insurance Ltd, answers your queries on HEALTH insurance and AUTO insurance.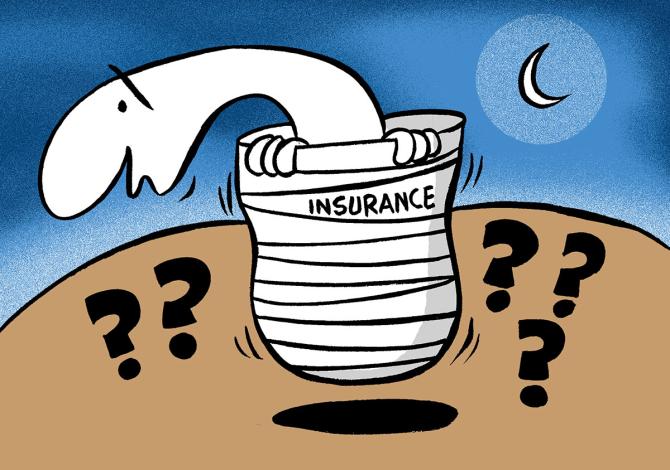 ---
A L Rao: Is there any insurance company which offers both hospitalisation and non-hospitalisation bills under insurance policy of health including senior citizen? Also, we can claim premium paid u/s. 80d?
Roopam Asthana: Many insurance companies offer both features either in a single plan or under separate plans. Amongst the two features, the most preferred and essential feature is the one covering hospitalisation expenses.
The non-hospitalisation or out-patient expense cover usually comes at a high premium with a lower limit. However, the hospitalisation plan usually covers non-hospitalisation bills related to pre-hospitalisation & post-hospitalisation period.
There are multiple advanced health insurance plans available offering limit up to 1 crore that cover hospitalisation and pre/post hospitalisation expenses and bundled with other prominent features such as 'Daily cash allowance' to count on in case of hospitalisation – to cover expenses that are not usually covered in hospitalisation only linked plans.
Under section 80D of the Income Tax Act, 1961, the premium paid is eligible for tax deduction up to an amount of Rs. 50,000 for senior citizens.
Gautam Bhalla: If you can kindly tell something on 8-year clause by IRDA. Can the health insurance claim be rejected even after 8 years of paying continuous premium without any claim taken?
Roopam Asthana: The clause is termed as 'Moratorium Period' and according to this after the completion of 8 continuous years no health insurance claim shall be contestable for non-disclosure of relevant information at the time of policy issuance except for proven fraud and permanent exclusions specified in the policy contract.
K V Rao: I am 61 years old. Do not have any health issues so far. I have ICICI Prudential Health saver policy for the last 10 years. Never claimed any expenses. I want you to know, is this the best policy for me or can you advise alternate policy which can give me maximum benefits.
Roopam Asthana: ICICI Prudential Health Saver Plan is a Unit Linked Health Insurance Plan offered by a life insurance company where the policy holder bears the investment risk of the investment portfolio, whereas Health Insurance policies offered by General and Standalone Insurance companies are non-unit linked plan in which you can renew the policy lifelong in case of any hospitalisation and you can claim maximum up to the sum insured opted during a policy year.
Also, the Sum Insured gets reinstated at every renewal. For more details on your existing plan, you can get in touch with your insurance company and then decide which insurance policy best suits your need.
Dakshay S: Let's say I have medical insurance here in India. And let's say I went for a business trip to America and I got sick there. We all know how expensive medical charges are in America. Can I claim the amount of treatment (done in America) with my Indian insurance company?
Roopam Asthana: It is important to read the Terms and Conditions of the policy carefully and confirm the requirements from your insurance company. Only few insurance plans from some insurance companies offer world-wide coverage which will ensure one can claim the amount of treatment done in another country.
Also note that some insurance companies provide coverage for treatment outside India only in case of an emergency when you are visiting the country for tourism or short business trips and not for planned treatments.
Abdul Nazer: I got a call from my bank AXIS to get Medical Insurance. Axis bank has tied with TATA AIG insurance they are providing low premium for the policy. They said this premium amount will be till my age 55. In this period i have to keep bank transactions with Axis bank. If not you can withdraw from policy or you can transfer the policy to TATA AIG. If i take the policy, what will happen to policy seniority? Can I take direct policy with the insurance company? I am confused help me.
Roopam Asthana: It is advisable to take medical insurance from the insurance company directly as it offers lifelong renewal without any conditions relating to your banking relationship. It means once you have taken the policy, insurance company can't deny the renewal unless there is any fraud or non-disclosure of relevant information.
A lifetime renewal surety gives an insurance shield & worry-free life against financial burden of medical expenses. However, you need to compare the covers provided and the premium charged before making any decision. To enjoy continuity benefits on applicable waiting periods in your bank provided health insurance policy, you have an option to port your policy directly with the insurance company if you wish to withdraw from the policy offered via your bank tie-up.
For more details you can get in touch with insurance company.
Neeta Dharamshi: I have United India health insurance since 2009. I have paid a regular premium with only one claim for hysterectomy in 2012. My renewal date is 12/8/2021. I want to port my UIIC insurance. I have sent a proposal form to HDFC Ergo online for porting with my 2 months back medical test details so that I can get the exact loading amount if any. I am taking medication for hypothyroidism, hypertension and cholesterol at the moment, very minimum dosage. I have sent those details too.
According to them the procedure is to pay a premium then you will receive a consent call which will decide about medical test requirements and loading amount if any. For any reason, if we want to discontinue, they will refund the full amount paid by us. This procedure of porting is not mentioned clearly on the website so all are non-proof.
My query is: How much I should trust them?
I was interested in family floater with my husband, who doesn't have any diseases at present. This is a new policy for him. So no loading for him for sure. HDFC ERGO advisor is suggesting me to go for individual policy as floater has more chance of rejection than individual policy for both of us.
So my second query is: Will loading be charged according to floater premium which is almost double than the individual policy? My husband's new policy without any diseases and mine is porting with pre-existing diseases.
Please advise whether individual or floater is better for us with reasons. Seeking your help as soon as possible.
Roopam Asthana: For your first query it is advisable to speak with the insurance company you wish to port to for understanding the exact procedure for porting. You may also wish to engage a trusted insurance agent to help you with the porting process as they will be fully abreast with the procedure and will guide you well.
Remember to ensure that you fully disclose your existing medical condition at the time of application itself.
As regards your second query it is advisable to go for separate individual policy for your husband because basis your current health status there are high chances of the insurance company charging higher premium for a floater.
Rajeev Nangia: My wife and I have been insured for a Reliance Health Policy since 2007 without a break. We have never filed a claim for any illness/hospitalisation. Our coverage in the Policy document has been Rs.5 lace since inception.
We tried porting the policy to some other insurer but no other company agreed to have it ported. My wife (73) and I (70) have been requesting Reliance to increase the coverage to at least Rs.50 lacs for which we are prepared to pay the enhanced premium. However, Reliance is refusing to do so despite our paying them a premium for 14 years with a "No Claim" record.
Please advice how we can get higher coverage since in these times Rs.5 lacs is a pittance.
Roopam Asthana: It is very unfortunate that you are unable to obtain a higher limit at the age when it is required the most. This is the precise reason why health insurance needs to be taken at an early age with sufficient coverage. It is easy to enroll with higher Sum Insured and better covers at early age than after crossing 60 years of age.
Usually, the insurance cover is limited beyond this age. Due to unavailability of higher health insurance coverage the best option for you is to spend less and save more with most of your savings allocated towards liquid assets to meet emergency medical spends.
---
Do you have health or auto insurance queries? Please mail your queries to getahead@rediff.co.in with the subject line Ask Roopam and he will answer all your health insurance and auto insurance queries.