To overcome your fear of the property being taken over, draw an ironclad agreement with a good lawyer's help, recommends Sanjay Kumar Singh.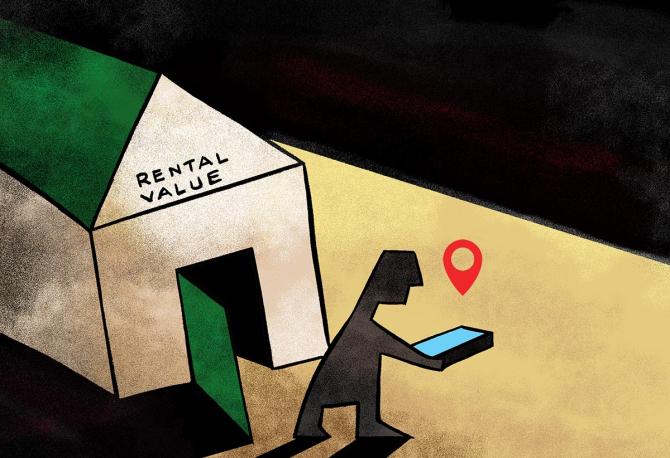 Asit Tewari, 50, a Delhi-based lawyer, had put his house in Sector 133, Noida, on rent.
A couple of months after the pandemic began, the tenants moved back to their tier-III town.
His house has been lying vacant since, but Tewari still has to bear the burden of home loan EMI, property tax, and maintenance expenditure.
According to Census data, about 11-25 per cent of residential houses lie vacant across major cities.
"The rental yield, on average, is only 2-2.5 per cent. Property tax and maintenance cost lower it further to 1.5-2 per cent. Besides the low return, many house owners don't rent because of the fear that the tenant won't vacate," says Gulam Zia, executive director - valuation and advisory, retail and hospitality, Knight Frank India.
Should you invest in rental housing?
Experts hold mixed views. Some believe you should wait for a couple of years.
"People invest in residential housing primarily for capital appreciation. But prices have been declining for the past five years and may not appreciate for the next couple of years," says Zia.
Other experts believe this is a good time to invest.
"Prices have been stagnant for a long time and have bottomed out, so you should buy for the long term," says Amit Agarwal, co-founder and CEO, NoBroker.com.
Over a 10-year period, he says, one can expect capital appreciation of 7-8 per cent and rental yield of 2-3 per cent annually, taking the total return to 10-11 per cent.
Developers are willing to negotiate on prices and are offering good payment plans currently.
Two other points favour an investment in rental housing.
"Rent gets revised over time, so you earn inflation-adjusted return. And you can put 30 per cent of your own capital and get a loan of 70 per cent, so you enjoy the benefit of leverage. The price escalation happens on the entire 100 per cent," says Agarwal.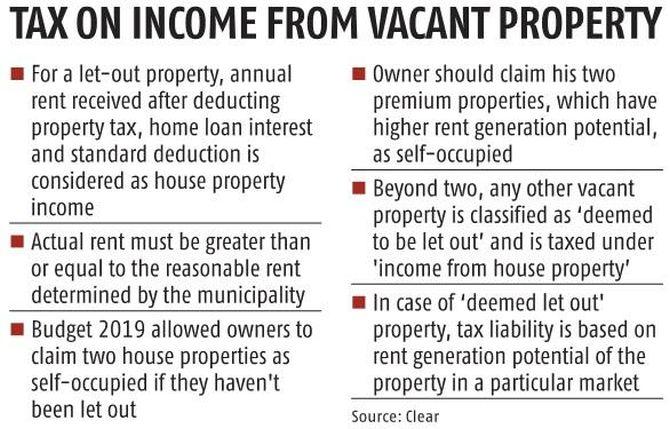 Pay heed to location
If you decide to invest, location should be your main selection criterion.
"Buy in an area where there are offices, IT parks, or commercial centres nearby that employ a lot of people," says Agarwal.
Also, look for an area with good public transportation facilities, like the metro.
As for the size of the apartment you should invest in, focus on 'rental value fit'.
"Every locality attracts a particular set of people prepared to pay a certain level of rent. Find out what that level is for your area and buy a suitably-sized property," says Altaf Ahmad, chief business officer, rental business, Square Yards.
Let rental income flow
For the next few months, house owners should be ready to compromise on rent, instead of remaining anchored to the last figure they were getting.
It is advisable to compromise on a few thousand rupees and get some income flowing.
As Archit Gupta, founder and CEO, ClearTax, explains, owners have to pay tax even on a vacant property (please see box).
Ahmad warns against demanding too large a security deposit.
To get an estimate of the right rent for your house, Ahmad suggests focusing on the rates at which the last five transactions have happened in your proximity.
Aggregators like PropsAMC offer such data on its Web site.
Sign an agreement
To overcome your fear of the property being taken over, draw an ironclad agreement with a good lawyer's help.
"Rent your house through a leave and licence agreement, rather than a lease agreement. Leave and licence grants only a temporary right to use the property whereas a lease agreement transfers some interest in the property," says Harsh Parikh, partner, Khaitan & Company.
Feature Presentation: Aslam Hunani/Rediff.com