They have mastered the art of winning. And sometimes they give us a peek into how they do it.
In this series, we bring you your weekly shot of wisdom from super achievers.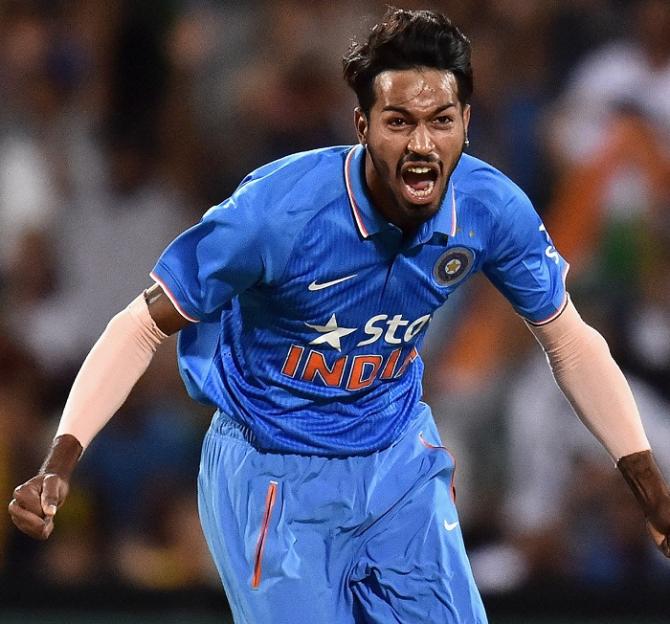 Photograph: Daniel Kalisz/Getty Images
Hardik Pandya's name is on every Indian cricket fan's lips after the crucial knock he played against Australia in the first ODI this past weekend.
But just days before the series, he had reminded his fans on Instagram that 'every champion was someone who refused to give up when he or she was down.'
Not many people know of the tough times Pandya faced before he started playing for Team India.
In an interview to Aaj Tak, the cricketer spoke about the financial struggles his family went through after his father's car finance business in Surat shut down in 1998 and the family moved to Vadodara.
Pandya revealed that the only reason he could pursue his passion was because his father was a big cricket fan and made his Hardik and Krunal, who is also a cricketer, join Kiran More's cricket academy in Vadodara.
In the interview, Pandya spoke about not having enough money to buy a cricket kit, using borrowed gear for practice and surviving on Maggi for breakfast and dinner.
Speaking from experience, Pandya had ended his inspiring Instagram post saying, 'I urge all youngsters to chase their dreams, train hard and be the best.'
Earlier in the series:
Geeta Phogat's 'muqaddar ka sikandar' moment