Google wants to know why people kept asking the Assistant to marry them, says Amrita Singh.
Illustration: Uttam Ghosh/Rediff.com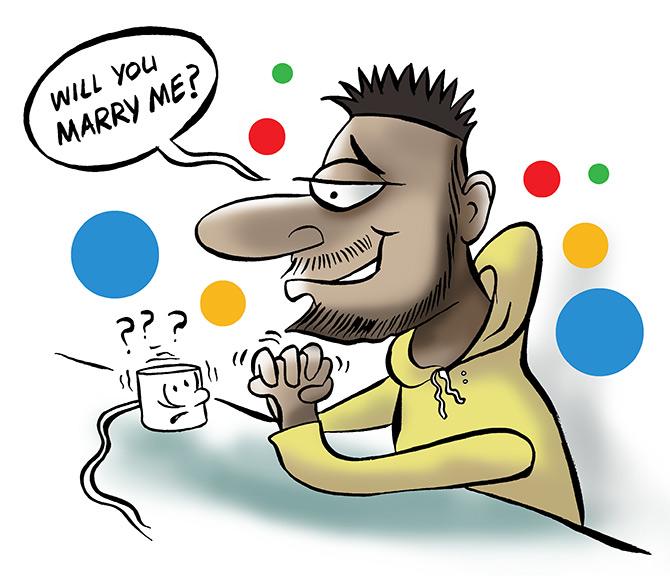 What?
'Will you marry me?'
Before you take this the wrong way, this is not me proposing to you, but 450,000 Indians who thought they had a chance with Google Assistant.
In a recent study, Google Assistant received that number of proposals in April last year, making 'Will you marry me?' one of the most frequently asked questions.
To understand why such a large number of Indians would propose to Alexa, Siri or Google Assistant, Google India turned to Twitter.
How?
After the 10-year challenge that went viral on Twitter a few weeks ago, a new wave has hit the shore.
The 'really really really' memes -- posts in which people type 'really' in every line to make a curved pattern -- have become the social media-savvy way of asking for things, carrying out clarifications and declaring love or hatred.
For instance, the Pro Football Hall of Fame in Canton, Ohio, used its Twitter account and the 'really' meme to say, 'We really really really... really really need you to call it the Pro Football Hall of fame and not the NFL Hall of Fame'.
NFL, to explain, is the name of the league and not the hall of fame.
Google India decided to jump on the 'really really really' meme bandwagon to ask Indians why they would like to marry Google Assistant.
Now?
The tweet, which read, 'We really really...really really need to ask you why you keep asking the Google Assistant to marry you,' got 31,000 likes, 7,000 retweets and 1,500 comments in two days.
Indian users have taken the question in their stride and have tweeted hilarious responses.
One user, whose Twitter handle is @iamsubhamstark, replied: 'I am really really...really really sorry that you have to deal with single guys like us'.
" Another user, @AkankshaSri_, used this opportunity to troll Google India by tweeting, 'I really really...really really want to know why Google keeps asking me my location'.
Twitterati have also been posting screenshots of their various proposals to Google Assistant.
One user, @SokkiNavee, commented saying 'it's tougher to get Google Assistant to accept your proposal than it is to get a girl to do so'.
Another one, @theEpicGooner, replied: 'Because, it can't friendzone me'.
And yet another said, 'Recently I broke with Siri so, trying to patch up with this'.
Why?
Who knows why people ask voice assistance devices the things they do.
Perhaps we should blame it on the times we live in.
Google, we have come to believe, has all the answers we seek.
It's our new god.
And, hasn't Google given us enough reason to believe so.
So, if we find a wart on our foot, what's the first thing we do?
We promptly go to Google.
If we want a Burmese chicken recipe?
We turn to Google.
If we need to rent a house in a certain locality?
Again, we Google.
Now, who wouldn't want to marry someone who makes life this easy?
The crazy questions to Google Assistant are also known to throw up rib-tickling answers.
Someone asked it, 'What is love?' And it replied, 'Love might be the reason people sing and dance around trees, you know like birds and bees.'
Another person wanted to know, 'How old are you?' And this is what it said, 'I was launched in 2016, but I am wise beyond my years.'
So, you see, it always has an answer.
Which is why, it is unfair of Google India to be asking us why we are asking these questions.