Purvi Thacker is an Indian. Sarah Munir is a Pakistani.
And when they met as students in New York they became best friends.
But now -- caught in the tensions between their two countries -- they face the challenge of getting Sarah to India for Purvi's wedding.
Aseem Chhabra speaks to the two friends about their struggle and how often friendships between Indians and Pakistanis grow outside the subcontinent.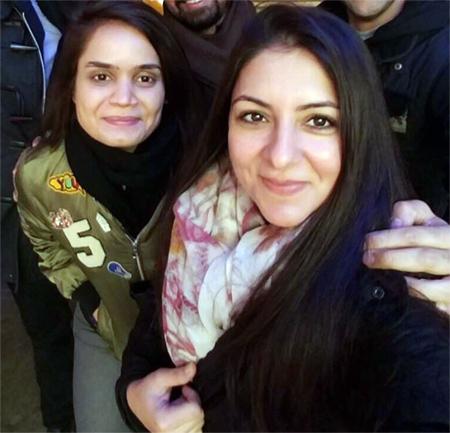 Purvi Thacker is a freelance Indian journalist in New York. Her best friend in the city is Pakistani journalist Sarah Munir, who works for Forbes.
They met as students at Columbia University's Graduate School of Journalism. They soon became close friends, spending a lot of time together. They even visited each other's homes in India and Pakistan.
Then Thacker announced that she was going to marry her boyfriend Arjun Vatsa in Delhi. And she definitely wanted Munir to attend the wedding as her maid of honour. They applied for Munir's visa to India and that is when they received a shock.
The visa was denied.
So, Thacker and Munir took to social media to highlight their case.
And soon their cause went viral getting coverage in India, Pakistan and in other countries.
Aseem Chhabra spoke to Thacker and Munir via Skype as they were about to reapply for Munir's visa.
Purvi, when did Sarah first apply for the visa?
PT: She did all her paperwork in the first week of September. I was in India the same time when I got all the sponsorship certificate, police verification signed.
It was a hassle because the moment they see it is a Pakistani they are wary. She submitted her application around September 20.
There is a rule that you have to wait for 30 to 45 days before you can call and check the status. She called on October 31.
They first said it had not been 30 to 45 days, but then said they will get back to her.
Within two hours she got an email saying please pick up your passport. Your visa has been denied.
This was an email from the Indian consulate in New York.
PT: Yes. She applied from here because she couldn't go back home and apply for the visa.
She had checked in advance if she could apply in New York, since she is a Pakistani national and was told yes she could do so.
And they didn't give a reason?
PT: No, they didn't give a reason. We were quite taken aback considering she has been to India twice before -- once she was hosted by my family and lived with us.
I have also been to Karachi and stayed with her family. So, we thought this was for a wedding and they wouldn't say no.
I posted something on Twitter. I cced (External Affairs Minister) Sushma Swaraj and people retweeted it.
The next day I was venting on Facebook and it just blew up. People went crazy. A lot of friends started tagging others who could help us.
Twitter was also overflowing with vile comments, which were mostly, surprisingly from women versus men. But there were also very supportive comments, some tagging relevant accounts that could help us.
We started talking to some of the contacts and that's how the hashtag #GetSarahToIndia developed.
We didn't realise it would become such a big deal.
In terms of comments — were there more positive, or there were quite a few negative also?
PT: I think it's equal. We have been overwhelmed by a lot of supportive messages.
But there were people who wrote about jawans being killed on the border or someone said if you have a Pakistani best friend, then why don't you go and get married in Pakistan?
There were some very ignorant comments.
Last week, we went to the consulate and met the deputy consul general who just said that the clearance hadn't come from India.
He asked her to reapply. And he said that we should make sure that every detail we write is the same as the last time because if there is a disparity it will raise a red flag.
He did reassure us that they are not denying visas to Pakistanis who want to visit India.
I just came to Delhi from Dharamsala yesterday and somewhere in Haryana I heard a police siren and then saw armed escorts driving along a Pakistani tourist bus that had arrived by road from the Wagah border crossing.
The thought crossed my mind that if this is going on, then why was Sarah's application or Karan Johar's film singled out?
PT: Exactly.
We had a lot of press. The Tribune, where Sarah worked as an editor, were the first to pick up the story. Dawn printed it. We did blogs for NDTV and Time magazine.
But then we decided to step back. It was not our intention to blow it up in a campaign.
Secondly, we have gotten a few high level contacts and we didn't want the publicity to backfire.
Do you think it would backfire if there was publicity? I saw Shashi Tharoor retweeted you also.
PT: He messaged me and then retweeted me, and also ccCed Sushma Swaraj. No one from her office has contacted me or Sarah.
But we decided to step back because we don't want to disrespect any governments.
We are just saying that we understand things are bad between our countries. There is a history. But it affects normal, everyday, mundane bonds and friendships.
She has been to India. She doesn't pose a security threat. My family is taking responsibility for her.
But imagine to not have someone who is like a sister to me on the biggest day of my life. It's just disappointing.
So, where does the situation stand right now?
PT: Sarah has been told to reapply, which she is doing. And hopefully through various people we have spoken to they will reconsider and issue her a visa.
At least it is heartening to note that they are not saying no to Pakistani passports.
The wedding is in mid-December. I told the consulate that if they issue the visa for four, five days I will be okay with it.
We are hopeful.
You have known Sarah since the time you went to Columbia Journalism School?
PT: Yes. When we met she introduced herself. The friendship formed.
I needed a place to crash while my apartment was not available. She lived in International House and I stayed with her for eight days. We instantly hit it off.
People like Professor Sree Sreenivasan said this was a true example of what cross-border relationships should be.
We have become like siblings. I call her parents Ammi and Abu. She talks to my parents. Whenever the families are over, we meet each other.
SM: A lot of people said to me let it go. Don't fight it. But Purvi is really like a sister to me.
I don't want a government to tell me that I cannot be there for my sister's wedding. I will go quietly for the festivities and then come back.
Purvi, when did you go to Karachi?
PT: I went in January 2015.
And you had no problems getting a visa?
PT: It was actually harder for me to get the visa as compared to when she applied for the Indian visa.
I only got it for a week to go to Karachi.
I understand there are deeper diplomatic and political issues at stake, but there are so many people like us.
When BuzzFeed wrote the story, I saw in the comments section how many Pakistanis had tagged their Indian friends and the other way round.
It makes you feel like there people listening and there are well-wishers.
Sarah, you had to been to India once before when you visited Purvi's family?
SM: I went for a conference when I was an undergrad. I visited Delhi, Agra and Hyderabad.
I was studying at LUMS (the Lahore University of Management Sciences) and was part of a youth organisation.
And it was easy to get the visa?
SM: Yes, we had an invitation. It was before the Mumbai attack, so things were nicer then.
And the second time when you visited Purvi's family?
SM: Well, there are always some small hassles when you are from India or Pakistan, but there was no rejection.
There was a lot of paperwork, but nothing like this.
Purvi, how did you feel after the Uri attack and then suddenly it became an issue about Karan Johar's film? Did you think it would affect Sarah's visa application?
PT: Yes, we did and a lot of friends messaged from India saying the situation is really bad, that they have banned Fawad Khan from Indian films, so do you think Sarah's application would be affected?
But we thought her application was for a wedding and at least they would give us some reason.
Some people suggested that maybe she had been denied a visa because she is a journalist. But she has been a journalist throughout.
When she came to India in 2012 to see me she was actually working as a journalist in Pakistan.
SM: There was a fear at the back of my mind, but there were two things that comforted me. I am in America and I have a work visa here. And then it was true that I had gotten security clearance for my first two trips.
I did not get a reporting visa, even when I declared that I was a journalist.
Sarah, what do you make of all of this? In India I have to explain to people that in New York I have so many Pakistani friends.
SM: When I came to Columbia, it was just natural that we gravitated towards Indians.
There is no effort involved in making friends with them.
The language is the same. Forget the shared history, you feel that you have had a shared childhood and you click immediately. I have a lot of Indian friends.
But when something like this happens you are reminded that well, maybe we are mistaken. Maybe we are actually different.
It is so sad that on a bureaucratic level the differences cannot be bridged. But on a personal level there seem to be no differences at all.
But I want people to know that by no means do we disregard and disrespect the losses on both sides of the border in terms of life and an emotional toll.
What we are saying is that this will continue mindlessly unless you allow these kinds of exchanges and interactions to happen.
The strongest relationships are formed over food, weddings, and other cultural and personal exchanges.
Otherwise, it will always be that Indians will be villains in our movies and Pakistanis in Bollywood movies.