Model Daljit Sean Singh wants to give people a meaningful farewell.
The loss of a loved one overwhelms you with inconsolable grief.
Then you have to overcome your sorrow to perform the last rites for the departed soul.
This was something Daljit Sean Singh, left, went through when he lost family.
Antim Yatra, his company, assists people organise funeral services.
Rediff.com's Tista Sengupta spoke to Daljit Singh to find out more about Antim Yatra.
You were spotted at the Lakme Fashion Week and the Amazon India Fashion Week. How did modelling happen?
Modelling is something I always wanted to do.
I believe one can be a model at any age. I'm in the middle of my life, so I thought of pursuing it.
I thought I can add a new, unique look. So I called up a photographer friend, Shatabdi Chattopadhyay, and took a bunch of pictures around my house.
In one of the images, I sported a double moustache.
The photos were posted on Facebook. Someone saw it. One thing led to another and I started living my dream.
In my early 20s, I had been into modelling for a while.
I did a shoot organised by Rashmi Virmani, show director, The Ramp, for the ITC Maurya hotel in New Delhi and the ITC Rajputana in Jaipur.
Later I did a shoot for Chelsea Jeans where I was dressed as a sardarji.
After this, I disappeared for 10 years to explore foreign countries.
I got back to modelling for my designer friend J J Valaya who wanted to feature me in one of his shoots.
We went to the Neemrana Fort, Rajasthan, for the photo shoot. The moment the pictures were posted on social media, I started to get more work.
In 2013, I walked on the runway for the first time for J J Valaya at the Amazon India Fashion Week.
This year I walked for Shantanu & Nikhil and Kunal Rawal at the Lakme Fashion Week Winter/Festive 2016 and for Malini Ramani at the Amazon India Fashion Week Spring/Summer 2017.
I even got to play Baban Pehlwan in Kill Dil.
My claim to fame is that I shot Ranveer Singh and Govinda in the movie.
IMAGE: Daljit Singh walks for Shantanu & Nikhil at the Lakme Fashion Week Winter/Festive 2016.
Photograph: Hitesh Harisinghani/Rediff.com
You disappeared for 10 years. Why?

A lot of people retire and then go and see the world. I thought I should travel during my early days.
Although I was part of my family construction business, I decided to explore the US, South Africa, Europe, China...
There were times I worked as a barman in restaurants in the US to take care of my expenses.
When I returned to India in 2004, I started working as an assistant manager at the Diva restaurant in New Delhi for co-owner, chef and restaurateur Ritu Dalmia for a couple of years.
In the meantime, I met my wife Namrata, who was into the events business.
We decided to open a small events company, Events Decor, where we organised weddings and parties.
How did Antim Yatra come to mind?
This idea came to me while I was in the US 14 to 15 years ago.
I realised one day that if something happens to me, I didn't want to be left alone in a foreign country.
I have lost family members, and every time I saw no help for conducting the last rites.
So I wanted to provide a service in which anyone can call one number and everything is taken care of.
Now that I know what will happen to me and my body after I die, I have stopped wasting my time thinking about silly things.
I want my body to be respected just like the way I look after it now.
IMAGE: A Sikh funeral organised by Antim Yatra.
Photograph: Kind courtesy Antim Yatra
When did the company come into existence?

The company was registered in 2014, but the idea had taken off in 2011.
I had to cross a huge mental barrier. I thought people might find it inauspicious to even talk about it.
I didn't have the courage to start Antim Yatra earlier. I thought if this idea didn't take off, then my other business would suffer. I was in a dilemma for quite a while.
One day, I realised it was time to make this service available to people.
For me it's something that gives you peace of mind.
For me it's that one call which can take care of everything when there's a personal loss.
When someone passed away in my family, I noticed how everyone had to keep calling people looking for this or that.
Amidst all that, no one got to mourn with the loved one who had just passed away.
When a prominent businessman in New Delhi died, his body wasn't placed in a refrigerated coffin.
The ice on which his body was laid started to melt. When the hearse came, it broke down even before getting inside the gate.
Sometime later another hearse appeared, but the doors of this van didn't shut.
When a close family member expired in a prominent hospital, we had to ask for a hearse. But the hospital didn't have that facility.
When we asked where one can find a hearse, they told us 'Google maar' (Search on Google).
That's how Antim Yatra came into existence.
I wanted to be that one number who anyone could connect with at such times.
When you say funeral management, what does it cover?
Someone can pass away anywhere in the world.
Wherever s/he is, you can bring your dear one back to your country with the help of Antim Yatra.
I have arranged this service for one of my clients. The person's body was brought back from England. Getting the body through customs was quite easy.
There are times when the family that lives abroad takes time to come back to India for the last rites.
During those times, we look after the body and place it in proper refrigerated coffins.
We also book the cremation ground, prayer hall. If any client wants to visit Haridwar, we do the necessary arrangements.
We also organise chauthas and one year memorials.
We even pre-book these services. Our clients let us know in advance things like what kind of flowers they want, which hall they want us to book, etc.
A number is provided to her/his family who can contact us when required. We make sure the wishes of the departed soul are fulfilled.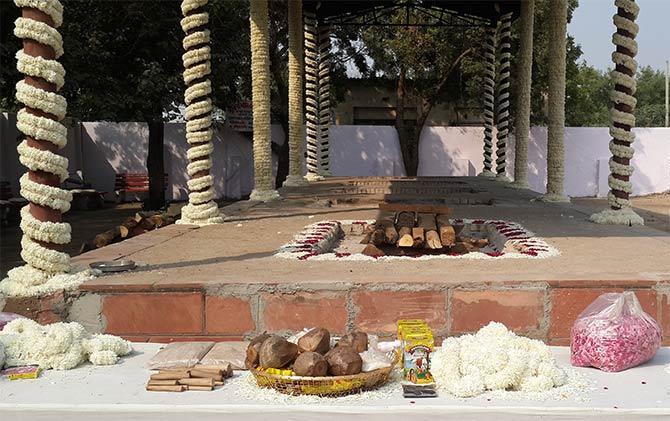 IMAGE: Floral work around the funeral pyre.
Photograph: Kind courtesy Antim Yatra
What were the challenges you faced?

First, it was challenging to set up the company.
Second, the challenge is in sustaining the (business) model.
It's a new concept here and we haven't marketed our services much.
I believe in word-of-mouth marketing. It's going to take a little bit of time to grow. But I don't want to advertise about it.
Death is not something that is celebrated.
How do you ensure that the arrangements you provide doesn't hurt sentiments?
Death isn't hard for the person who isn't there anymore, but for those who are left behind.
It's to make them feel comfortable as much as possible. Hence, every detail is taken care of and arrangements are done tastefully.
For example, at chauthas, a little backdrop is done. The family chooses what they want.
A prayer hall is booked and tea, coffee and sandwiches are arranged for the condolence meeting.
I had done a wake for an Anglicised Indian family where guests celebrated the life of the departed with his favourite whiskey.
It turned out to be a very beautiful, and I think, a nice way to remember a person who's no more.
While some consider white as the colour of death, for a few it's black. But you used pink flowers, as seen in a Facebook post.
Pink carnations was the favourite of the deceased person. So his family wanted us to do such floral decor.
I have met people who want jasmine, and a few who don't want flowers at all.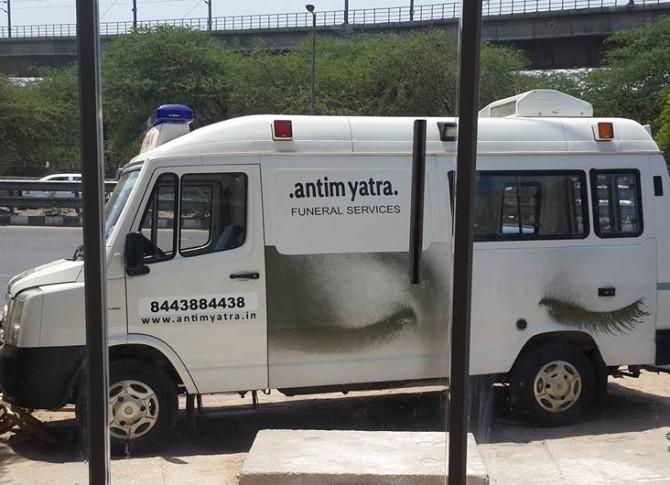 IMAGE: A clean hearse is arranged to take the departed soul for the final rites.
Photograph: Kind courtesy Antim Yatra
What is the demand for such services in India?
It is definitely not confined to the elite class.
It's mainly the middle class using our services.
The services start at Rs 21,000 which might get more expensive if someone tries to arrange for everything all by herself/himself.
The demand is slowly growing. There are a few people who are providing such services now, but they aren't a one stop shop.
What sets us apart is we look after you in the future.
We let you know that we are here and we shall sit and listen to what you want.
We are just two years old, and it's still a learning experience for us.
Most of the stuff used for the services are in house. We get flowers from the mandi (market), book the halls, arrange for ambulances, etc.
Until now, I have provided services in New Delhi, Noida, Gurgaon and Agra.
We mostly have had Hindus, and sometimes Sikhs too. We organise at least seven to eight such events, and we do almost six memorials every year.
I remember organising chauthas in which people wanted nice chairs and wellknown singers too.
The most expensive funeral I did cost Rs 800,000.
It was for an industrialist from New Delhi. The snacks provided were from really good caterers. It was a white glove service in which the waiters wore white gloves.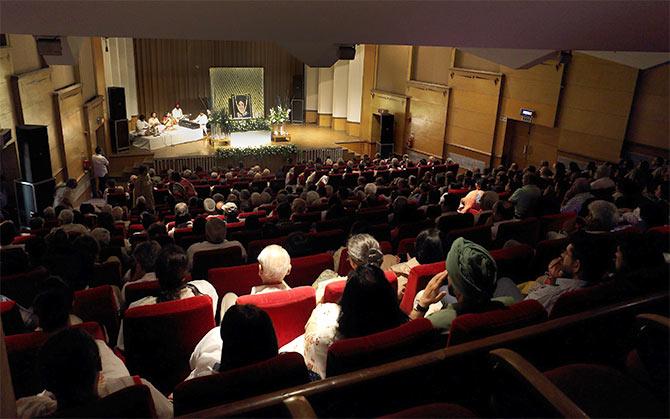 IMAGE: While people remember the dear ones they lost, the funeral singers on the stage leave them in tears.
Photograph: Kind courtesy Antim Yatra
What packages does Antim Yatra offer?
The minimum amount is Rs 21,000 in which a hearse, materials required for the last rites and a bit of floral work are covered.
Now if someone wants flowers worth Rs 70,000, 50,000 or 15,000, the price will vary.
The body will be taken to the cremation ground and two different floral work is done -- one will be where the body has been laid to do the prayers, and the other around the funeral pyre.
We also assist in getting death certificates for which we charge an additional amount of Rs 2,100, as my guys need to make four to five trips to make sure that they get the certificate.

The package doesn't include catering or tenting or arrangements for the chautha.
That completely depends on the family and how and where they want it. The prayer halls charge between Rs 15,000 to Rs 45,000 for two or three hours.

What's next?
My next project is going to be like a spiritual retreat.
I have a little place in Dholpur, Rajasthan, where all the sandstone came to build Rashtrapati Bhavan, India Gate, North Block, South Block, etc.
My great grandfather Sardar Bahadur Dharam Singh was one of the five builders of New Delhi.

Located on the bed of the Chambal river, it's a peaceful and beautiful place, best suited for weekend getaways.
You can eat food off the land as everything is going to be organic. It's going to be ideal for yoga or apt for a bunch of friends to hang out.