'My parents have taught me that there is nothing more valuable than humanity.'
'I have seen poor and deserving people striving to get ahead in life and how reservation helps them.'
'At the same time I have seen rich kids with well to do parents still taking advantage of reservation.'
'I cannot be an opportunist. I cannot be a hypocrite.'
'I cannot say I believe in humanity and equality and do exactly the opposite.'
Dinchengfa Borua chose merit over reservation while applying for a job in the government.
This is her story.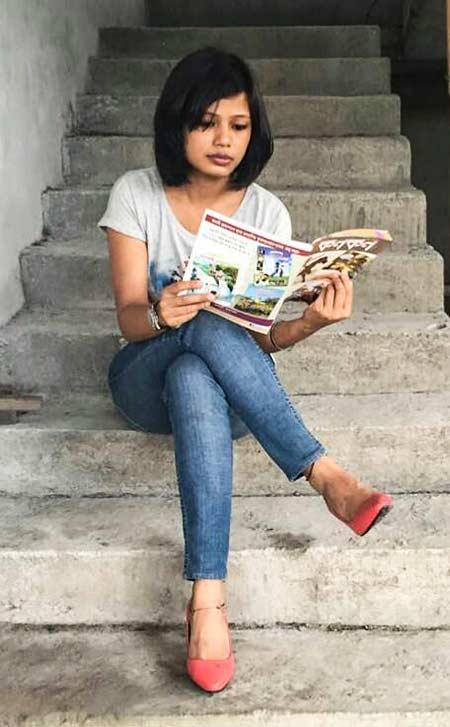 IMAGE: Dinchengfa Borua is currently posted as assistant commissioner and executive magistrate at the Kaliabor subdivision in Nagaon district, Assam.
All photographs: Kind courtesy Dinchengfa Borua
When Dinchengfa Borua, 26, sat for the Assam Public Service Commission exam in 2013, she was least prepared for it.
A post graduate student from the Indian Institute of Mass Communication, Kolkata, she had quit her job as a journalist to become an entrepreneur.
A few months later, when she cracked the preliminary examination, she had a tiny ray of hope.
In July 2014, she was writing the APSC main examination with nearly 50,000 candidates of which only 90 people would make the final cut.
Dinchengfa, an academically bright student, had a privilege she could use any time. She belonged to the Ahom community in Assam who were allotted 27 per cent reservation in state government jobs.
But Dinchengfa chose to apply in the open category and she got through.
She did not top the examination or score exceptional marks. But she did something that may make many of us question the way we lead our lives.
The reason Dinchengfa Borua, who ranked 8th in her university examinations in Bengaluru, gave up her reservation will inspire many of you.
Ever since her 400 word letter written to The Better India Web site (external link) 'I gave up reservation in a competitive exam. And it made me proud' went viral, her phone hasn't stopped ringing.
Dinchengfa studied mostly in Delhi but lived and worked in Bengaluru before moving to her home state.
Her mother, a retired professor, now works with an NGO that helps the less privileged in Assam's Sivasagar district. Her father handles a small contractual business.
Her elder sister works as an actor-presenter while her younger brother works with automobile innovator Dilip Chhabria's firm in Guwahati.
Dinchengfa, now 28, tells Rediff.com's Divya Nair what inspired her to give up reservation and how she changed from being someone who criticised the system to being a positive part of the system.
Why did you write that letter?
I was casually talking to a friend in Bangalore about cracking the (APSC) examination when I mentioned about how I was constantly asked about my caste and decision not to apply under the reserved category.
I did not think it was a big deal because that's how I have been living my life.
But this friend asked me to share my story on The Better India because he felt it was inspiring.
I wrote the letter, but I did not share it for some reason because I wasn't sure. But I started getting calls asking me to send it.
After the story went up online, I started getting congratulatory messages from all over.
People wanted to know more about me; I wasn't expecting any of this.
Why did you quit journalism?
When I was young, I wanted to be in a profession that would matter to society.
I admired P Sainath and his writings. I also wanted to be a journalist. I wanted to write about social issues.
I thought that no one is writing about farmers and I joined an agriculture magazine.
I worked for a few months, but did not enjoy the stories I was asked to cover.
Between 2010 and 2013, I worked with a news agency and a leading television channel, but the kind of features and reporting I was doing, it wasn't what I had in mind about journalism.
I quit in 2013 to go back to Assam and become an entrepreneur.
I wanted to create more jobs for my people.
How did APSC happen?
I had never thought of appearing for the UPSC, but somehow when I saw the notification for the APSC in the newspaper I felt I should apply.
Unlike the UPSC, which is held every year, the APSC is held once in four or five years, so the competition is higher.
I only got two months to prepare for the preliminary examination.
When I cleared that, I felt I should work hard for the Mains examination.
I had to pick two subjects and I opted for psychology and political science.
I was good in psychology, but my knowledge in political science was weak.
The next five months, I worked really hard.
I cleared the Mains and secured second rank in the finals.
Why did you choose not to apply in the reservation category?
In my form, I had applied in the general/open category.
In the interview round, the panelists found out that I belong to the OBC category which has 27 per cent reservation.
I wouldn't have told them, but everyone could guess that from my surname.
We belong to the Ahom community and the panelists wanted to know why I had applied in the general category.
I told them that I wanted to get through on the basis of merit.
Since I had worked hard and secured good marks, I did not want to take undue credit of reservation.
The panelists were impressed with my response.
What are your views on reservation?
I don't think I am an authority to speak on reservation.
I have seen both sides of the spectrum.
I have seen poor and deserving people striving to get ahead in life and how reservation helps them.
At the same time, I have seen rich kids with well to do parents still taking advantage of reservation.
I have nothing against them, but I feel that if you can, and when you can get through on merit, why not give it up for those who truly deserve it, more than you do?
It's a personal choice. Not everyone may agree with me.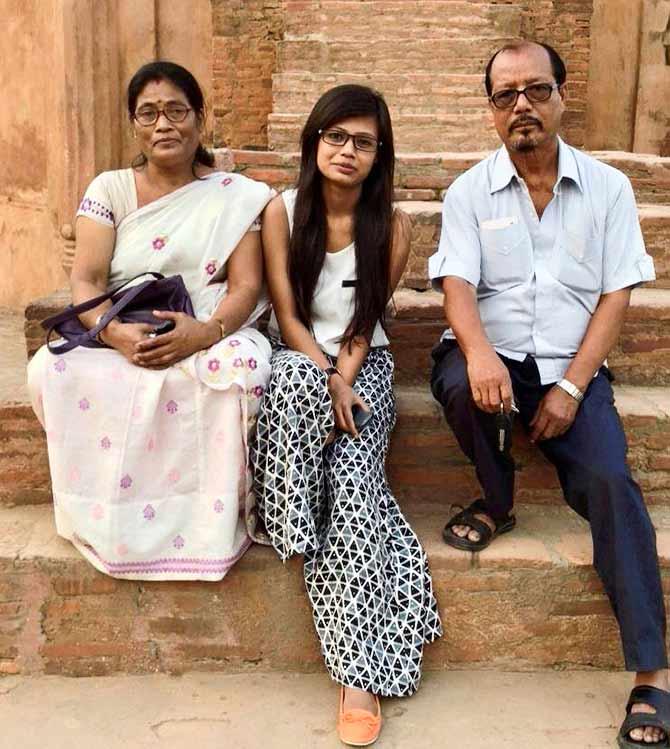 IMAGE: Dinchengfa, centre, with her parents.
How and when did the thought occur to you?
Maybe it's the way I am brought up or what I have developed from the situations and people around me.
My parents have taught me that there is nothing more valuable than humanity.
My friends call me weird, but I think very differently.
When I used to live in Delhi and take the metro at 7 am, the ladies' coach used to be empty.
On the other hand, the general compartment used to be busy, and men would have to even stand through the whole journey.
I used to feel empathetic.
The men are equally hard working like us, why should they not get the privileges we have.
I believe in an equal society.
So, sometimes, I would just travel standing to show my empathy.
In all these years, I have realised one thing -- I cannot be an opportunist.
I cannot be a hypocrite.
I cannot say I believe in humanity and equality and do exactly the opposite.
I don't think your caste, religion or your background changes anything.
What changes is the way you deal with these tags.
I have heard of people being discriminated because they come from the North East.
I have lived in different cities and have taken the effort to mingle with friends from all parts of India.
I believe that if you single yourselves from others fearing discrimination, you are only adding to the problem.
If you believe in something, stand by it.
Don't expect the world to change. You cannot change everyone.
You have to be the change.
Are you happy in your current job?
Yes, I am. There was a time when my friends would joke that people in government jobs are lazy and don't do much work.
Now I know that's not true.
In my role as assistant commissioner and executive magistrate, I travel a lot.
I sometimes work round the clock and even work on weekends. But I am not complaining at all.
I feel very responsible while collecting data from anganwadis and interacting with the locals.
It feels good to allot scholarships and sometimes even deal with the law and order situation -- when locals protest, we have to intervene and solve the problem.
Each day is a new challenge for me.
I am happy that my work matters to people.
At the end of the day, I can make a small contribution in someone's life -- bring a smile on someone's face.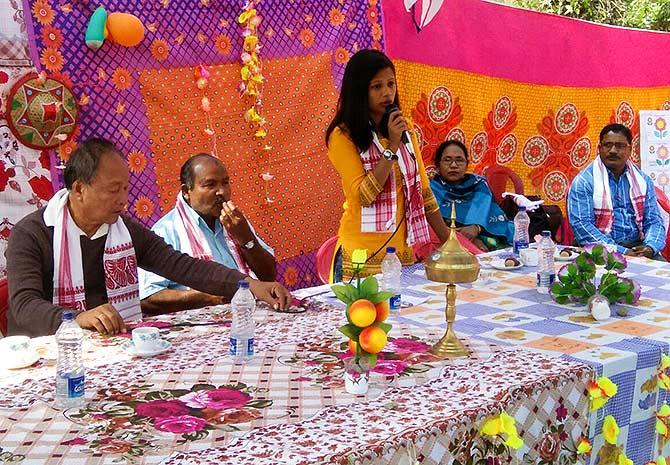 IMAGE: Dinchengfa speaks at an awareness meeting at an anganwadi in Assam.
You have changed cities, changed jobs, lived and worked with different people. How has that changed you as a person?
When I was younger, I used to be very impulsive. I would feel upset about wrongdoings and wrong people.
Now, I have realised that I cannot control everything.
I cannot change others, so I have learned to change and work with what is available.
I have stopped complaining about the system, because now, I believe that I am part of the system.
For the system to change, I have to be that change myself.
More ACHIEVER features in the RELATED LINKS below.