Designer Namrata Lodha has been winning hearts with her sustainable hats.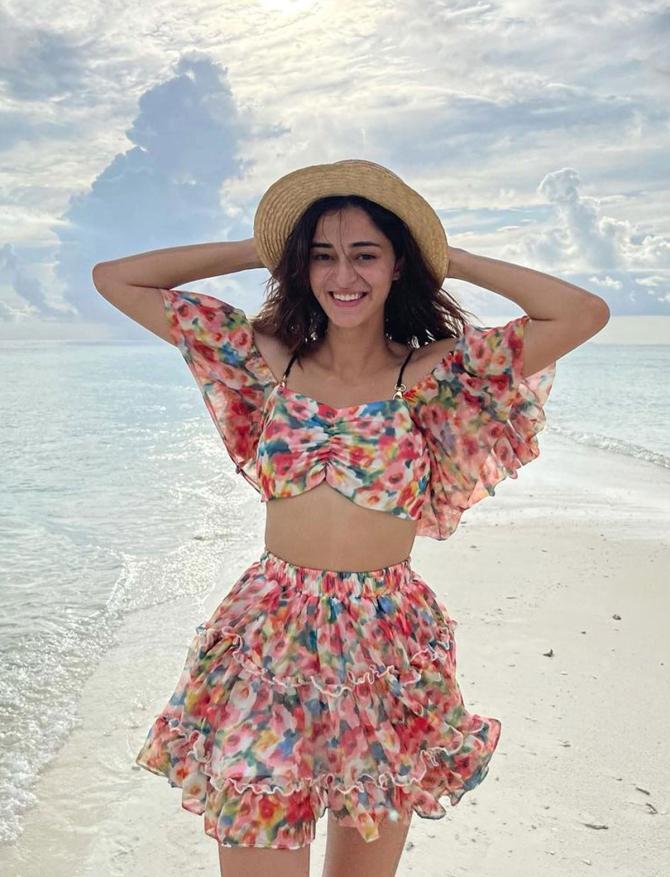 Namrata Lodha's personalised hats are the most-talked about fashion accessory this summer.
From Ananya Panday, Madhuri Dixit Nene, Sonakshi Sinha to Dia Mirza and Bhumi Pednekar, B-Town's leading ladies have added her straw hats to their off-duty summer wardrobe.
Starting off at 52, an age when most people think of retiring, the designer took inspiration from her backyard in Harda, Madhya Pradesh, to set up her sustainable accessories brand Myaraa By Namrata Lodha.
Namrata's hats are swiftly becoming a summer favourite. The stylish hats are a must-have for warm, sun-drenched days.
No longer an indispensable accessory to protect you from the sun, these eco-friendly hats inspired by nature are more of a bold fashion statement.
In an interview with Anita Aikara/Rediff.com, the designer speaks of her journey, the challenges of being a woman entrepreneur, leading an all-women's team and why she would love to design a hat for Kareena Kapoor Khan.
You started designing sustainable accessories at the age of 52.
I started Myaraa in 2019, at the age of 52, in a drive to make sustainable accessories fun again.
This entrepreneurship journey started with a germ of an idea to (re)introduce the concept of hats as an accessory, but with a unique design element in it.
My inspiration initiated from my backyard in Harda, Madhya Pradesh.
There are many wheat farms in the area and after the grains have been harvested, the local artisans or karigars use the remaining wheat grass to create baskets, simple tools and handicraft items.
When I was travelling to the US to visit my children, I saw people wearing hats made of the exact same wheatgrass which were moulded and styled in different shapes and sizes.
Today Myaraa's hats are designed in a combination of Indo-Western styles and personalised with your name, message or occasion.
We have customers in over 50 countries across the world from Germany to Australia.
Was it easy setting up the business? Did you face any kind of resistance?
An entrepreneur of any gender needs a determined belief in what they're doing and a cast iron resolve to get things done if they are to succeed in a highly competitive marketplace.
Unfortunately, the evidence still seems to indicate that if you're a female, you need that little extra something to break through the proverbial glass ceiling.
As women, explaining the importance of my business to men has been incredibly challenging.
Additionally, learning to do business through social media channels was a new concept for me, as I grew up using the old fashioned in-person shopping experiences. This has been a rewarding learning experience as well.
Lastly shipping international orders was the biggest challenge.
Harda does not have an airport or any major shipping company to send our products overseas.
We had to rely on the local post office (speed post) to send packages overseas.
In the time of 1-2 days shipping, this approach takes longer than expected.
My biggest goal for 2021 is to enhance our operations and increase the shipping network.
How does it feel to choose a career when most people would be thinking of retirement?
Before starting Myaraa, I was a homemaker and I dedicated my last 30 years as a stay-at-home-mom.
Being a housewife was a full-time job for me. In fact, the way I see it, it is the equivalent of three full-time jobs.
Even without adding childcare to the mix, today's successful housewife is a highly skilled professional with a mind-boggling job description and her pay check is her family's well-being.
So, starting a business now is one third the job that of being a homemaker.
Now that my children have grown up and settled, I can dedicate that portion of time to my business.
I treat this brand and work as my own baby, and give it full attention, love and support.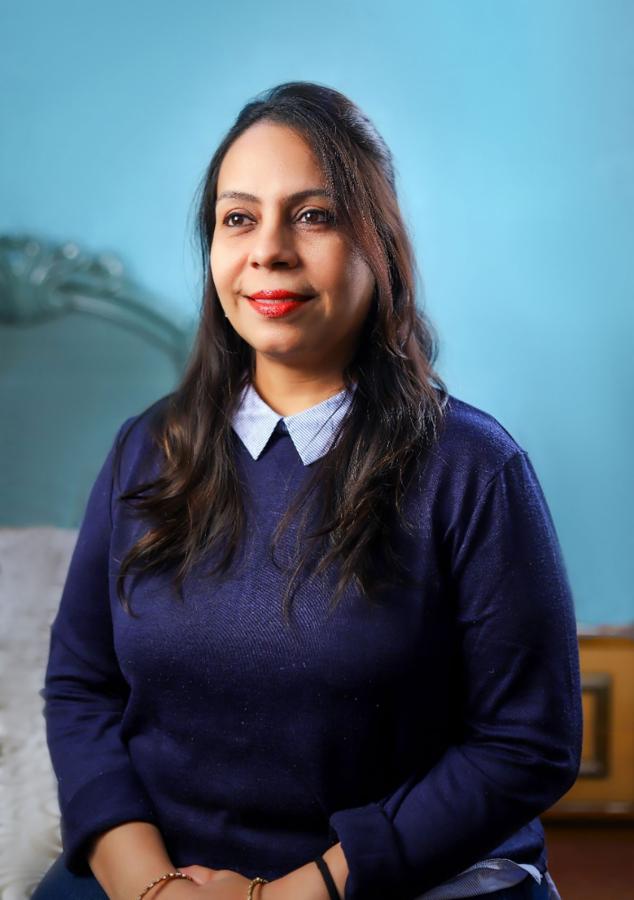 Do you have any degree in designing?
I don't have any degree in designing, but I have experience in hearing customer feedback and adapting the product to customers' needs.
Feeling unqualified for something was scary. But what was worse was never knowing if I could have succeeded.
You set yourself up to fail the second you decide to not try.
Virgil Abloh, artistic director of Louis Vuitton's menswear and founder of Off-White, is the perfect example of how far you can go in the fashion industry without a fashion degree.
How did your childhood home inspire you to create sustainable accessories?
The place where I grew up (and currently staying) is surrounded by many wheat and other grain farms.
The grass from these grains is used by local craftsmen to make handy tools and local crafty items that can get them a little additional money from their produce.
Looking at the raw material, I realised we could mould them and polish them perfectly that can be used as hats.
As easy it may sound, it was a long journey before we came up with our first boater hat.
It involved a lot of sweat and patience before we were able to get our design consistent.
What is your designing process like? What are the materials you use?
Our raw materials are locally sourced from the farm's lands and workshops nearby.
Our work process at Myaraa is very creative and open minded. It's majorly divided into two sections.
First is the design session where we are constantly working to innovate and come up with new styles.
This is also the part where we collaborate with our customers and give them a chance to be a part of creating their personalised product.
The other session is a research and development session where we work in our workshop and training rooms to collaborate with local artisans in designing the hat, employ and train my women team in writing scriptures and doing embroidery work for custom patch works.
We have certain products that are hot-sellers amongst our customers, but at the same time we are constantly working to add new styling options through the design and research and development rooms.
The most important part of the production is quality. There is a certain pleasure in recognising something that has been well made.
Good design is about using materials that are fit for purpose.
The product has to be aesthetically pleasing, has to be functional -- and if it has extra character to it, too, well, then that's something else. This is what we strive for at Myaraa.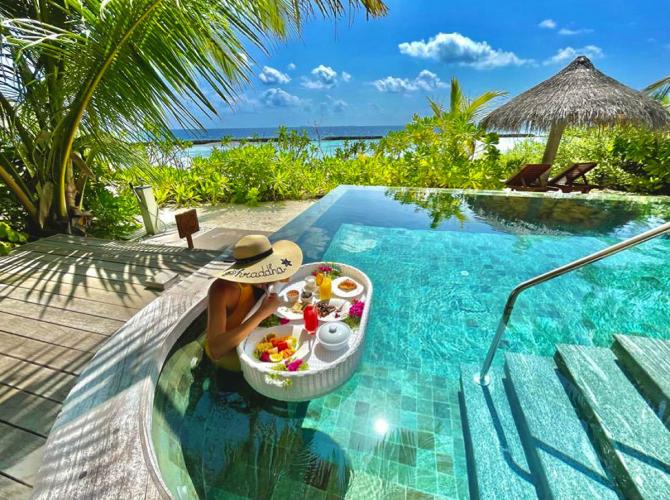 What is the design mantra you follow?
Working in a customer centric environment as a designer is this delicate balancing act.
You are constantly made to think ahead, backtrack, put on the spot to justify your design decisions, think of alternatives mid-sprint, make compromises on your designs in the best interest of the product you are trying to ship.
Design is not everything, it is only one piece of the puzzle. Good designers know when to let go of the design process, or where it really matters, the design itself.
Design is about making calculated compromises.
The goal of a designer is not to create the most pixel perfect mock-up, but to ship the designs to effectively solve a problem that requires solving.
Being a customer centric designer is about being nimble, open-minded and tactful. It is about being truly agile in every sense of the word.
According to you is a hat just a style accessory or does it mean much more to the person wearing it?
Putting on a hat is way easier than styling your hair.
In fact, between hats and dry shampoo, you may never even have to wash your hair, let alone style it, again.
Wearing a hat makes your look feel more complete. It's like the bow on top of a present.
You know that really protecting your face from sun damage requires taking a three-pronged approach: sunscreen, sunglasses, and perpetual shade (hats).
It's definitely added the extra fab into the style quotient.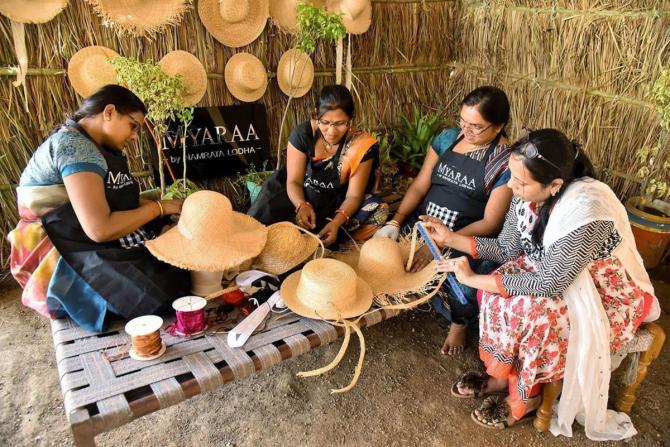 Is it true you employ rural women abandoned by their families?
Being someone who has first-hand seen what a woman goes through when the family or society doesn't treat the women equally, I wanted to take a stand on this and help women like me who are going through a similar journey.
This production empowers rural women whose families abandoned them for marrying outside their community or being a widow.
The company makes work accessible in rural India for these women making sure that when you buy a sunny hat it comes bundled with the social and financial empowerment of a woman.
We are supporting rural women by providing them employment at Myaraa and also donating 25 per cent of our profits into the wellbeing of their welfare.
This includes providing clothes, food, education and basic domestic repairs for rural households and their community.
At our workshop and design studio we have continued to pay salary for our team even during this pandemic.
We have made arrangements to work remotely on the orders that we are getting during this pandemic.
The work that we do at Myaraa has empowered my women to support their household expenses even when their partners have lost their jobs.
What inspires your style?
I love to take in my surroundings. Whether it's a piece of art, landscape, or something else totally random.
I love to look for color palettes, textures, prints, and themes to inspire me! Anything that makes me feel happy is a YES in my book!
You have created hats for almost all celebs...how do you manage to give each hat a personalised feel?
Moving beyond mass production is the key to having a personalised feel.
There are certain products and services that are perceived as having more value when there's low-batch production and personalisation -- let's take jewellery as a niche example that fits this bill.
When a woman shows her engagement ring to friends, she wants to hear people 'ohh' and 'ahh' over her sparkling diamond.
The last thing she wants is for someone to say, 'Oh, that's the same ring I have.'
That's the same philosophy we follow when it comes to designing a personalised hat.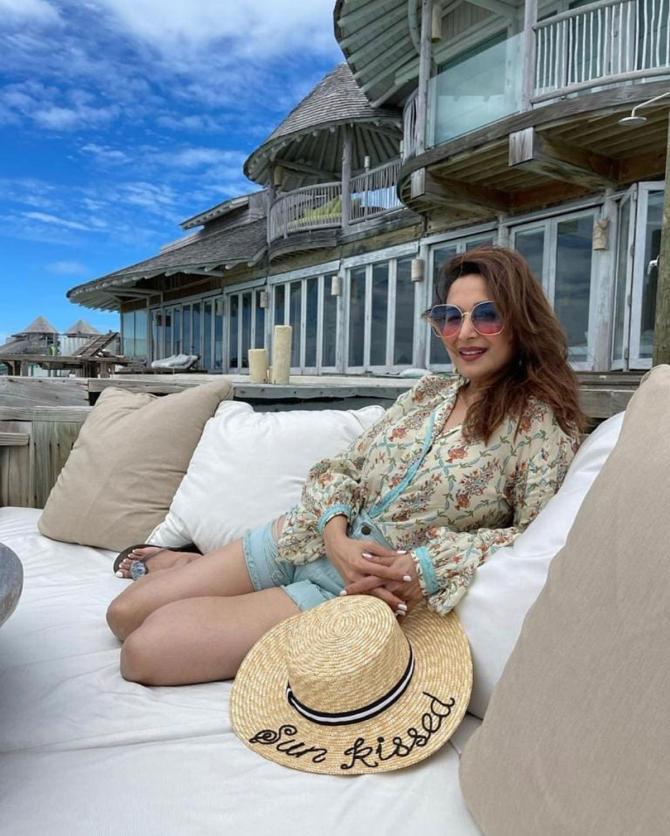 Which would be your most memorable hat till date?
My most memorable hat is the one I created for Madhuri Dixit for her family getaway in the Maldives. It was a straw hat with 'sun kissed' written on it.
It was special for two reasons, first because they are made out of natural straw which is 100 per cent sustainable and recyclable.
Secondly, because Madhuri Dixit has been my inspiration and role model from the beginning.
I have been amazed by her journey, all the hurdles that she crossed and all her accomplishments.
So, the day when I created the hat for her, it was my most memorable hat.
Do you wear hats? If you had to create a hat for yourself, what message or words would be inspired on it?
Yes, I am a hat person.
It is one of the simplest and quickest ways to take your outfit from drab to fab and the best addition for any occasion, especially on those bad hair days.
If I were to create a hat it would have #LetsLiftEachOther on it, because I strongly believe in today's time and age, we should be supporting one another and lift each other up.
A celeb you'd love to create a hat for?
I would like to create a hat for Kareena Kapoor.
She has an elegant personality, which is perfect to style with a straw hat.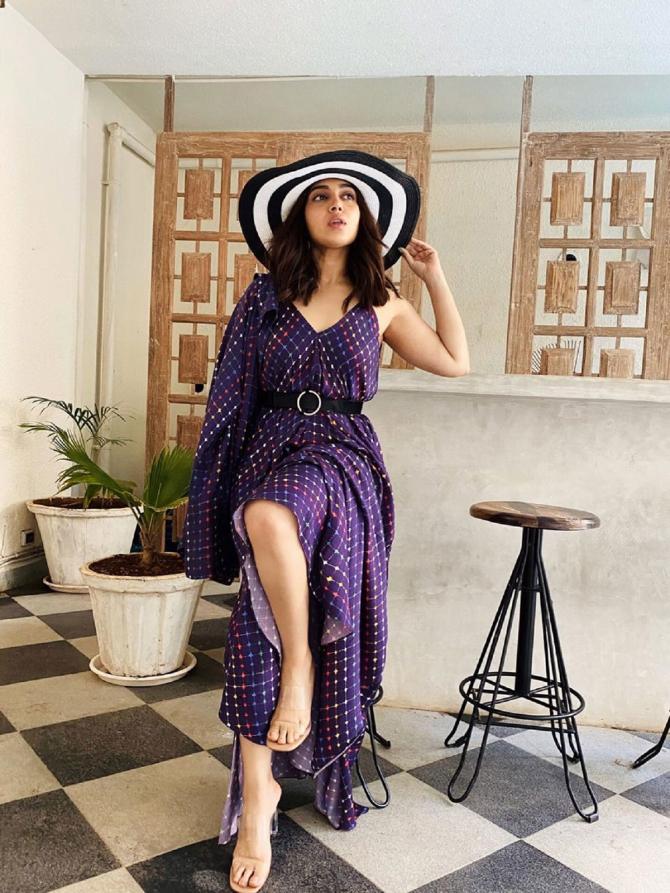 During the lockdown, when people stopped travelling, did it affect your business? How did you cope with the situation?
We are more occupied and busier than ever.
During this pandemic many retail stores and malls are closed, and we are seeing a change in customer behaviour where more people are now opting to online shopping.
That said, we are seeing increased Web site traffic and sales through our online channels.
Demand for our hats has increased and thus we have increased production capacity in the last few quarters.
People are pre-ordering for their local getaways trips or unique personalised gifts for birthdays or anniversaries of loved ones.
What skills does one need to make hats?
Hat-making is most rewarding and, for me, almost addictive.
Once familiar with the correct techniques and know how, you can create numerous styles and shapes in many different mediums for winter, summer, autumn and spring.
They can be as elaborate, sophisticated, outrageous or as casual as you wish; there is a hat for any occasion.
There are specific blocking equipment and necessary tools required to make your journey to learning this unique craft as easy as possible.
The materials used are varied -- some have been around for many years, some are still being introduced to the art of millinery.
Like all fashion, hat trends evolve; what is fashionable today, may not be in vogue tomorrow.
None the less, the vintage styles are still bobbing up within today's fashion and will probably do so forever.
Interestingly, the techniques used for the hats of yesteryear have not changed by a huge degree, although the materials may have. Hence they need to be processed accordingly.
What next?
We are just getting started in terms of our designs and collections.
There are more than 100 types of hat designs and variations that can be made and styled.
Thanks to nearly every single 2020 fashion week runway, there are a several hat trends to try out -- from major statements like cowboy hats and turbans to more low-key, wearable picks like berets and bucket hats.
Right now, our goal is to embed deep in the segment of various types of straws for hats and maybe diversify to bags made out of natural grass and cloth.