The best-selling author explains why he gains weight every time he writes a book.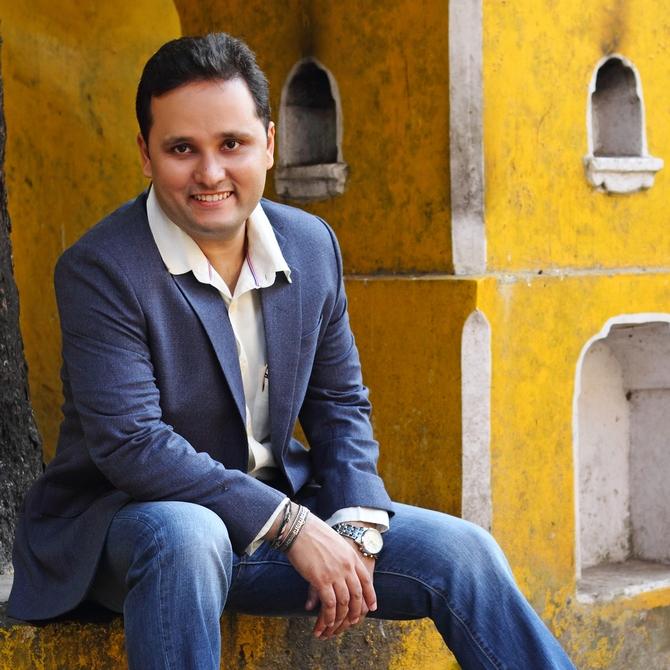 Ernest Hemingway, it is said, would always write standing, while Dan Brown is known to hang himself upside down to get over his writers' block.
For Amish Tripathi, munching on cream biscuits does the trick.
This, perhaps, is why he puts on weight every time he sits down to pen a new book.
In an interview with PTI, the bestselling author of the Shiva trilogy reveals his writing rituals and how early mornings and music play an important role in his daily routine.
"I eat a lot of cream biscuits when I am writing. I don't know why but I am always munching on one while writing. Especially, the ones I used to eat when I was a kid... bourbon and pineapple flavours. So, yes, I tend to put on a lot of weight when I am writing," Tripathi says.
The banker-turned author, who begins his day as early as 5.30 am, says that once he gets down to writing, he cannot do without music.
"I am an early riser. I wake up at 5.30 (am)... I exercise, do my puja, read four newspapers and sit down to write by 9.30 pm. I need music to write. I listen to all kinds except rap. The only thing is that the mood of music should match the mood of my writing," he adds.
Having dealt with his own share of writers' block, Tripathi says it is only natural that not every day is equally rewarding and there are several occasions "when it simply doesn't flow".
But, the key, he says, is not to get frustrated.
"Some days, I might write for 7-8 hours on the trot. But then, there are days it simply doesn't flow. On such occasions, I tell myself that Lord Shiva is busy with someone else and, without getting frustrated, shut my laptop, pick a book to read or simply watch a movie. There is always another day," he says.
Tripathi recently unveiled the title of his new book, the second in the Ramachandra series, Sita: Warrior of Mithila, which is expected to hit the stands by June this year.
He says he is confident of himself as a writer, but it is the marketing phase that gives him the jitters.
"While writing, I am not thinking about anything else. I am in a parallel universe busy recording what I see there. And I just love that. It is almost spiritual.
"But, during the marketing phase, I start thinking about my publisher... that he has put his money on my book and I have to make sure that the book sells to recover the amount. This is where the nerves come into play," he says.
Tripathi is credited with penning the fastest selling book series (the Shiva trilogy) in Indian publishing history as well as the fastest selling book (Scion of Ikshvaku).
Photograph: Courtesy authoramish.com