Sanjay Kumar Singh draws up a mediclaim policy checklist.
Illustration: Uttam Ghosh/Rediff.com
Recently, when New India Insurance decided to raise the premium on its mediclaim policy by up to 20 per cent, a key reason it offered was that its health insurance claim ratio is high.
In its case, the hike may have been justified by the fact that it was coming after five years.
But are you aware that certain ratios, available in the public domain, can help you tell which insurers are more likely to hike their premiums in the near future?
Today, buyers need to use a mix of quantitative and qualitative criteria to be able to choose the right health insurance product.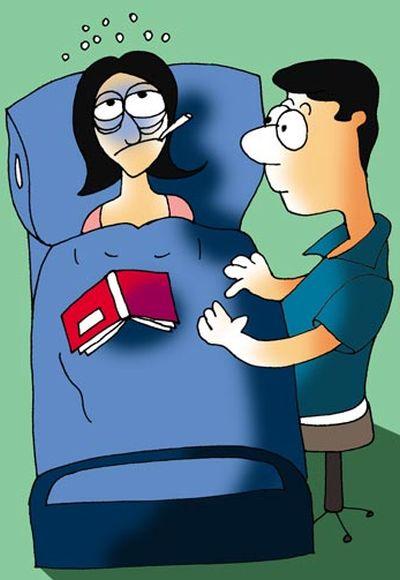 Incurred claims ratios
"Avoid insurers whose incurred claims ratios are either too high or too low," says Kapil Mehta, co-founder and managing director, Secure Now Insurance Broker.
Incurred claims ratio is the ratio of the net claims settled by the insurer to the net premium collected by it in a year.
A very high incurred claims ratio, of say above 100 per cent, may appear favourable to customers, but comes with certain risks.
It indicates that the insurer is paying out more in claims than he is collecting through premiums.
While this does not automatically mean that the insurance company is making losses (insurers make money through investments also, and not just through underwriting gains), such a situation is not tenable.
"If the incurred claims ratio is high, there is a possibility that the insurer may revise its premium rates soon," says Dhruv Sarin, head of health insurance, Policybazaar.com.
However, regulations don't permit a company to revise its premium rates before three years.
A very low incurred claims ratio of, say, below 50 per cent, indicates either that the company settles fewer claims or that its policy is expensive.
Data on incurred claims ratio for all insurers is provided by the Insurance and Regulatory Development Authority of India, IRDAI, in the Handbook of Insurance Statistics, available on the regulator's Web site.
Claim settlement ratio
Another very crucial number from the customer's point of view, it tells what percentage of the total number of claims made by customers were paid out by an insurance company in a year.
The numerator has the total number of claims settled by the company.
In the denominator you have the following: Total claims reported, plus outstanding claims at the start of the year, less outstanding claims at the end of the year.
"Look at health insurers that have a claim settlement ratio of above 90 per cent," says Puneet Sahni, head, product development, SBI General Insurance.
Also, look at a few years' numbers to ensure that the insurance company has been consistent on this metric.
This data is available in the 'public disclosures' section on insurers' web sites.
Once you have narrowed down your choices to a few insurance companies based on these quantitative criteria, you should then ensure that the health insurance policy you buy includes a few essential features.
Buy according to your needs
For young couples, a policy that offers maternity cover is important.
Families with young children may need a policy that comes with an OPD (out-patient department) cover and free regular checkups.
Senior citizens may see great value in a policy that pays for ambulance charges.
Waiting period
This is a crucial aspect of choosing a health insurance policy.
"Most claim rejections happen during the waiting period," says Mehta.
There are two types of waiting periods. One is the named disease waiting period. This pertains chiefly to medical conditions that can be dealt with in a planned way, such as cataract, hernia, stone removal, hip replacement, etc. Here, your insurance policy may stipulate a waiting period ranging from 90 days to two years.
Another type of waiting period pertains to pre-existing diseases. Here, the waiting period can vary from two to four years.
Choose a policy with a lower waiting period.
Sub-limits
When buying an insurance policy, you need to be wary of sub-limits.
There should be no cap on room rent, which comprises around 25 per cent of hospitalisation expenses.
"If you go into a higher grade room by paying out of your own pocket, that can prove expensive," says Sarin.
Remember that you don't just end up paying a higher room rent; the cost of the entire procedure goes up when you move to a higher grade room.
Also, watch out for sub-limits on maternity and surgical procedures, operation room and ICU coverage, etc.
Co-payment
The co-payment clause means that the patient has to pay a portion of the total hospitalisation bill.
The co-payment liability usually arises in two types of circumstances.
One, when policies are issued to senior citizens, they may come with a co-payment clause.
The co-payment liability also arises when a person residing in zone two (say, a smaller city like Agra) goes for treatment in zone one (say, a metro like Delhi). In that case, s/he may have to pay a part of the bill.
"That is because her/his insurance premium was calculated based on the expectation that s/he would get treated in a zone two hospital, where treatment costs tend to be lower," says Sarin.
If you are buying a policy with the co-payment feature, ensure that the percentage you are required to pay is not too high.
Finally, do compare costs.
Many policies offer a variety of desirable features, they also cost more.
Make a distinction between features that are a must-have and those that are merely good-to-have, and choose a product that fits your pocket.
Please scroll down for more tips on how to get more from your health insurance.