'As they come in contact with more people in their professional life, they will need to uncover even more opportunities for growth.'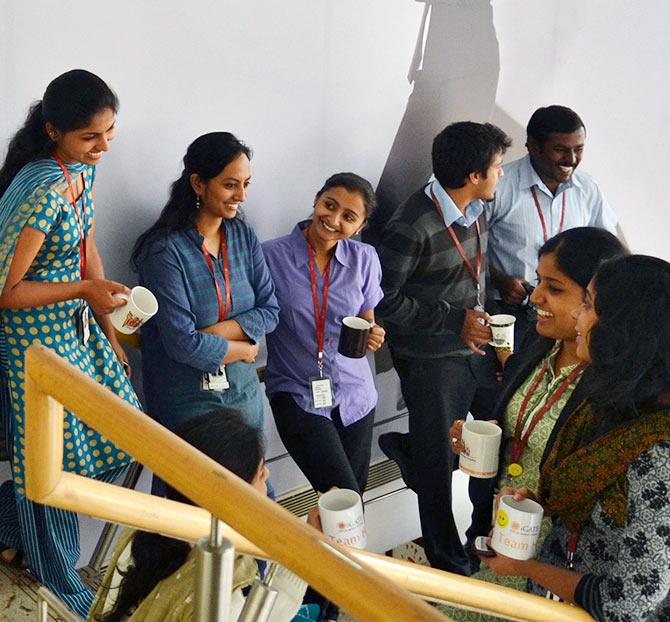 IMAGE: 'Companies must develop an Employee Value Proposition much like they do for customers.'
'This is a promise to employees about what their experience working for the company will be all about,' says Joe Hart, CEO, Dale Carnegie Training.
Photograph: Adnan Abidi/Reuters
Millennials want to be part of an organisation whose purpose is aligned with their values and principles, Joe Hart, CEO, Dale Carnegie Training, tells Ritwik Sharma.
How do you seek to differentiate your services in leadership training in a digital world faced with increasing use of data analytics, automation, etc, including in the context of a developing nation like India?
Dale Carnegie programmes are about driving more effective relationships and, ultimately, business is about human relationships.
We differentiate ourselves by taking core human relations concepts and applying them to changing work dynamics, such as digital leadership.
These technological changes don't require new leadership models.
For leaders, adapting to changing conditions may be the easy part compared to consistently building productive relationships, coaching effectively and, ultimately, creating and reinforcing a culture that allows employees to strive to do their best.
These concepts may be simple, but they are rarely easy to apply.
With over 104 years of experience and operations in 91 countries, Dale Carnegie is uniquely positioned to help our clients adapt to the changing dynamics of leadership, technology, globalisation and business.
In India, we combine a strong and talented team with deep local expertise and a global network to bring best practices that aren't available elsewhere.
Could you describe the re-branding exercise focusing on millennials for Dale Carnegie and how it applies in India?
Last year we launched our new brand and logo. We are focusing on our core message that the foundational principles can be transformative when learned and applied in relationships throughout our personal and professional life.
More specifically, the new brand is around changing how people see themselves, so they can change how the world sees them, and that changes the impact they have on the world.
We recognise that for millennials, even in developing economies, this may resonate differently than for other generations.
For many in that generation it is their personality, behaviour and beliefs that define them, but these can also play a role in holding them back, especially when there is fear and uncertainty.
At Dale Carnegie, we help them to see themselves in a whole new light, building courage and confidence.
In addition, our programmes can help them to communicate in a way that distinguishes themselves early in their career, allowing others to see the most intelligent, trustworthy and confident parts of their character.
As they begin to come in contact with more people in their professional life, forming more meaningful, lasting relationships, they will need to uncover even more opportunities for growth -- from tackling new and different projects to taking on more responsibility to doing work that has the power to affect more people in more places.
Our programmes are designed to help them accomplish that.
IMAGE: Joe Hart shares memories from his recent trip to India. Photograph: Kind courtesy Joe Hart/Twitter
At a time we are witnessing stricter laws on immigration with emphasis on jobs for locals in some major economies, how does it impact you?
Immigration restrictions on the movement of labour may create talent shortages for organisations in certain industries.
For some leaders, that may mean being charged with the responsibility for a geographically more dispersed team as talent is sourced abroad or moved offshore.
To better understand the dynamics that impact an international workforce, we recently conducted research across 14 countries to identify what most motivates and inspires employees (as well as what demotivates employees).
We have learned that while there are common leadership behaviours that drive employee engagement across all regions, their relative importance and their leaders' performance of these behaviours vary somewhat across markets.
This research, together with our experience that spans over 104 years and 91 countries, enables us to advise organisations regarding ways to best lead an international workforce.
Which areas will grow in demand -- among professional development, performance improvement, leadership or employee engagement -- in a fast changing market?
The market is changing rapidly as is the role of leaders in organisations across economies.
The nature of employment also is in flux and we are seeing a rise of employees as consumers, together with different types of structures that allow individuals to work part-time or on a contract basis, even for multiple firms.
There are wide implications to this new work reality.
First, companies will need to do something differently to attract and retain talent than what they have done in the past.
After spending billions of dollars on employee surveys, flexible work programmes and extravagant amenities, employee engagement is essentially unchanged in the past five years.
One thing they need to do differently is to develop an Employee Value Proposition much like they do for customers.
This is a promise to employees about what their experience working for the company will be all about.
And this brings us to the second feature of this trend, purpose.
Employees, particularly millennials, want to be part of an organisation whose purpose is aligned with their values and principles.
The purpose driven organisation is focused on the economics of profit, but also on a social or environmental mission that seeks to contribute to the welfare of society in some way.
Studies have shown that purpose driven companies outperform others because they are able to attract and retain employees who are psychologically committed and passionate about working for them.
A final area that is likely to grow in demand is the role of teams in organisations and leaders that lead those teams.
As the work to be done increasingly involves the collaboration of talent across traditional functional areas, teams and teamwork are replacing the typical top down, hierarchical work flow.
Employees are interacting with those from other areas, and even leaders from other areas, to solve problems and tackle projects.
For leaders then, it will be important that they become more proficient at leading teams, projects and networks of teams.
Even Gallup has pointed out that highly effective companies such as Google, Lyft, Mastercard and Atlassian look at leadership as a team effort and they recruit leaders who can work together, complement each other, and function as a team.
This means gaining the insight and skills to create positive and productive work environments while also being able to coach others to do so.
Our role as Dale Carnegie remains the same through all of these trends -- teaching the principles and behaviours that transform individuals and their organisation by improving their relationships with others.
Regardless of the trend, in the end, business and leadership will always be about people interacting with and influencing people.
Kindly note image published only for representational purposes.