Which is the best home loan?
Advice from financial guru Harsh Roongta.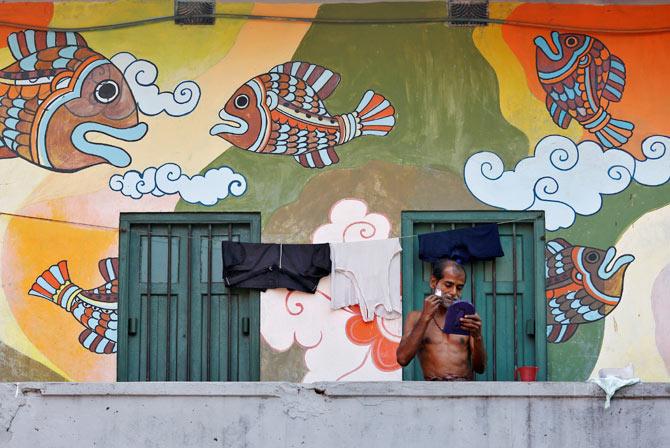 IMAGE: According to the 2011 Census, 86.6 per cent of all Indians live in their own home. This figure dips to 69 per cent in Indian urban areas. Photograph: Rupak De Chowdhuri/Reuters
It is a tiring question for any financial expert.
If, indeed, there was such a thing as the best home loan for one and everyone, wouldn't the other home loan companies be out of business?
Which consumer, knowingly, would accept the second-best loan?
There is another way of answering this question. While most lenders are charging around 8.5 per cent annually for home loans, all loans come with hidden costs.
And these hidden costs are 'hidden' in a very sophisticated manner.
For someone with a first-class credit history and enough income to justify the loan, some legwork is required to get the best home loan. These are some key parameters:
If you are eligible for the government's subsidy of Rs 2.35 lakh (a first-time home buyer with household income of less than Rs 18 lakh), then a lender who is not giving this facility should be ruled out.
Lenders who have a tie-up with the builder (the developer should have this information) should be on your shortlist of possible lenders. But read their terms and conditions carefully.
Buying insurance (both life and property insurance) is in your own interest, but many lenders have extremely expensive insurance policies which they try to sell with the loan.
If the lender insists that you buy a policy only from it, shop elsewhere.
Some banks offer offset loans in which the bank account is linked with the home loan account.
You can make a deposit and withdraw from this linked bank account like any other regular one.
But the calculation of the principle is based on average monthly balance held in the account.
And this brings down the interest amount, if substantial balance is held in the account.
However, remember that non-banking financial companies don't have this offering.
Then, there is the all-important question of interest rate movement after the loan has been taken.
In case of all lenders (no exceptions), your home loan interest rates will move up when market interest rates go up, but will not go down when the opposite happens.
Because of regulatory differences, the degree to which a bank can do this is less than a housing finance company.
So again, other things remaining the same, a bank is a preferred lender rather than a housing finance company.
Last but most importantly, you need to remember this is a long-term commitment.
Set a date in your calendar every year (say your birthday) on which you will get an home loan account statement from your bank to check whether the existing lender is being fair with you, in terms of the interest rate it is charging you.
This is important as most borrowers do not realise the change in the home loan interest rates as typically the EMI remains the same, but the tenure is increased/decreased when interest rate changes.
If the lender is not being fair to you, just change it.
You will find that the lender becomes fair to you as soon as you threaten to shift.
No matter, whichever lender you choose, this step remains the most important step to ensure you get the best loan and for the long term.
MORE HOME LOANS ADVICE in RELATED LINKS BELOW...