When is it the right time to call a dentist?
And how can one scout a dentist while wandering?
Karishma Jaradi has some advice.
Illustration: Uttam Ghosh/Rediff.com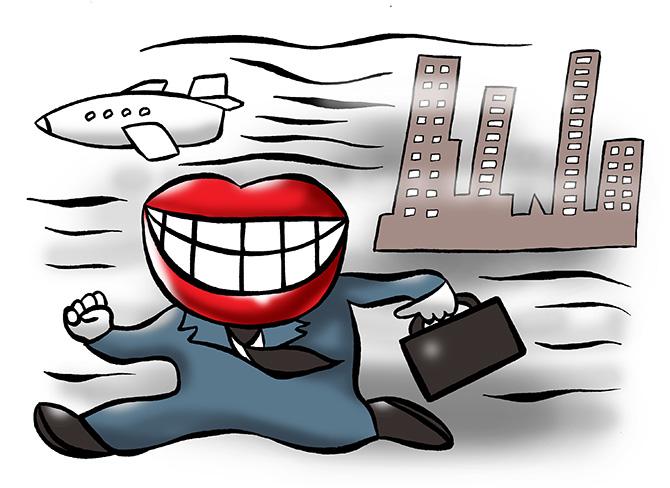 You are all set for your upcoming corporate tour.
Bags are packed and you have marked a big tick to all your essential utilities, including band aids and first-aids, but is there something that has been left behind?
It is undoubtedly your dental care essentials.
The modern-day busy corporate traveller hardly has any time to contact a dentist in case of an emergency, hence it's advisable to always carry your dental nitty-gritties, while you are hard-at-work.
The common questions that may flock your mind are what must one do during a dental crisis?
When is it the right time to call a dentist?
And how can one scout a dentist while wandering?
That's exactly why we have put together a few essential guidelines and tricks that will aid round the clock corporate travellers plan their travel accordingly.
It is commonly said prevention is better than cure. Prior to leaving for the trip it is advisable to make a dental appointment, especially if you are traveling to remote areas with poor access to dental care.
Throughout your travel be careful about food intake and make it a point to clean your enamels thoroughly to avoid any gum-related issues.
If you frequently travel abroad you must ensure to have a medical and dental insurance.
If you are about to travel for a long interval, it is significant to get your lower wisdom extracted.
Air travel puts a lot of pressure on your tooth, hence, it's always good to finish off with all your root canal treatments well in advance to avert pain.
If you are on a road trip evade popcorn kernels, chewing gums and candies.
Here are tips to deal with dental emergencies.
Broken tooth: Get in touch with your dentist instantly.
Keep the fragmented area hygienic by washing with lukewarm water.
Hold a cold cloth to the affected area to ease the pain and to keep inflammation down.
Toothache: Avoid swallowing ice cold edibles.
Rinse mouth with warm water and mildly use the dental floss.
Avoid food stuff to hoard between the teeth.
Oral hygiene should never be taken for granted, and traveling can never be an excuse to disregard dental care.
Thorough oral hygiene can stop plenty of infections such as gingivitis and periodontitis, which would eventually avoid further diseases from making their way into the body.
Even while you travel it is advisable to brush teeth twice a day.
Interdental cleaning forms are an important part, since a toothbrush alone cannot spread between teeth which is not enough to thwart maladies.
With these effective guidelines in mind, get-set-go for your next trip without abandoning your pearly whites in the process.
Safe travels!