The Chandigarh government is trying to ensure that students from the north-east are not discriminated against.
A Ganesh Nadar/Rediff.com reports.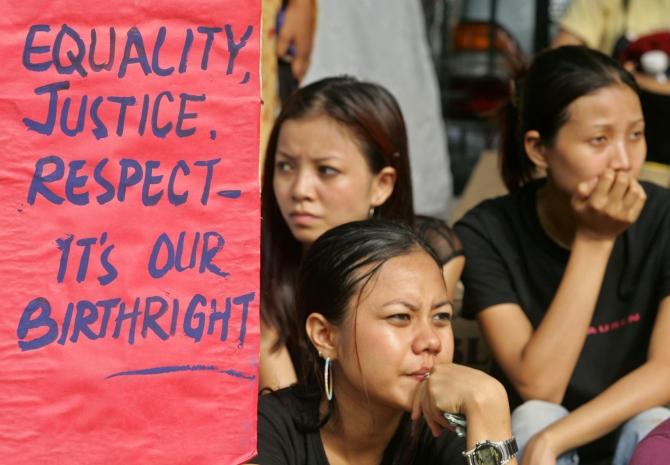 IMAGE: Students from the north-east hold a placard during a protest in New Delhi against discrimination. Photographs: Adnan Abidi/Reuters
A couple of years ago, rumours about attacks on students from the north-east in south India resulted in an exodus of north-eastern students from Chennai, Bengaluru and other cities in the region.
These students returned a few months later after they were assured they would be safe.
In December, five students from Sikkim at a college in Chandigarh were injured after a clash with students from Himachal Pradesh over alleged racist remarks.
Before the episode could snowball into a major incident with national consequences, Chandigarh's civic administration stepped in.
The Chandigarh administration initiated steps to try and integrate students from the north-east with local students and students from other states studying in the city.
A Facebook page was launched for the students and others from the north-east who live in Chandigarh. The page is called, 'Chandigarh Administration for the people of the north-east'.
More than 450 people have 'liked' this page. It has photographs of the north-east posted by its members. It notes that a meeting of members was held on February 3. No complaints appear on the page.
The administration also launched a toll free number -- 1800-180-2130 -- which students and others from the north-east based in the city can call if they need help.
Tapasya Raghav, sub-divisional magistrate, Chandigarh, East, is spearheading the initiative to help students and others from the north-east in Chandigarh.
"We had our first meeting on February 3. No students or anyone else complained about safety, though they have asked for increased patrolling in the areas where they stay," SDM Raghav tells Rediff.com
"Their biggest problem which they mentioned was finding rental accommodation," she adds. "They feel they are being harassed as people ask them for higher rates. We have promised to help them."
Many students from the north-east are based in nearby Mohali. "We are coordinating this effort with the IG (inspector general of police) Mohali so that students from the north-east living there can benefit from this scheme," says Raghav.
"Initially they called (the helpline) to find out if it was working," she says. "They were happy it was. We have so far not received complaints on this line."
Raghav told those who attended the February 3 meeting that the initiative was not about safety alone. They could call the helpline for any problem they faced.
"Our next meeting is on February 15," says the SDM. "We plan to have a meeting every fortnight. We want to get to know them. Many students had exams and could not attend the first meeting. We are expecting more of them to attend the second meeting. I will encourage them to speak about what they want. We are here to listen to them."
"We are attending meetings of this initiative," Superintendent of Police Roshan Lal tells Rediff.com, "we will work with the administration to provide all help."
The Vivekananda Kendra and several students' unions are assisting the Chandigarh administration in this endeavour.
Alka Gouri is a life time worker for the Vivekananda Kendra. She has worked in the north-east for 13 years and presently works in Punjab, Haryana and Chandigarh. She is part of the initiative to make students from the north-east feel at home in Chandigarh.
"The north-east is a part of India. We want to inform the people of Chandigarh about the culture of the north-east," Gouri tells Rediff.com, "We want the students from there to mix with the local people. We want to integrate them."
The initiative, she adds, is to make students from the north-east feel a part of the same Indian society. "It is a pro-active step to prevent isolation," she says, adding that most problems occur because of misunderstandings.
"We want understanding between them and the local people," says Gouri. "This will reduce problems."