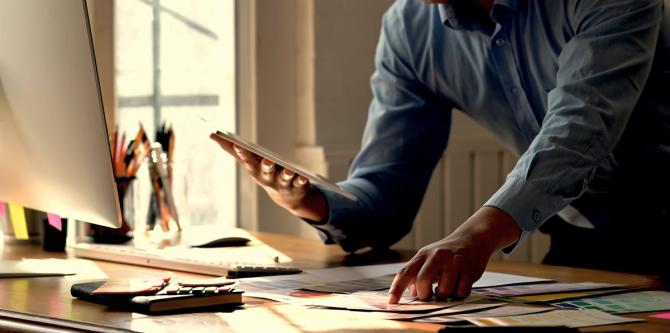 As we sail through the pandemic and accept the changing norms of life, one of the biggest shifts has been working from home.
India has never had the experience of carrying out professional activities from home on a regular basis and hence, there has been plenty of trial and error before we finally settled down and accepted this change.
As we switch, organisations are struggling with operational challenges.
Managing team members without daily face-to-face interactions is something we are all learning.
However, if we inculcate the following factors in our professional lives, it can help us go a long way in establishing seamlessness and excel at remote leadership.
1. Enhanced personal accountability to demonstrate presence.
Personal accountability is one of the vital qualities a leader must possess.
Your subordinates/colleagues tend to follow the behaviour of the individual they consider a mentor and thus inculcate similar qualities within themselves.
Being accountable for one's own actions or for that of those around them is a sign of a great leader/mentor.
2. Ensure that you remain connected with your team to fill the gap of working in a contactless world.
It is said that communication is key in almost every aspect of our lives and it does play a crucial role, especially while employees are working from home.
There needs to be efficiency in communication between the manager and her/team-mates in order to understand each other's work patterns and perspectives, given that everybody is working from homes.
This is the best time to leverage technology to its maximum capacity in order to stay connected and be well informed of your team mates' situation and that of the audience.
3. Find ways to secure information with structured templates for reviewing business.
Documentation is the foremost aspect of any business as it contains all the information required for the business to function.
Structuring and filtering data and information plays a crucial role in the efficiency and reliability of the business.
4. Highlight successes of team mates and colleagues to keep motivational levels high and enable recognition of initiatives in spite of absence of physical proximity.
Everybody feels motivated when their performance is appreciated.
Working from home means a lack of physical interaction and presence, unlike working from your office where you could just take a walk to your colleague's desk in order to congratulate them on their performance and success.
Make sure your team mates/employees know their worth in the organisation, which will motivate them to be more of an asset to the organisation.
5. Ensure personal transparency and accountability so that you can be seen to lead by example.
Be vocal while communicating with your employees.
You need to put across your perspective in an effective manner for them to understand your point of view and be on the same page while performing a particular task.
Employees trust and believe in those who are transparent with their views and take accountability for their actions.
6. Define spaces for employees to address their personal priorities whilst working from home, given the challenges families face with intermittent and unpredictable lockdowns.
Working from home has posed as a challenge for almost everybody.
Maintaining a balance between personal and professional life has been challenging as the whole family is at home and so one is caught up with fulfilling both these commitments simultaneously.
Being sensitive towards employees during these unprecedented will give them a sense of relief and enable them to efficiently prioritise everyday tasks.
7. Highlight business contexts and pressures to the team to enable recognition of the problems being faced within the enterprise.
It is very important to communicate with your employees while having an open mind to suggestions.
When managers talk to their team mates regarding the pressure and priorities, there are increased chances of team efficiency as they then are aware of the external environment and hence come up with suitable coping mechanisms to complete the task assigned to them.
8. Build new projects to enable cross functional teams to work together, specifically those that may have been on the back burner when business volumes were much higher.
A team must always contain a mix of people with different skills to build a better perspective and to ensure every aspect of the project is worked on to perfection.
Project and team allotments play a crucial role in knowing how well the outcome turns out.
9. Create sensitivity on issues of cash and ensure accountability at each functional level, for managing free cash.
Cash-management needs to be extremely sensitive with zero-tolerance for any lacks.
It is important to limit the hands involved in cash management to one, or as minimal as possible and ensure there is accountability and detailed records on cash-flow.
10. Use the opportunity to renegotiate business engagement terms both with clients and vendors so that business conserves cash.
There has been tremendous change in the way many businesses function; moreover, there has also been certain amendments in the business model of almost every company/organisation.
This time can be used to revisit previous deals and negotiations with the aim of conserving as much as cash as possible.
Sanjay Kumar is CEO and MD, Elior India, a catering services company.