It has been 400 years since Shakespeare died, but his legacy lives on.
Shakya Mitra lists three prominent places associated with the Bard.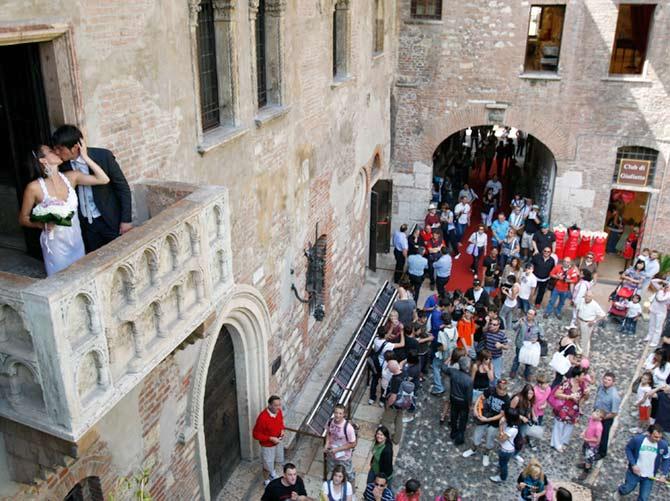 Casa di Giulietta, or Juliet's House, is a museum dedicated to Shakespeare's Romeo and Juliet in Verona, Italy. Photograph: Alessandro Garofalo/Reuters
London
This is where Shakespeare spent much of his working life. Today, Declan McHugh, a former actor, conducts the Shakespeare in the City Walk here.
Revisit Shakespeare's life on the north bank of the Thames through this walking tour, which is about one-and-a-half-hours long.
Though the tour does not include a visit to the Globe Theatre, it takes you through many other lesser known places associated with Shakespeare's life. These include Blackfriars Theatre, Mermaid's Tavern, believed to be Shakespeare's local pub, and St Helen's Bishopsgate, which is believed to be his local church.
The public walking tour starts from the Blackfriars tube station at 11 am every Friday and costs £9.5 (approximately Rs 900) for those above 15 years and £7.5 (approximately Rs 700) for those below 15.
There is also a private walking tour of up to a group of 15 that costs £180 (for every additional person, it costs an extra £12). The tour is conducted on Wednesdays every half an hour, from 9 am to 5 pm.
Stratford Upon Avon
IMAGE: Tourists watch actors perform at the house where Shakespeare was born during celebrations to mark the 400th anniversary of the playwright's death in Stratford Upon Avon. Photograph: Dylan Martinez/Reuters
The birthplace of Shakespeare, this town in the county of Warwickshire is located about 160 km north of London. The Stratford Upon Avon walking tour takes you through places associated with Shakespeare.
It covers Shakespeare's birthplace, Mary Arden's Farm, where his mother was brought up; Anne Hathaway's Cottage, where Shakespeare's wife grew; Hall's Croft, which was owned by Shakespeare's daughter and her husband; and the Holy Trinity Church, where Shakespeare is buried.
The approximately two-hour long tour starts at 11 am (Monday to Friday), while on Saturday and Sunday, there are two tours starting at 11 am and 2 pm.
The tour costs £6 for adults; £5 for students and those above 65; £3 for those below 16; and is free for children below eight.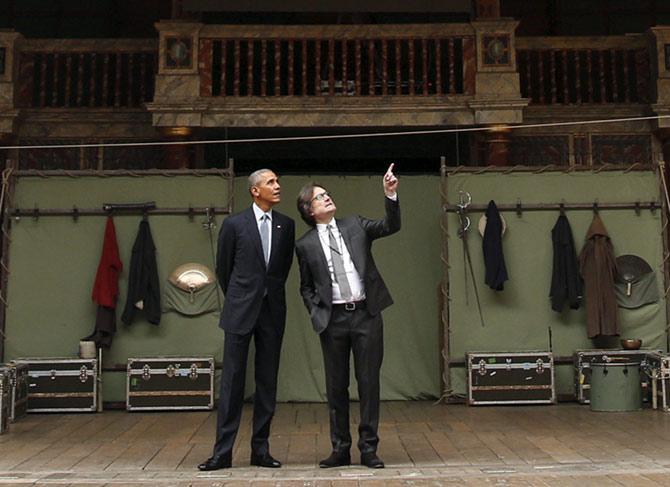 US President Barack Obama tours the Globe Theatre in London to mark the 400th anniversary of William Shakespeare's death, April 23, 2016. Photograph: Kevin Lamarque/Reuters
Verona
This city, located 160 km to the east of Milan in north-eastern Italy, has a population of around 260,000. It has also been declared a world heritage site by UNESCO. It is also the location for three of Shakespeare's plays: The Taming of the Shrew, The Two Gentlemen of Verona and Romeo and Juliet.
It is for the last one that Verona is considered worth visiting. Juliet's house where Romeo promised Juliet eternal love is a big draw. It is believed to be a sign of good luck where young people touch Juliet's statue in the hope of finding the love of their life.
Juliet's house is open all seven days of the week and a visit to it costs Euro 6 (Rs 450). Romeo's house is also located in Verona, but it is not open to the public. There is also the tomb of Juliet.