Yoga and meditation expert Paloma Gangopadhyay tells you how to get back in shape.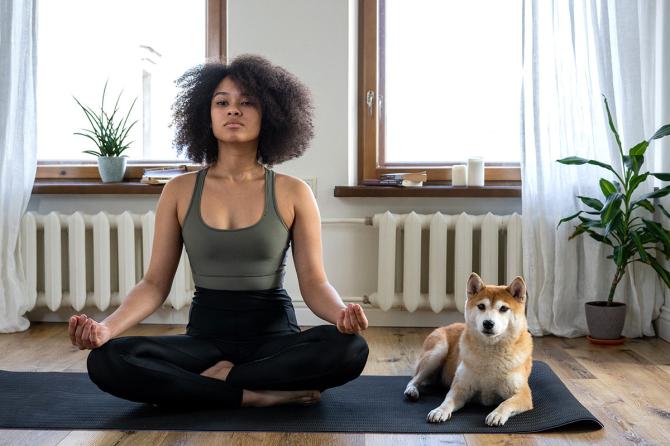 Staying indoors has many restraints. Especially when it is about working out daily you might find space constraints and other odds in your way.
But what if I tell you that there is a way to stay fit while staying indoors?
Yes!
We are going to take a look at some fun yet effective indoor workouts that do not require any equipment.
These simple exercises can help you lose weight and maintain a healthy and fit body.
So here's presenting some beginner-friendly workout routines!
1. Yoga asanas
Yoga is one of the most powerful practices for the body and mind.
While it is not always possible to practice Yoga outdoors, experts have found that indoor Yoga can also have immense health benefits.
It can boost your immunity, eliminate toxins, lower stress hormones, ward off diseases, and strengthen the physical body.
Simply roll out your yoga mat and practice a good combination of pranayama, asanas, and meditation to get a wholesome workout for the mind and body.
2. Aerobics
Aerobics exercises are the perfect combination of stretching and strength-training that helps pump oxygen in your system, develops endurance, reduces body fat, and increases flexibility.
There are different types of aerobics exercises like walking, running, dancing, cycling, etc.
Since we are looking at indoor exercises, you can follow up with the ones that can be done within the comfort of your home.
They are all beginner-friendly and can help build up stamina while shaping your body.
3. Climbing Stairs
While it may come as a surprise to most, climbing stairs has immense benefits for your health and wellbeing.
If you are someone who does not enjoy exercise or yoga, you can look at getting your workout through simple stair movements.
It helps build stamina, reduces weight, promotes heart health, tones your muscles, and improves mental health by alleviating symptoms of stress and anxiety.
In case you are someone with knee problems in the past or present, it is better to consult your doctor before starting a stair workout to avoid complications.
4. Skipping
A fun activity that constitutes a full-body workout is skipping. It provides myriads of health benefits.
It helps improve hand-eye coordination, burns up to 1600 calories in an hour, aids balance and lower body strength, builds stamina, and increases bone health.
If you are a beginner, it is important to start slow and build your pace on the go.
Wearing the right type of shoes and skipping on the correct surface is also important to reduce the risk of injuries and yield maximum benefits out of your workout.
5. Surya Namaskar
Also known as 'Sun salutation', Surya Namaskar is a scientifically proven combination of 12 yoga poses.
Each posture has immense benefits ranging from strengthening your back, enhancing flexibility, improving blood circulation, and promoting weight loss.
If you are looking for a workout that stimulates your physical and mental well being then practicing Surya Namaskar is your way out!
It also gets your heart racing and acts as a full-body workout for the day.
6. Crunches
Are you looking to build your core strength?
If yes, then crunches are the perfect way to do so! It is an isolation exercise practiced to strengthen your oblique and abdominal muscles.
A strong core is responsible for maintaining good posture, flexibility, and lifting heavy objects.
Now, who does not want all of that?
Go crunch your way through! There are different types of crunches, if you are a beginner consider starting with regular crunches.
7. Push-ups
A regular push up not only tones and builds endurance but is known to activate nearly every muscle in your body.
Apart from that, it also improves your posture and increases muscle definition.
For many, push-ups can be challenging and that is why they steer away from it.
Now, while you are not going to be able to do 100 push-ups the first time you try, it is something that will come over time.
It is a form of exercise that requires patience and consistent practice as your body gradually builds resistance to it.
8. Burpees
If you are someone who is busy and wants to get a quick full-body workout, doing burpees is the best option.
It is a dynamic movement workout that works on your overall strength and metabolism, increases your heart rate, and improves stamina.
Practicing burpees regularly transforms your body into a fat-burning machine.
It is great for getting into shape and can be added to almost any form of workout.
9. Squats
Squats and all of its variations are extremely beneficial for the entire body.
It helps strengthen the leg muscles and improves your posture.
Doing squats regularly also aids back muscles, activates the glutes, increases lower body strength, and helps stronger joints.
Again, squats are a form of exercise that requires practice and one needs to build resistance for it.
Once your body starts getting comfortable with the number of squats you do, it is time to push yourself further.
For beginners, it is advised to use a chair for support until you get used to it.
10. Jumping jacks
Jumping jacks are a good way to warm-up and get all your body parts and joints ready for that big workout.
You can also do them as an exercise in between sets or circuits to help increase your heart rate and get that cardio effect.
Those are the 10 effective ways you can bolster your healthcare journey while being at home. Do consider trying what suits you right!