You can become a volunteer for prime minister Narendra Modi's dream for Digital India. Scroll down for details.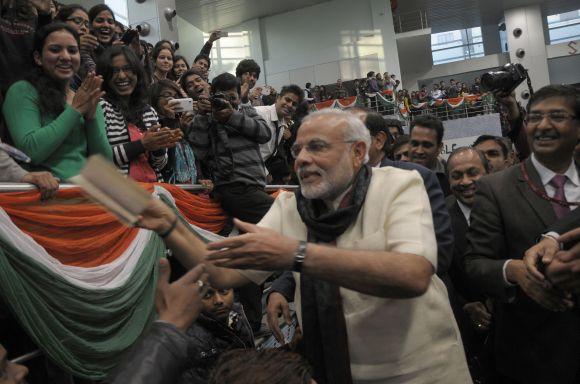 IMAGE*: Gujarat Chief Minister Narendra Modi interacts with students and faculty at Delhi University's Sri Ram College of Commerce.
Photograph: Sondeep Shankar/Rediff.com
The Ministry of Human Resource Development has appealed to the youngsters of India to volunteer for the Digital India campaign.
In order to do so, you need to fill this form.
The government wants you, as a young volunteer, to meet people and educate them about the benefits of going cashless. It wants your help to dispel the commonly held belief that digital transactions are a complex procedure.
It also wants to highlight the fact that it is not necessary to have a smart phone and internet connectivity for digital transactions.
One of the major hindrances the Modi-led BJP government is facing in their push towards a digital economy is the lack of awareness among the Indian public about the way a digital economy works.
Many Indians still do not know that payments can be made through the Unified Payments Interface too. Every bank has its own mobile app so it is possible to make financial transactions on your smartphone, without visiting a bank or an ATM.
Prime Minister Modi, in his message to Indians, has said 'If all of us start transacting through online and mobile banking, it will be our great contribution towards eradicating corruption and black money from our country.'
If you too believe that digitisation can help fight black money and corruption, click here to apply and become a volunteer!