While there is easy access to money, the flip side is the high interest rate and processing fees, points out Sarbajeet K Sen.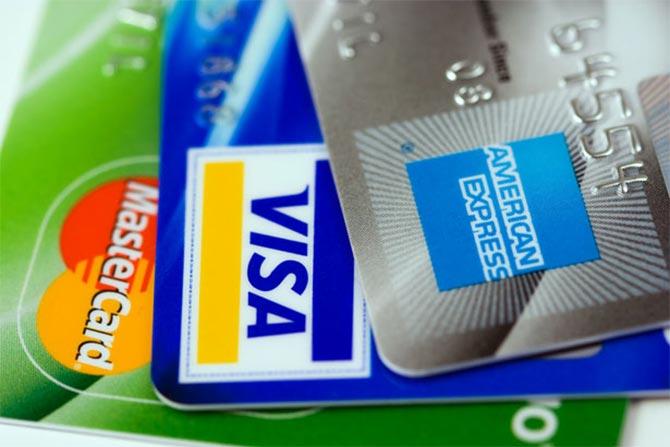 A loan against your credit card is one of the fastest ways of securing credit.
IT professional Vimal Singh, 34, realised this when he needed money urgently to clear his dues for a property.
"I approached the card issuer -- HDFC Bank -- and, within minutes, it processed a loan of Rs 1,95,000 against my credit limit (at that time) of Rs 2,12,000. The interest rate was 11.88 per cent per annum. I could have gone for a personal loan, but this was a more convenient way to get instant liquidity," says Singh.
Adds Ambuj Chandna, senior executive vice-president and head, consumer assets, Kotak Mahindra Bank, "Loans against a credit card are ideal for emergencies/immediate needs, where the customer wants to avoid the hassle of documentation and multiple verifications.
"Ease of payments is also an important factor as the loan-equated monthly instalment is billed on the credit card statement and can be paid by the due date. Personal loans have fixed EMI dates."
Like a personal loan, but...
While a loan against a credit card primarily works like a personal loan and is repaid in EMIs, there are differences between the two.
"A personal loan may take two-four days to process because it involves a comparatively extensive process to verify the customer's credentials and documentation. However, a loan against the credit card is disbursed within two hours of approval. It requires no documentation," says Raj Khosla, founder and managing director, MyMoneyMantra.com.
Moreover, the lender does not need income proof for extending a loan against a credit card and no CIBIL enquiry is involved.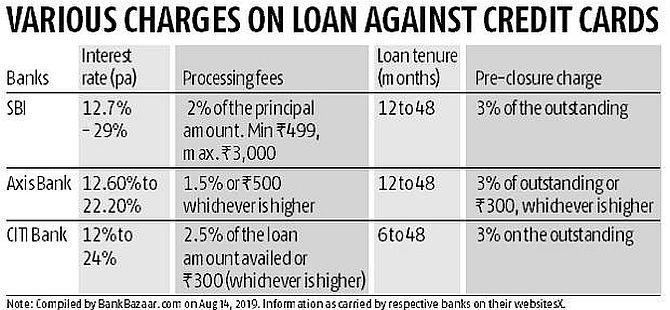 High processing fees and rate of interest
While there is easy access to money, the flip side is the high interest rate and processing fee.
In most cases, a card loan is more expensive than a personal loan, though the rate is usually lower than the prevailing rates on credit card transactions.
"The rate of interest would vary on the basis of the lender's internal policies, which could be from 1.10 per cent to 1.50 per cent (reducing) per month.
"Since it is a paperless loan, the only associated charge is a one-time processing fee, which would range from 1-2 per cent of the loan amount. The pre-payment penalty can be as high as 5 per cent on the prepaid amount," says Khosla.
Borrowing limit
The credit limit on your card will usually determine the amount you can get.
"Issuers also offer loans over and above the credit limit, where the availed loan amount will not be blocked against the credit limit.
"For instance, if your credit card limit is Rs 50,000, you may still be able to avail of a loan for Rs 1 lakh while retaining the Rs 50,000 limit on your credit card.
"However, bear in mind that this depends on your credit history and score and your repayment pattern," says Adhil Shetty, chief executive officer, Bankbazaar.com.
These loans are not the same as an increase in the credit limit or a way to withdraw cash through credit cards.
Khosla says a loan against the credit card could range from Rs 50,000 to Rs 8 lakh.
"Most card-issuing banks offer loans against 75-90 per cent of the card limit," he says.
Factors to keep in mind
"As you exhaust this limit in the form of a loan, you obstruct the regular card usage.
"Some banks like HDFC, however, do not block the card usage; others, like Citi, open 25 per cent of the limit for regular use.
"So, it is important to know the impact of the loan on your card usage," Khosla points out.
Also, if you default on the credit card loan, your card will be blocked.
The balance on the available limit, along with the outstanding loan principal, will attract a higher interest rate, from 36 per cent to 42 per cent a year.
SHARE your saving and investment tips in the message board below.