Don't fret, says Tinesh Bhasin.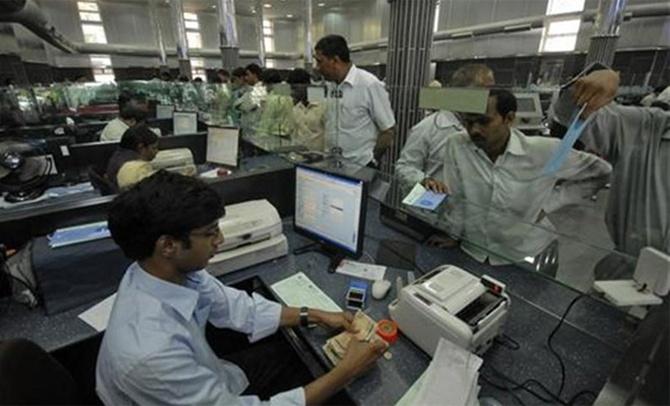 Manoj Raikar, a musician, is nonchalant about the number of free transactions he can do at his bank.
Before demonetisation, he had not visited his bank branch for over a year.
"With the convenience of ATMs, Internet banking and debit cards, there's rarely an occasion when I need to go to my bank branch," says Raikar.
The cap of two to four free transactions at branches imposed by banks hardly matters to customers like Raikar.
Most savings account customers visit a branch for other work, not to deposit or withdraw cash.
Usually they go there for service-related issues, such as verification of signature or to get a demand draft.
On March 1, HDFC Bank revised the fee and charges on some of its savings accounts to bring them at a par with peers.
After the first four free transactions in a month, it will charge Rs 150 for every additional deposit or withdrawal at a branch.
Customers can transact up to Rs 2 lakh in a month at their home branch for free.
If deposits and withdrawals cross this limit, the bank will charge Rs 5 for every Rs 1,000.
Third-party transactions have been restricted to Rs 25,000 a day, beyond which there will be a charge of Rs 150.
ICICI and Axis imposed similar charges on March 1, 2016.
These were waived during demonetisation (between November 8 and December 31, 2016). From January 1, 2017, these charges were restored.
Large public sector banks plan to retain the current charges in the coming financial year.
According to a senior official in the State Bank of India's retail division, the bank has no plan to revise charges for deposit or withdrawal at branches.
Banks have not made any changes to the fee and charges for ATM transactions.
"This cap will only affect small businessmen. When they deposit daily cash in their current accounts, they tend to carry out transactions in their savings account at the same time. They can work around these restrictions by withdrawing and depositing higher amounts each time," says Arnav Pandya, a Mumbai-based certified financial planner.
Irrespective of capping or charges, financial planners suggest individuals adopt digital modes of transactions wherever possible.
Charges for digital payments such as online bank transfer are low.
Mobile transactions based on the Unified Payment Interface, meant for small payments, are free at present as the government is trying to promote digital transactions.
"Going digital also helps in record-keeping and it's easier to keep track of your funds. It's much easier to look at your bank account and credit card statements to check your expenditure, rather than spending in cash and then having to maintain a record of all such transactions," says Malhar Majumder, a certified financial planner.
It can help you in many ways, from tracking the different places where you have invested to understanding the areas in which you need to cut spending.
If self-employed, going digital will also come handy when filing your tax return. You can immediately find the expenses eligible for deduction.
The entry in your bank statement also serves as proof in case the tax authorities want to look at your book of accounts.
Kindly note: Image only published for representational purposes.