A pod-like vehicle, which can touch top speeds of close to 1,200 km an hour, can make this amazing feat possible!
Alnoor Peermohammed/Business Standard reports.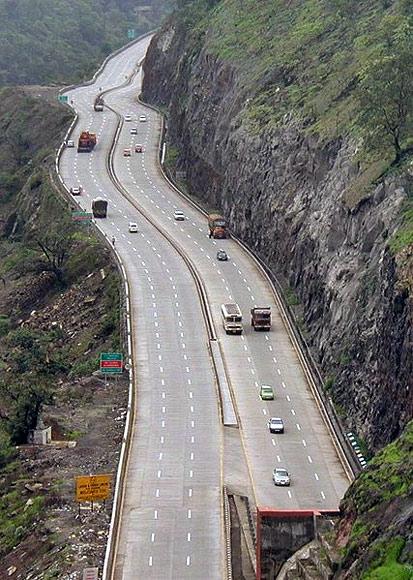 IMAGE: The Mumbai-Pune Expressway. Photograph: Kind Courtesy Jbritto/Wikimedia Commons
The travel time between Mumbai and Pune, about three hours by train now, would be cut to 25 minutes if Hyperloop Transportation Technologies has its way.
The Los Angeles-based company, which has designed a new way to move people, has asked the transport ministry for land to run a pilot project of its high-speed transportation service.
Hyperloop is a concept where a pod-like vehicle travels through a near-vacuum that's contained within a tube.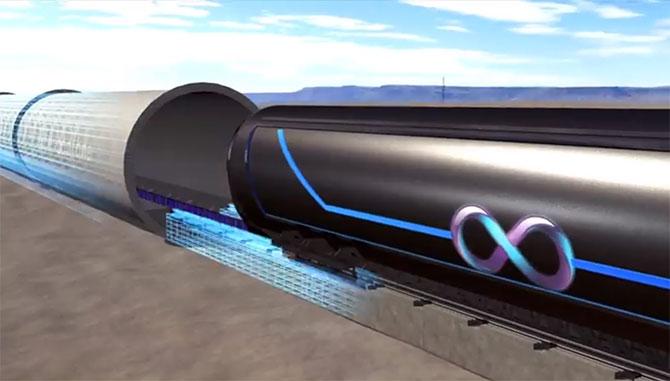 IMAGE: This is what the pod-like vehicle will look like. Photograph: Kind Courtesy Hyperloopone.com
It can theoretically touch top speeds of close to 1,200 km an hour even when not running on full steam, using less energy than conventional modes of transportation.
It is being heralded as the future of high-speed passenger and freight transportation the world over, with futurists such as Elon Musk backing the concept.
'We use a custom electric motor to accelerate and decelerate a levitated pod through a low-pressure tube. The vehicle will glide silently for miles with no turbulence,' says its Web site.
'We tested our motor in May 2016, and will test the full system in early 2017. We're developing routes in five countries. The goal is to be moving cargo by 2020 and passengers by 2021.'
Bipop Gresta, chairman and chief operating officer, Hyperloop Transportation Technologies, says he met Union Minister of Road Transport and Highways Nitin Gadkari and made a formal proposal to set up a pilot project in the country.
"We're not asking for money right now, we're asking for land. If they want to put money, we can do a public-private partnership. But if they don't want that, we have private investors. In the second case, we need to have land that is meaningful and not something in the middle of nowhere."
If the proposal goes through, Gresta says he estimates it will take eight months to do a feasibility study.
It might take an additional 28 months from the time all the permits are acquired to roll out the transportation service.
IMAGE: Hyperloop Transportation Technology already has a 25-member team in India. Photograph: Steve Marcus/Reuters
Unlike traditional high-speed rail networks that need vast stretches of land for arrow-straight tracks, Hyperloops can be built alongside highways.
The technology consumes much less energy owing to the lack of air resistance within the tubes.
Gresta says the concept will be an ideal fit for India, which lacks high-speed rail and air connectivity.
"India is a country that has a very particular situation. It has a high density of population, lacks infrastructure and a political environment that is willing to invest in innovation," Gresta said on the sidelines of Carnegie India's Global Technology Summit in Bengaluru.
Hyperloop Transportation Technology already has a 25-member team in India that is working on technology, mechanical engineering and other roles for its global ambitions.
Further, the company is looking to partner with Indian educational institutes to have them solve engineering problems.
The company is also in talks with at least two Indian firms for outsourcing some part of its manufacturing and other technology services. Gresta did not divulge the details on the companies.
'We're not selling transportation, we're selling time,' says the company's Web site.