4 trekking trails to explore this monsoon.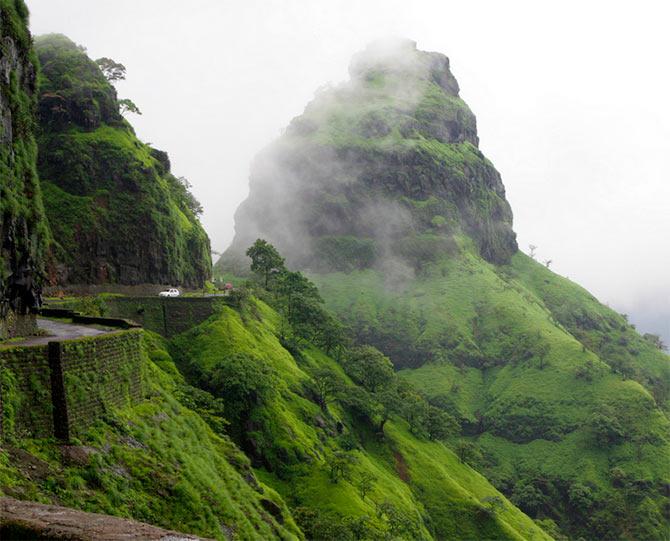 Photograph: Parag Purandare/ Creative Commons
Perhaps the most remarkable aspect of Killa, the National Award-winning Marathi film that released last month, is that it flaunts the Konkan coast like no work before it. Its camera brings to light the underappreciated beauty of the intensely green Sahyadris, dotted with caves and forts.
The mountain range is home to many interesting trekking trails, say avid travellers, and the best time to explore them is during the monsoons.
Of course, caution must be exercised during this season and inexperienced hikers would do well to look for guides as some of the less frequented routes are not marked clearly.
Sudhagad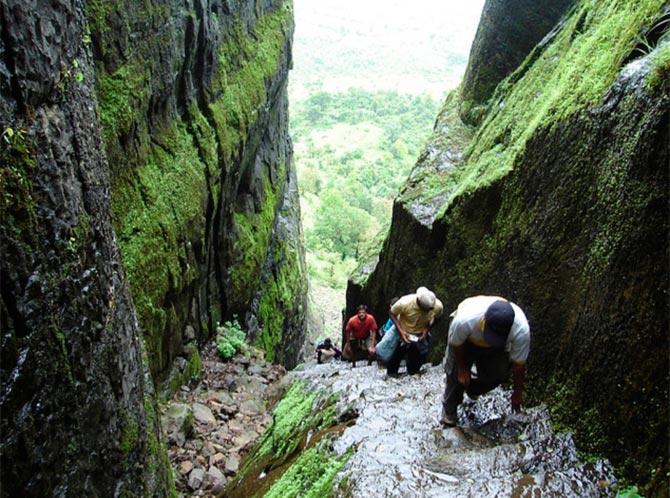 Photograph: Hrishikesh Burkule/ Creative Commons
Sudhagad is one of the well-known but relatively less-frequented forts. Sudhagad near Pali makes for a simple trek. It is recommended for beginners.
The trail gets a thumbs-up from trekkers for its dense forest cover and waterfalls. The fort area includes temple ruins, tombs and lakes. Also to be found within the fort is a secret escape route.
About 1.5 hours from Sudhagad are the Buddhist caves of Khadsamble. These rock-cut structures, which are along the once-bustling trade route from Chaul, became deserted after the popularity of that ancient port declined.
The Thanale caves, a set of 23 caverns bearing carvings of Buddha, are nearby too.
Those who enjoy solitude and being with nature can even camp here, as long as they carry food and watch out for snakes.
The best way to get here is from Khopoli, which is equidistant from Mumbai and Pune.
Lohagad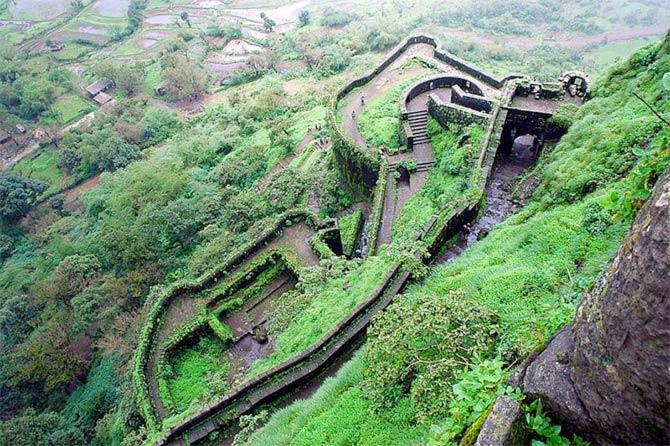 Photograph: Vivek Joshi/ Creative Commons
Lohagad or the 'iron fort', which was occupied by various dynasties including the Marathas, is a protected monument.
Its strategically located doors provided three levels of security and protection against possible invasions, says Rushikesh Kulkarni.
An avid trekker and founder of travel company Breakfree Journeys, Kulkarni suggests this trek is ideal for amateurs as it is quite close to the busy tourist spot Lonavala.
"It is a treat to your senses in the monsoons as clouds descend upon the peak and waterfalls dot the entire route," he says.
The winds are so strong here that they make water from the falls fly skywards, adds fellow trekker Kedar Narwadkar.
Nana Fadnavis, a powerful Maratha minister during the Peshwa period, is said to have constructed a tank and a step-well inside.
Among the other interesting structures to be found in Lohagad are a temple and the grave of a Muslim pir.
The base village is Bhaje, accessible from the Malawli railway station on the Lonavala-Pune local line. On this trail, hikers can also see the Buddhist Bhaja caves.
Varandha Ghat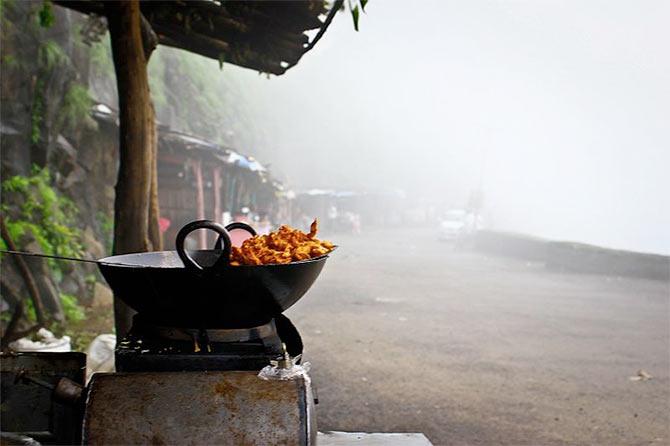 Photograph: Annishaikh1990/ Creative Commons
Varandha Ghat, a misty mountain pass, is accessible by car almost all the way to the top, where several big and small waterfalls come into view.
Trekker Patel highly recommends the local snacks at the small shops here. A further 30-minute hike from the ghat leads to Kavlya Killa.
While there is not much fortification here, one can see the last bastion and a flagpole on the extreme end of the fort, says Patel.
Not far from there is Shivthar Ghal, a small spot that houses a cavern that is believed to have been used by Samarth Ramdas, the guru of Shivaji Maharaj, for meditation. This is also where he wrote Dasbodh, a spiritual text.
At a hilltop adjacent to this spot are two ancient houses of the Maratha chief Chandrarao More.
The region is easily accessible from Bhor in Pune.
Naneghat and Malshej Ghat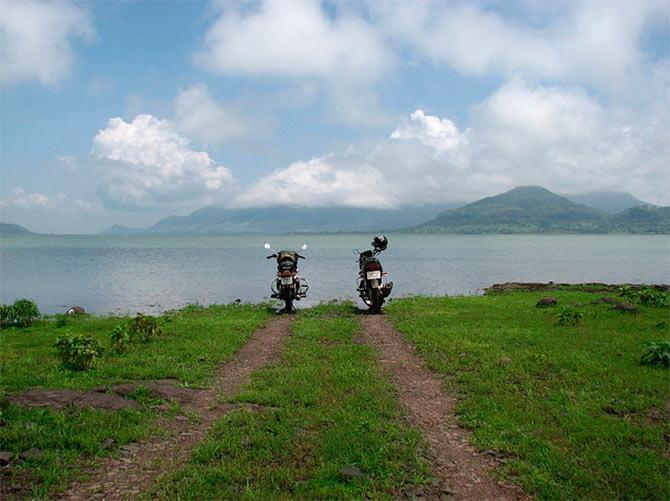 Photograph: Abhimanyu/ Creative Commons
Naneghat and Malshej Ghat are very popular destinations, drawing hundreds of visitors, especially in the rains. However, trekkers can take one offbeat route to head there, which although easy to follow is relatively less known.
Starting from Bhorandyache daar, or the gateway of Bhorande village, the trail is scenic and allows privacy, says Priti Patel, founder of trekking group Offbeat Sahyadri.
Part of a historic trade route between Kalyan and Junnar, Naneghat once served as a spot for collecting toll.
The notable attractions here include caves with Bhrami inscriptions and carvings, ponds, tanks and the nearby Malshej waterfalls.
Malshej is prone to landslides, so it is advisable to conduct safety checks before heading there.
For those interested in Bollywood trivia, parts of Mani Ratnam's Raavan were shot here.
In the later part of the monsoons, migratory birds, including flamingos, visit the region. This route also offers a glimpse of the Bhairavgarh fort.
Naneghat is located just about two hours from Kalyan.