Just an hour or so from the ones we commonly throng to, they promise a lot more for a lot less. Surajeet Das Gupta takes us on a quick tour.
When you're looking in all directions, the globe's circumference always has more to offer. The eavesdropping, the hearsay and the bombarding Instagram feeds have invariably ferried Indian travellers around the globe in the same manner it was once discovered.
To break that chain of uninspiring monotony and pacify apprehensions of the unknown, tourism boards around the world are now bringing lesser known destinations a step closer to India.
These are places just an hour or two from the ones Indians commonly throng to, whether for business or pleasure, and they promise a lot more for a lot less -- exquisite topography, rich cultural heritage, places to see, things to buy.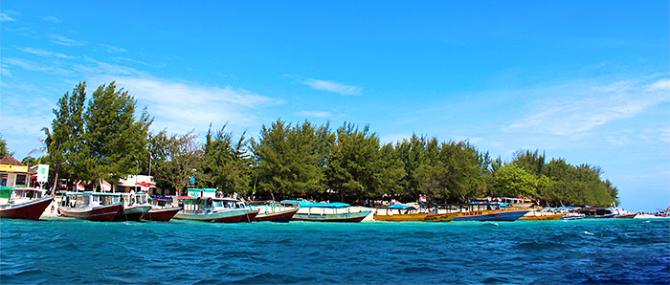 Lombok Indonesia.
Photograph: Ivetta Inaray/Flickr.
Into the blue waters of the Indian Ocean, a two-hour sail north of Bali lies a paradisal destination yet to sparkle in the Indian travellers' guidebook.
Footmarks on the sands of Gilli Islands in Lombok, Indonesia, speak of its trodden paths, but the archipelago is far from being overrun by tourists.
As of now, about 40 per cent of Indian travellers going to Indonesia land in Bali and 30 per cent in Jakarta. Indonesia tourism hopes to get them to push those boundaries and explore the nearby destination of Lombok.
Soak in the sunset view at the quaint white sand beaches of Gili Islands here or go for a deep dive.
Or else, visit Mount Rinjani, the second largest volcanic mountain in Indonesia, and take a guided tour to its Crater Lake.
For shoppers looking for bargains on luxury brands, Bandung, a three-hour drive from Jakarta, is the dream city. Christened by the Dutch as the Paris of Java, more than 70 per cent of the Indonesian textile industry is located here. It has factory outlets of most high-end fashion brands that offer you both seconds as well as best quality overruns for a steal -- Hugo Boss, DKNY, Banana Republic, Armani, Louis Vuitton, Burberry, Roxy, Cerruti 1881 and Sears.
"We are pushing Indian tourists to extend their average stay from five or six days to nine days to include these destinations," says Sanjay Sodhi, CEO of Om Tourism and officer for Visit Indonesia Tourism in India. Hotels and food in Lombok are about 20 per cheaper than Bali or Jakarta. The target is to attract at least 10 per cent of the 386,000 Indians who visit the country annually.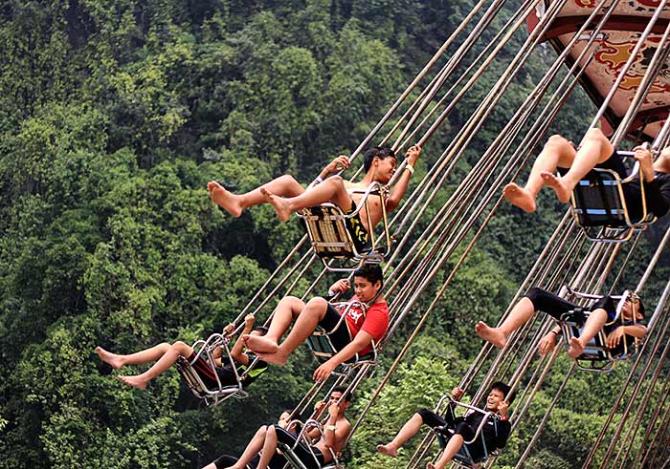 The Lost World of Tambun in Ipoh.
About 200 km from Kuala Lumpur, Perak is now positioning itself as a destination for the great Indian family holiday.
Photograph: Phalinn Ooi/Flickr.
Like Indonesia, Indian travellers have been obsessed with two places in neighbouring Malaysia: Kuala Lumpur and Langkawi.
While India is the country's sixth-largest market for tourism, Malaysia's fourth-largest state, Perak, has been completely in the shadows.
About 200 km from Kuala Lumpur, Perak is now positioning itself as a destination for the great Indian family holiday. Its capital city, Ipoh, boasts of Malaysia's premiere multi-themed action and adventure destination with numerous amusement parks such as the Lost World of Tambun.
Ipoh's Movie Animation Park Studios is touted as Asia's first animation theme park.
Ipoh also has a Little India, which is famed for its Malaysian Indian cuisine as well as pure vegetarian food -- a rarity in Southeast Asia -- owing to the Chettiars, a trading community from south India that came and settled here.
For sightseeing, Perak has many picturesque destinations -- from cave temples to Dutch forts, seaside resorts, a castle and even a leaning tower.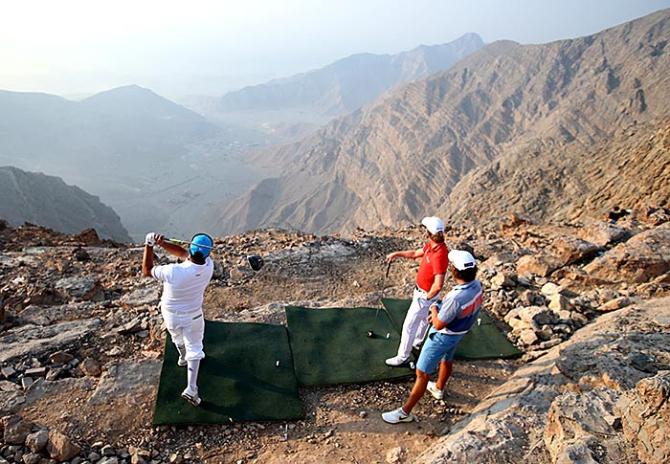 Teeing off from the summit of Jebel Jais, the highest peak in the UAE.
Jebel Jais is in Ras al-Khaimah, just a little over an hour from Dubai.
Photograph: Francois Nel/Getty Images.
Dubai has always been a shopper's paradise. While its manmade architectural beauty has made it the tourism hub of the United Arab Emirates, travellers might want to look towards the other emirates.
A one-hour-15-minute drive from Dubai is Ras al-Khaimah, home to UAE's highest mountain -- Jebel Jais (1,934 metres). Here, the average temperature is 10ºC lower than the mean Gulf temperatures, which means that tourists can take long hikes, go on biking trails or head out camping, otherwise unimaginable in Dubai's hot weather.
More play?
An 18-hole golf course of Al Hamra, built around four inter-connected lagoons merging with the water of the Arabian Sea is in the neighbourhood.
Close to the summit of Jebel Jais is a natural observation deck. Built 1,227 metres above sea level, it has a series of viewing platforms from where one can see the flora and fauna of the Al Hajar mountain range that borders Oman.
Compared to Dubai, the restaurants here are cheaper (by 10 per cent at least). It is not surprising that a number of expats are preferring it over Dubai.
Ras al-Khaimah Tourism Development Authority hopes to draw 900,000 Indian visitors this year, says CEO Haitham Mattar.
The emirate is also quietly becoming an attractive boutique wedding destination for Indians because of its attractive pricing, outdoor venues and an array of luxury hotels, from Waldorf Astoria to Al Wadi Desert.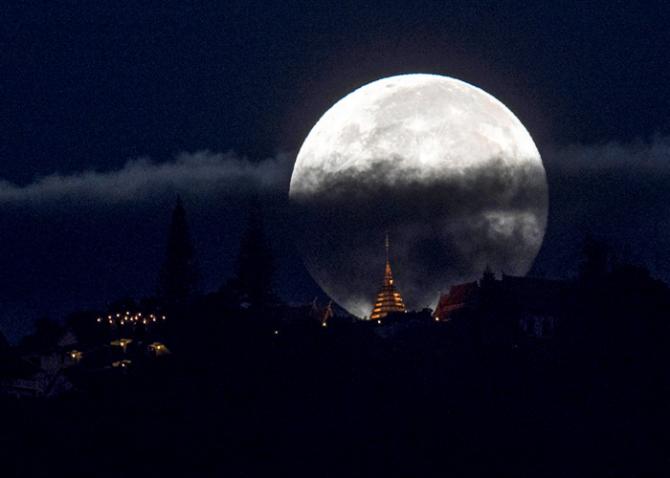 The supermoon sets behind Wat Phrathat Doi Suthep in Chiang Mai

.
Chiang Mai is home to over 100 Buddhist temples, and Thailand's highest mountain.
Photograph:

Athit Perawongmetha/Reuters

.
Far away from the desert, another country that is opening newer locales to Indians is Thailand.
While MICE (meetings, incentives, conferences and exhibitions) travellers have been seeking Thailand out for years, Pattaya and around is where they mostly crowd. Of these, 70 per cent are repeat visitors.
While their loyalty must be appreciated, the government is now pushing Chiang Mai, an hour's flight from Bangkok, as a new alternative destination for MICE travel.
On offer are state-of-the-art infrastructure capabilities to host business events, especially at the newly-built Chiang Mai Convention Centre that can accommodate 10,000 to 12,000 people.
If not for business, travel to explore the city of over 100 Buddhist temples, including the famous Wat Chedi Luang, the 600-year-old temple that once housed the emerald Buddha, or brave a night safari, go white water rafting or a take a tour of the Inthanon National Park, Thailand's highest mountain that boasts of rugged terrain, lush tropical forests and majestic waterfalls.
The tourism board is marketing the destination by giving incentives to large groups, such as "a free cultural programme for a minimum of 200 delegates staying for at least three nights," says Nitin Sachdeva, representative in India for state-controlled Thailand Convention and Exhibition Bureau.
The Thailand government is also offering subsidies on food bills for gatherings of about 500 delegates staying three nights or more.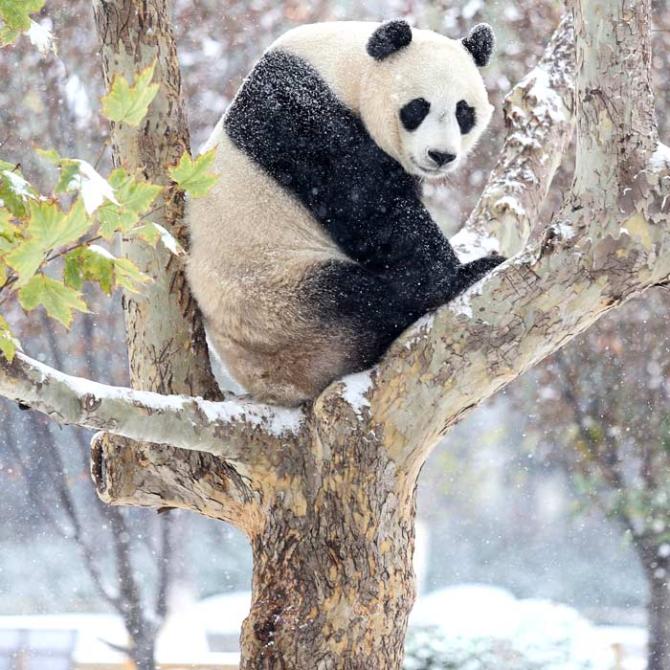 Panda spotting in Jinan, Shandong

.
Shandong is a peculiar mix of the old and new.
Photograph: Reuters.
For the more curious Indian traveller, the ever-developing China is no longer just about Beijing and Shanghai.
Shandong, an eastern Chinese province, has a vast cultural heritage that is sprawled across cities with the most significant, perhaps, being the abode of Confucius, the philosopher and religious preacher.
Apart from the city of Qufu, where Confucius was born and where he breathed his last, a visit to Shandong is a must for the Tai'an city -- the centre for Taoism, the second most important religion in China. The famous Taoist Dai Temple is located here on Mt Tai, the leader of the 'Five Sacred Mountains'.
Shandong is a peculiar mix of the old and new.
Jinan, the capital of the province that lies on the route of the bullet train from Beijing to Shanghai, is known as the city of springs -- it has over 500 of them.
"Shandong is at least 20 per cent cheaper that major cities and offers something that you don't get in Beijing or Shanghai -- a peek into the religion and culture of China," says Anil Kalsi of Ambe Travels, one of 40-odd Indian operators to visit the province.
While a five-star hotel room is available for under ₹10,000 a night, accommodation for the budget traveller starts at ₹3,000 a night.
The lesser-known fact is that there are direct flights from Delhi and Kolkata to Shandong, covering the distance in eight hours flat. If you book in advance, a return ticket will cost ₹20,000.
"We are educating travel agents, doing joint promotions with agencies like Carnation Travels, N Chirag and Apollo Travels and are planning roadshows in India," says Zhang Mingchi, deputy director general of Shandong Tourism. He expects the number of Indian tourists to double to 66,000 by the end of 2017.
A 45-minute flight from Mauritius, Réunion Island is an amalgamation of beaches and mountains encompassing a beautiful landscape.
Photograph: Miwok/Flickr.
A peek into the mind of an aspiring Indian traveller reveals that Mauritius tops the list of wishful destinations for its beaches and seaside resorts. But in the ocean of exquisite, its French neighbour is up for the challenge.
A 45-minute flight from Mauritius, Réunion Island is an amalgamation of beaches and mountains encompassing a beautiful landscape. So much so that 42 per cent of the land has been preserved as an UNESCO heritage site.
While the preferred route is to hop on a flight from Mauritius, there is also a direct flight from Chennai, as many people from Tamil Nadu have made the island their home.
There's also no dearth of Indian restaurants.
The island offers varied experiences, from a rich architectural heritage of the Creole houses in Saint-Denis to luxury beach resorts, an elaborate night life -- and a visit to one of the world's most active volcanoes.
A five-day package for two, including flights, hotels, local travel and sightseeing, starts at ₹1.25 lakh.
For the curious Indian traveller who is ready to dive deep into the unexplored, the paradise lost may be found just around the corner.
Veer Arjun Singh contributed to this report