From yacht cruise to jet skiing, get a taste of adventure this summer.
If an extraordinary experience is what you are seeking, here are some of the destinations around the world.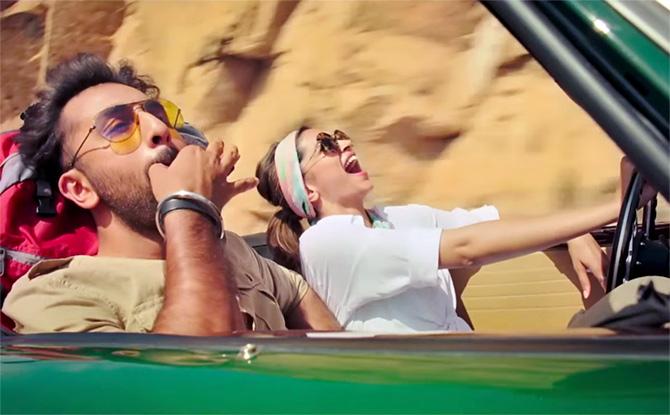 Nowadays, relaxing on a beach or exploring a historical city during vacations has become passe.
Travellers are increasingly opting for experiential holidays and adventure getaways.
Of course, going to these places isn't your routine trip, and therefore, can be significantly more expensive.
According to data from Expedia, over 30 per cent of holidayers now opt for offbeat destinations that offer opportunities for surfing, hiking, scuba diving, kayaking, snorkelling, jet skiing and challenging treks.
Says Rohan Prakash, business head, Trip 360 (formerly Cox & Kings): 'Indian travellers have evolved and are now looking for experiences, more than just a destination. They want to explore newer, undiscovered, lesser-known places in search of experiences.'
Here is a look at a few adventure holiday destinations around the world that can offer top-of-the-line experiences to those for whom money is no object.
1. Luxury yacht cruise in Sydney Harbour
If you are in Sydney, you can opt for a full day's cruise in a luxury yacht.
The yacht will take you across Sydney Harbour Bridge and Sydney Opera house. You will also have a chance to swim at some of Sydney's popular beaches, and even dive off the luxury yacht.
Bengaluru-based Aditya Malhotra recently went on this cruise with his family.
'It was a great way to explore Sydney Harbour. We visited quarantine station and national park areas around the harbour.
'But the best part was the stops at beautiful beaches for a swim. We even got the chance to dive off the yacht and go for a swim,' says Malhotra.
The charges for this ride vary, depending on the type of boat or cruise you choose. The luxury yacht cruise costs ₹371,454 per group for a day.
2. Jet skiing in Miami
When in Miami, rent a boat and go on a water tour.
Different rental packages for boats are available -- for four or eight hours, one day, or even for a weekend.
All packages offer jet skiing, snorkeling, pull tubes and local cruising. You also have the option of kayaking and paddling around.
Popular boating destinations include Miami Beach, Fort Lauderdale, Star and Fisher Island, Intracoastal Bay, Caribbean, Florida Keys, and the Bahamas.
Arnav Kukreja from Delhi went to Miami with friends on his bachelor trip.
'The 54 ft boat which we had rented provided us with various water sports activities in the middle of the water, like skidoo, banana boat ride, etc. But jet skiing was the best,' he says.
A variety of vessels are available -- sport yachts, mega yachts, catamarans, speed boats and party boats.
A 54 ft charter boat will cost you Rs 123,376 for a day, while a 75 ft boat will set you back by ₹285,343. Jet skiing and other water activities are included in this cost.
3. Polar bear adventure in Canada
If you are a wildlife enthusiast, you could go on a tour of the Canadian wilderness to view polar bears in their natural habitat.
A especially designed tundra buggy will take you on this subarctic tour.
Besides polar bears, you will also be able to see other animals like foxes, ptarmigans, and snowy owls.
Aaisha Verma from Mumbai visited Churchill with her husband and kids last year. 'I was not very sure before taking this ride, as I had never gone on a tour like this before.
'But it turned out to be an immensely worthwhile experience. Being that close to polar bears in the wild was surreal. All in all, it was a very satisfying arctic safari.'
If you visit during winters, you could even get a chance to see the Northern lights, also known as aurora borealis.
A five-night Churchill tour and polar bear adventure from Winnipeg costs ₹354,275 per person.
4. Patagonian adventure tour in Argentina and Chile
Besides a tour of the Patagonian region, you can also undertake a variety of other activities in Argentina and Chile, such as glacier-climbing, canoeing along the Lapataia river, and hikes in mountainous terrains.
A 13-day package tour of Patagonia from El Calafate to Ushuaia costs ₹104,166 per person.
5. Galapagos Islands tour, Ecuador
The Galapagos Islands are a cluster of smaller islands.
Here, the landscape includes barren black volcanic rocks, and swathes of white sand beaches.
The islands offer diving, snorkelling, surfing, boating, and hiking. You can spot giant tortoises, sea lions, flamingos and Galapagos penguins.
An eight-day tour of the Galapagos Islands costs ₹138,067 per person.
6. Jeep trip from Reykjavik, Iceland
If you visit Iceland, you can explore waterfalls, discover geysers and tectonic rifts on a private jeep ride from Reykjavik.
You can also go snowmobiling and see the golden circle, blue lagoon, and glacier lagoon.
The charge for a private super jeep trip for a day from Reykjavik is ₹162,025 per vehicle, which can accommodate up to 10 people.
7. Swim with whale sharks in the Maldives
This is the place to visit for underwater thrills.
With a mask and a snorkel, you can swim alongside the largest fish in the world and explore the underwater world.
Ari Atoll in the Maldives is reputed to be one of the best places to dive and snorkel with whale sharks.
Despite being expensive, these destinations are gaining popularity among adventure enthusiasts.
'Sports-related activities, experiencing the local culture, cruise holidays, and water sports have caught the luxury traveller's interest, and that is getting reflected in the booking patterns,' says Manmeet Ahluwalia, marketing head at Expedia India.
If a rush of adrenaline is what you are looking for, these are some of the destinations you should head for.