'You may have not spotted a tiger, but at least four of them were watching you today.'
Tigers may have been elusive, but just to have gone deep in the ferocious, yet magnificent big cat's home was an unforgettable experience, says Shubir Rishi/Rediff.com after a road trip to the Pench-Kanha-Tadoba national parks.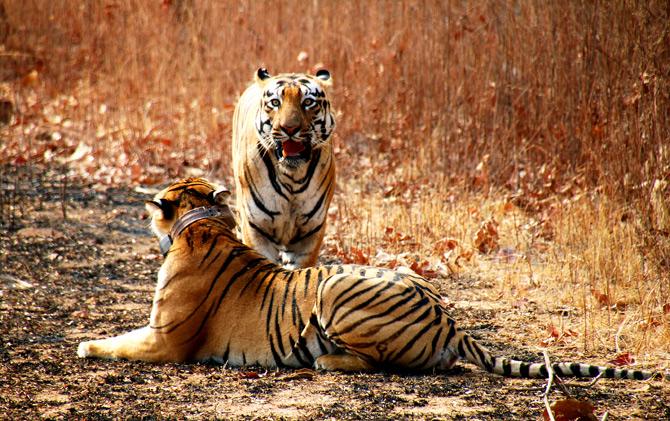 When I was first told that I was to take the Pench-Kanha-Tadoba trail for a whole week, I was dumbstruck. After all, this is where Rudyard Kipling based his Jungle Book that we all grew up to; still occasionally breaking into the unforgettable Jungle jungle baat chali hai...

A month later and there I was, waiting at the lobby for my co-participants to trickle in. At 8:30 in the morning, Nagpur (our starting point), the air was a bit nippy but not freezing as we were warned it would be. The 7-day-long trip was organised by Mahindra Adventures, who have been organising such trips since 2011, most notable of them being one to the Everest Base Camp, a Tri-Nation Escape, and a Monastery Escape.

Soon it became clear (to my horror; I can't drive) that the participants would be assigned their own vehicles -- a Mahindra XUV W10 4WD in our case, and it would require considerable skill to cover long distances and some rough terrain.

But to my relief, one look at me and my fellow media participant Sujith from Kerala, who runs an off-roading event company, suggested wisely, "No, no no, you don't worry about the driving, we are all there, no?"
Man, was I relieved to hear that!

So that gave me a reasonable excuse to click many photographs, and that's exactly what I did. (But so did everyone else, for that matter!)

And as the participants took to their own vehicles after the obligatory photo sessions, marketing strategist K S Venkatesh offered cheerfully, "Now, get lost!", and the journey started.

Day 1


The 170-odd km drive from Nagpur to the Pench National Park is a rather comfortable one -- for it involves mostly smooth, well-maintained (and paid for by us!) wide highways and easy-to-find eateries (which we did not bother about much, as we had plenty of grub). One piece of sage advice (which I ignored, ruefully, and throughout the journey amid jabs from my colleagues), is to have enough cash on you for the duration that you are away from civilisation as you know it -- the lack of ATMs after you leave Pench will have you cursing yourself throughout the course of the journey.
After around 60-odd km, we reach the outskirts of Ramtek, and this is where the route starts to get a little bumpy (that is, if you are not in a 4WD) and rural. We stop by at a pre-determined hotel, refresh ourselves with some tea and coffee and start again, the terrain now getting a bit junglee.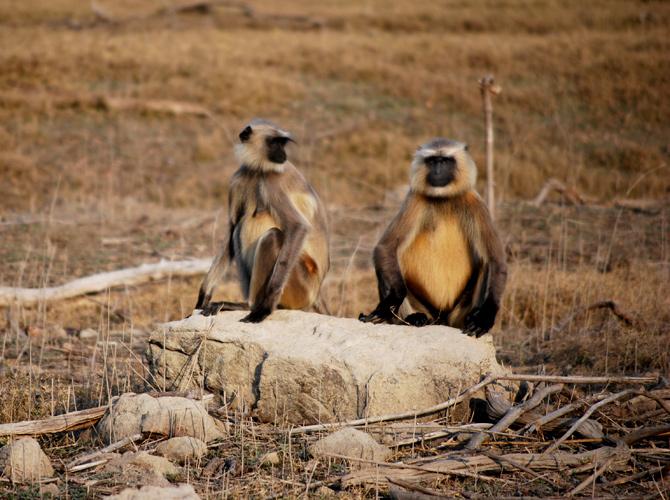 We are a diverse group of about 50 people -- doctors, wildlife experts, marine engineers, IT professionals, automobile geniuses -- somewhat like a self-sustaining village. Divided into some 25 vehicles, mostly made up of XUVs and Thars, it is indeed an impressive sight when we roll on, to the onlookers.
"PM ja raha hai kya? (Is the PM on the move)" asked a visibly impressed cyclist when we stopped to take pictures of the convoy.

"It is not easy, boss," informs Gulshan, an automobile expert and one of the organisers, shifting from one leg to another, and impossibly sucking from a near-dead cigarette. "It is a real pain maintaining a convoy. Every participant has a mind of his own and everyone wants to be in the lead. Besides, we don't yet know their driving skills yet," he flashes a toothy grin, hops into his car and off he goes, leaving me in a cloud of dust.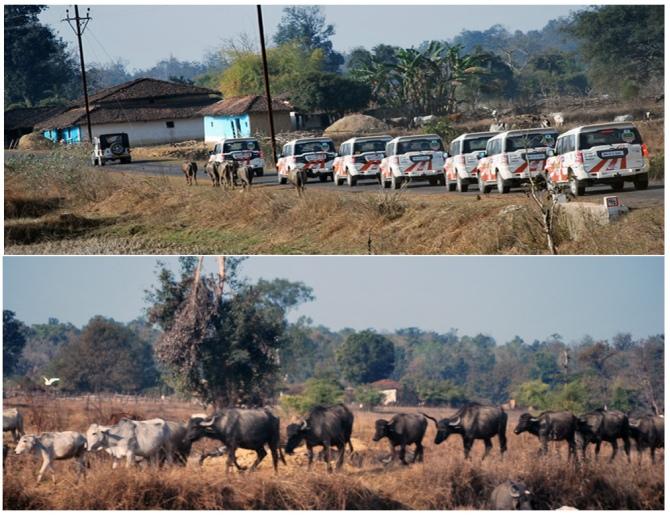 In the lead car is Dr Vinod Thakur, a keen wildlife specialist who runs a non-governmental organisation called the Himalayan Explorers with his effervescent wife Avril, and the couple together have organised many such trips across India. The last car is usually someone from the organisers, keeping an eye on the convoy and making sure no one is left behind.

There are many who are drawn to the driving aspect of the trip rather than the wildlife. "We have covered some 80,000 km in the last year alone on the road," informs Gaurav Gupta, a CFO with a Pune-based firm. He is accompanied by his equally enthusiastic wife Parul, a former crime reporter. "And we will be hitting the road again in March; a much longer route" she says.

After a few hits and misses (all vehicles are equipped with wireless, set on a pre-determined frequency, but the jokes can go on and often get lost in translation and static) we finally reach our first destination -- the Pench National Park.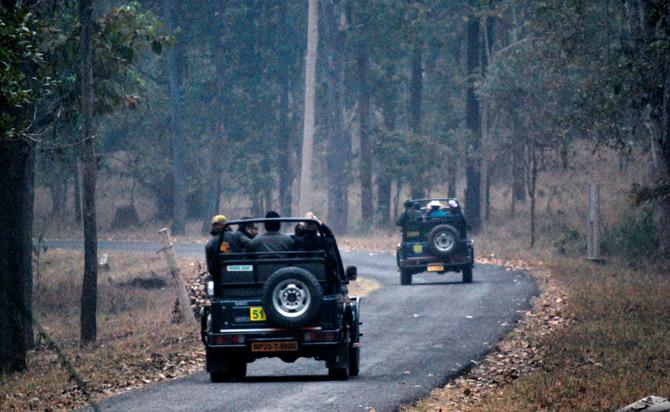 The first safari is at 2 pm, the sun is up, and most people are of the opinion that it would be tough to spot a tiger. Nevertheless, we are packed 6 to each Maruti Gypsy, and in we go.

A word about the drivers and the guides -- they guys are expert trackers, and in any case, have a keen sense of hearing and sight. Tiger pug marks are immediately spotted and all of us let out a silent hurrah!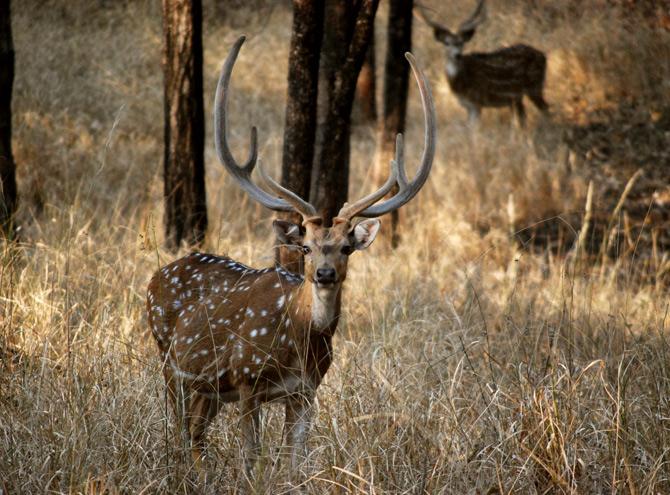 And then we spot our first animals -- spotted deer or cheetals, but given that there are about 35,000 of them in this reserve alone, we quickly learn to ignore them. They are followed by langurs, a curious bunch, but possibly the most disciplined from the monkey family that you will ever see. They look at you curiously from a distance, but do not bother you at all.

We learn to overlook them as well in the first 30 minutes.
And excitement! We spot a couple of frisky jackals, trailing a herd of deer. The lens covers are off, the guide puts a finger up to signal complete silence, and we huddle up and hope for some action.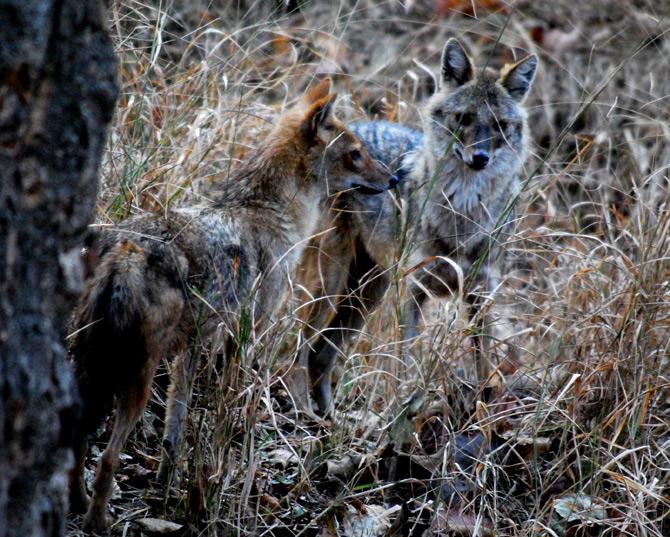 Minutes pass, and to our chagrin, the jackals relieve themselves and move on, unaware of or indifferent to our presence. As compensation, our guide claims them to be a rare sight, but we are soon to learn that they are not so uncommon during this time of the year.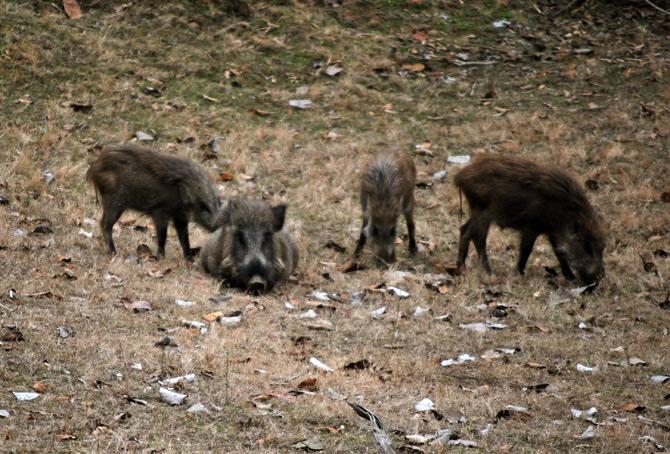 We come across many from our group, disappointment writ large on their faces. There are others, looking forlorn, for they too have had no tiger sighting. In the course of next three hours, we spot around 2,500 deer, a few owlets, a bunch of wild boar, and a lonesome eagle.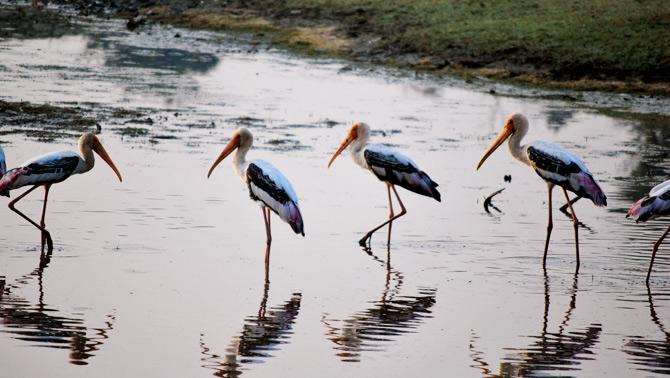 We also come across a flock of painted stork who observe us curiously for a few minutes and then give us a colourful flypast!
But no tiger.
On our way back to the resort, our guide wisely says, "You may have not spotted a tiger, but at least four of them were watching you today."
So thus disappointed, yet hopeful, we return to our hotel, and prepare for the next day's early morning safari. Only to find out that a bunch of cars not only saw the tiger, but also photographed it.
Thus, we silently curse our luck, and hope for better luck next day.
Day 2: Locking horns with the fearless Indian Bison
Day 3: Along came a tigress...
Also read: A date with eternal beauty: Everest!