As the lights come on and the streets start to empty out, many a city starts to reveal its hidden treasures. Avantika Bhuyan finds out how you can experience them safely.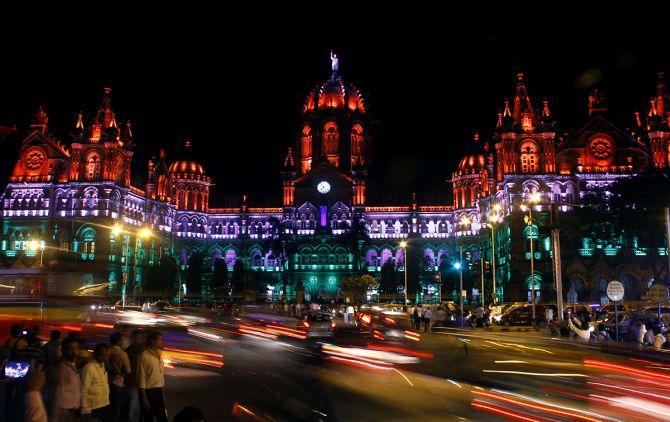 By day, most cities across the world present a similar picture -- crowded roads, rushing people, the urban jungle shrouded in a smoky workaday pall.
But at night, the same vistas present very different scenes. As the lights come on and the streets start to empty out, many a city starts to reveal its hidden treasures -- architectural marvels, heritage landmarks, vibrant cultures, even more exciting sub-cultures, local flavours, ghost stories and more.
To help you discover these facets better -- safely, and in company of like-minded people -- tour coordinators are now creating special evening and night city trails.
Royal repast
A walk through Fraser Town in Bengaluru leads you to a meal fit for a king.
As one traverses the neighbourhood around M M Road and Mosque Road, one gets to sample the many courses that make up the dastarkhwan, a ceremonial feast, the provenance of which can be traced to Central and West Asia.
This two-hour-long culinary walk, starting at 7 pm, is conducted by Bengaluru by Foot, founded by Ameen Ahmed and Mansoor Ali to help residents and visitors experience heritage -- both natural and manmade -- in and around the city.
Also read: A food trip through Bengaluru. Who's coming along?
Food for thought
Food trails have emerged as a very popular category with urban explorers.
As dusk sets, streets come alive with food vendors doling out platters of chaat, chai and conversation.
One of the most anticipated of these food trails is the Ramzan walk through Nizamuddin in Delhi, where one starts from the Shiv Temple and moves through Phoolwali Gali, Khwaja Hall, Attarwali Gali, Chausath Khamba and the Dargah Hazrat Nizamuddin Complex, before stopping for amazing nihari at one of the many food stalls.
In Pune, a popular option for foodies is to eat their way through the Irani cafés and landmark bakeries such as Kayani's and Marz-o-rin, and then head for a walk through the Camp area. Sahapedia, an open online resource on the art, culture and heritage of India, conducted both of these tours last year.
Another popular Sahapedia walk is in Hyderabad, through the famous Charminar to Madina, where one would start with Irani chai and Osmania biscuits at Nirmah Café and end with dinner at Shadab.
In Vijayawada, the 'Mirch Bajji to Panipuri Walk on Gurunanak Road' is recommended. The neighbourhood is known for the softest idlis, but is slowly waking up to the enticing flavours of chaat and kulfis as well, with the influx of workers from northern India.
Comfort yourself that it's not simply about greed: understanding food and food history can also shed light on the changing sociocultural fabric of a city.
'The food stalls open up only after sunset. That's what makes these walks special. Also, it's not hot in the evening, so people are under no pressure to wrap up these walks soon and go home. The atmosphere is more relaxed,' say the founders.
One can sample something as simple as tea with bread to a more elaborate meal that runs to up to 10 courses.
The duo also conducts an iftar walk in the evenings during Ramzan and heritage walks through Johnson Market and Russell Market.
See www.bengalurubyfoot.com and www.sahapedia.org
Also read: Ramzan feasting in Delhi -- in pictures
Regal promenade
As Mysore slows down after sunset, revelling in the shimmering night lights, it's a good time to take a walk through the royal legacy of the city, from the majestic statues of the royal family to the Mysore Palace, its façade illuminated at the end of a light-and-sound show.
En route, you could visit the bustling local markets and observe the lives of the vendors closely.
Royal Mysore Walks, which organises these night-time walks and jeep tours, offers a special sensorial experience during the famous Mysore Dasara as well, where you get to see the 600-year-old living traditions that form part of the festival.
The organisation is planning to start similar night tours in Bengaluru as well.
Also read: 10 photos that capture Karnataka's beauty
Going back in time
Ahmedabad presents a series of contrasts, where medieval-era havelis, community wells and age-old markets coexist with modern architecture and urban living. And with its becoming the first Indian city to be awarded the World Heritage City title by UNESCO, there is great interest among visitors and locals alike to revisit some of the cultural and historical landmarks that make Ahmedabad unique.
Akshar Travels has introduced a heritage night walk of the city, which starts from Siddi Saiyad Mosque, Lal Darwaja at 8.45 pm every night, and ends at Manek Chowk at 11.30 pm.
The street lights and lamps throw aspects of the architecture into sharp relief -- some that are all too missable in the glare of the day.
It's also a great time to interact with the community that inhabits the neighbourhood, with people back home after a long day at work.
The starting point of the walk itself is significant, both historically and architecturally, as the mosque was built in 1573, the last year of the Sultanate of Gujarat. The mosque is famous for its carved, 10-stone latticework windows on the side and rear arches.
The night trail then takes one through Bhadra Fort, Bhadrakali Fort, the statue of Chinubhai Baronet (the first Hindu baronet in British India), AkhandJyot (where a lamp dedicated to Lakshmi has reportedly been burning for more than 600 years) and Lal Darwaja (the oldest market in the city).
Call +917567639008
Also read: The best eateries in Ahmedabad
What lies beneath
A visit to Agra is incomplete without a trip to the Taj Mahal. But what do you do with yourself, once the Taj is closed?
Try a walk that introduces you to the many layers that make up the city of Agra. India City Walks conducts the 'Agra Beyond the Taj' walk at night.
As part of this, you get to move through the many by-lanes and hear stories of the many unsung heroes -- masons, artisans, traders -- who make life in this city work. Guests also get to dine with a local family and savour home-cooked delicacies.
Another such walk by the organisation, aimed at the curious traveller, is 'Jaipur through the Sunset Hues', which focuses on merchants and traders. It takes one on a colourful ride through the markets, especially to the hub of the Manihar craftsmen, who specialise in lac work. In the process, one is regaled with folklore about ghosts, friendly spirits, mythical figures and more.
Email sb@indiacitywalks.com
Also read: What the Taj means to me
Behind the scenes
For those enamoured by the glitz and glamour of all things filmi, there is a night-time tour to take you behind the scenes -- to all that takes place in the studios between 'lights, camera, action' to 'pack-up'.
Bollywood Tours, a Mumbai-based travel operator, arranges for a guide to take you to film sets to experience a shoot at close quarters.
You get to see technicians at work, the flurry of activity in makeup rooms and sets being put together.
This is followed by a visit to trendy nightclubs in the city, and a walk along Marine Drive and Chowpatty. You could also visit the Gateway of India and the Victoria Terminus station -- all of which have served as significant backdrops in Hindi films.
Also read: The most stylish theatres to watch a Bollywood film