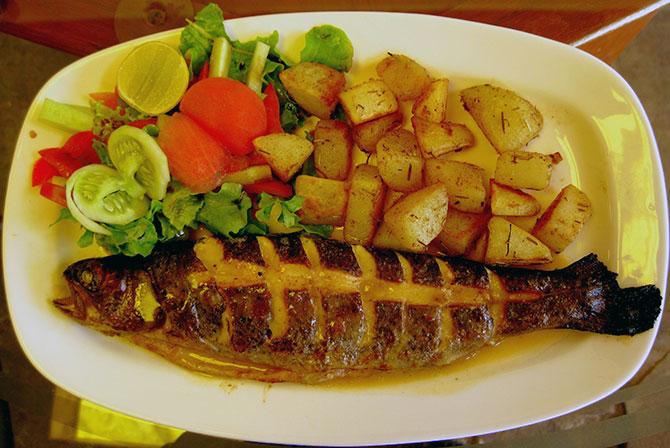 Discovering the charms of Manali's numerous eateries.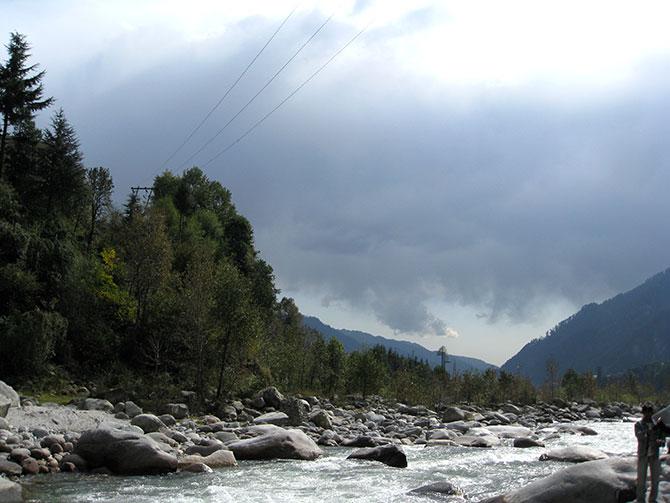 Photograph: D J Singh/ Creative Commons
For some, it is a destination in itself. For others, it is a gateway to more adventurous pastures.
Most agree that the influx of tourists and adventure seekers has changed Manali, and not necessarily for the better.
As we drive past Kunzum La Pass en route to Manali from Kaza in Spiti, our driver says, "Spiti is so unspoiled. Manali will seem crowded and dirty in comparison."
As long as it offers me a hot shower with unlimited water, looking ruefully at my dust-matted hair in the rear view mirror as we bump across a non-existent road, I'm sure I'll love it, I say to myself.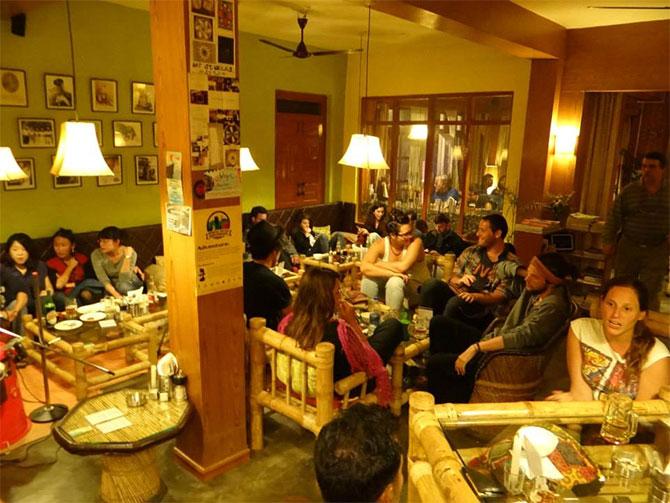 Drifters Cafe, Manali
A fortnight of bathing with a couple of mugs, if at all, of freezing water has made me realise how much I enjoy life's little comforts. "It's so touristy, there are restaurants and bars everywhere." the driver says again.
After two weeks of salt tea, the prospect of a chilled beer is almost unbearably pleasurable.
When we finally reach the appropriately named Drifters Inn in Manali, I feel like a shipwrecked sailor that has just been rescued. But the feeling is curiously mixed with a sense of loss, for it marks the end of the Spiti sojourn, which has been life changing in more ways than one.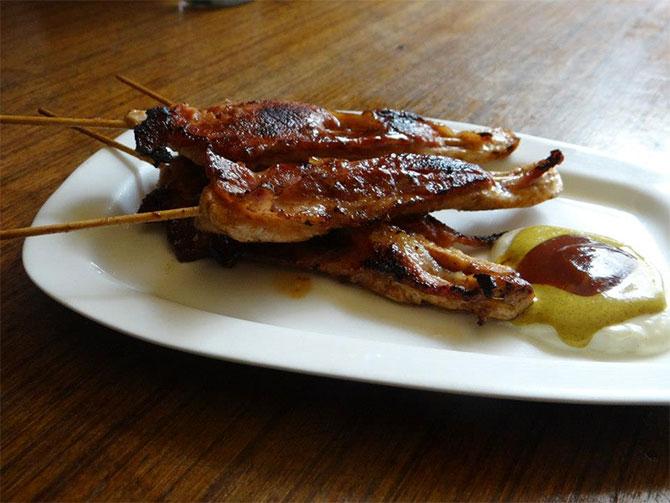 Bacon Wrapped Chicken. Photograph: Courtesy Drifters Cafe, Manali
A hot shower later, and I'm ready to explore the pleasures of Manali with a plate of bacon-wrapped chicken at Drifters Café.
Sting is crooning softly as I finally sink into a floor cushion and look around.
Packs of youngsters sit around, playing board games. The atmosphere is unhurried, but service mercifully quick. I raise a silent toast to civilisation, and dig in.
Outside, the twinkling lights of cafes come on, in anticipation of some evening activity.
Pan Grilled Trout. Photograph: Courtesy Drifters Cafe, Manali
It's September, so freshly caught trout is on every café menu.
I have mine grilled with butter and lemon, and am content.
The next morning, as I sit in the verandah of the hotel, I muse that the Manali of today is indeed unrecognisable from the Manali I'd seen as an 11-year-old.
Then, it had seemed like an enchanted little town with surplus apples from nearby orchards piled high on either side of the road.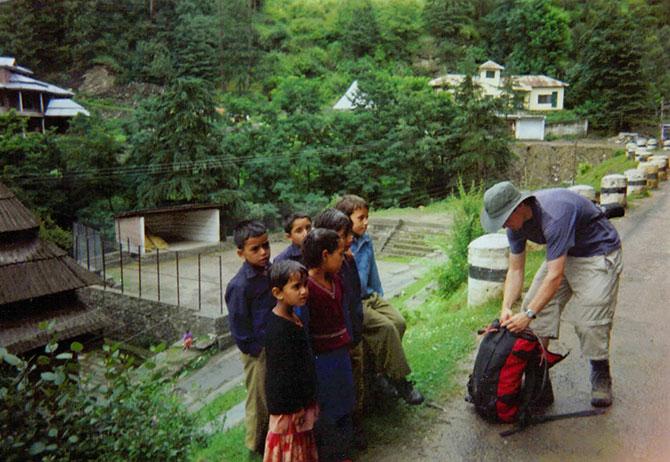 Photograph: Chris Brocas/Creative Commons
Today's Manali is crowded with hundreds of tiny backpackers' cafes, adventure shops and travel agencies that promise everything from rappelling to moonlit raves.
I step out for a walk and find myself in one of Old Manali's labyrinthine lanes.
A quaint jewellery shop, with a homemade sign saying customers can design their own trinkets, is the only place open. Inside, however, the shop is being shorn bare of its trinkets.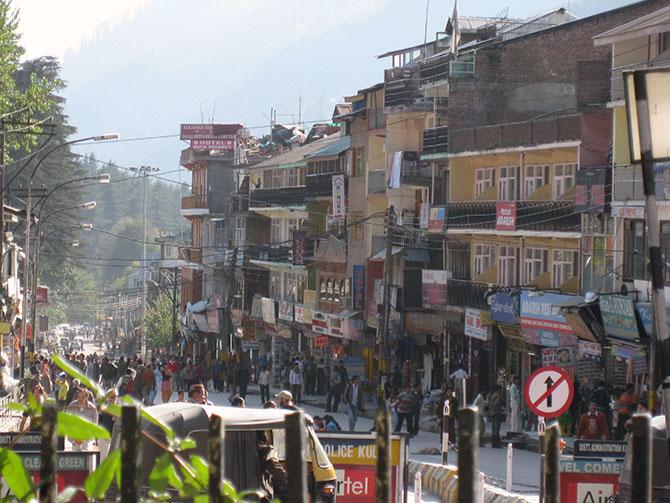 Photograph: D J Singh/ Creative Commons
"Many of us now move our shops to Goa for the winter season." the owner explains. We have a cup of tea brought in by the dhaba next door, and he tells me how Manali came by its name.
"It is said that Vishnu, in his first incarnation as a fish, warned Manu, a great sage, of an impending deluge which would destroy the world. Manu built a sturdy ark and when the floods came, the fish towed it to safety. As the waters receded, the ship came to rest upon a hillside, which has henceforth been called Manali in his honour." "Sadly," he adds, "Manali has changed too much in the last decade. Traffic, pollution, filth — all the woes of civilisation have beset us! But business is good, so we don't complain."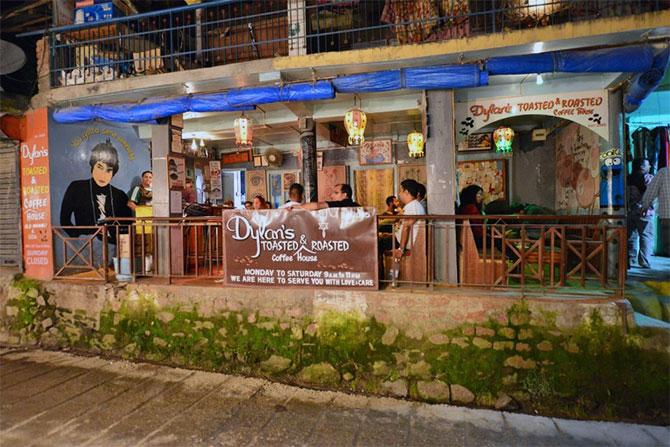 Dylan's Toasted & Roasted Coffee House, Manali
Adventure tour operators beckon with dubious parasailing packages, but I have no desire to cast myself off a mountaintop today.
A taxi driver offers to take me to Hidimba Devi's Temple. I remember the beautifully carved temple from my childhood, but all I want to do today is laze in the sun. So I trundle off for shakshuka (eggs poached on a yummy tomato base) and coffee at Dylan's Roasted and Toasted.
It's early yet, so the place is empty save for a man who is tuning a terrible guitar. But the shelves are scattered with interesting books and the September sun is mellow, so I order one of their famous chocolate chip cookies with my coffee.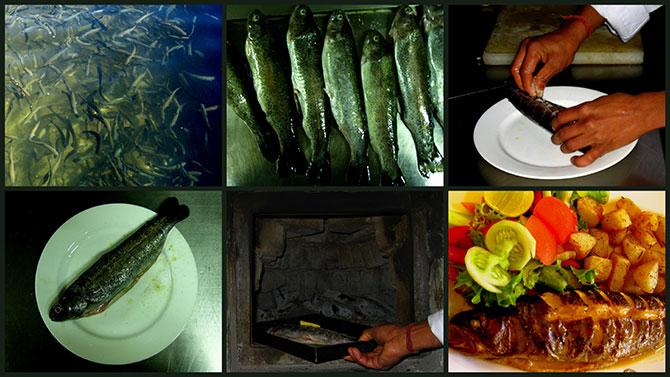 Photograph: Courtesy Drifters Cafe, Manali
Over the next few days, I realise that Manali's traffic is truly terrible, overflowing its narrow streets and leaving pedestrians with no place to walk. As I duck into narrow alleys to avoid it, I wonder why it is that when tourists love a destination in India, they literally love it to death.
To avoid the crowds, I spend the next few days in many of its delightful cafes and restaurants, arguably the only places left to enjoy Manali.
I have trout at Johnsons Café (superb) and pizza at Il Forno's (crisp and delicious); apple pie from every other roadside bakery and coffee at Dylan's; burgers with yak cheese at Drifters and more.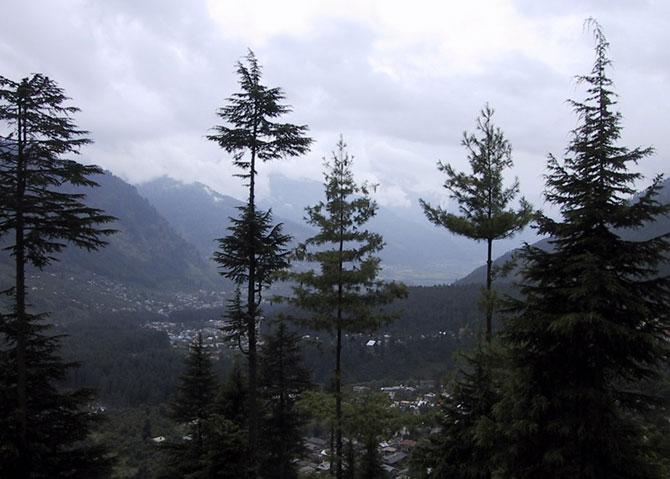 Photograph: rickonine/Creative Commons
In spite of it all, I find myself thinking again and again of Spiti's clean, spare mountain air, and realise that perhaps I'd been too ready to embrace civilisation when I reached here. For the pleasures of Manali disappear the instant one breathes a lungful of diesel fumes instead of clean mountain air — but my memories of unspoiled Spiti will last a lifetime.