50 years after a cyclone wiped it out, Dhanushkodi is slowly finding its feet. A tourist attraction precisely for its desolateness, road connectivity could soon transform it. Saisuresh Sivaswamy, who spent a few hours there, comes back enchanted. Photographs: Saisuresh Sivaswamy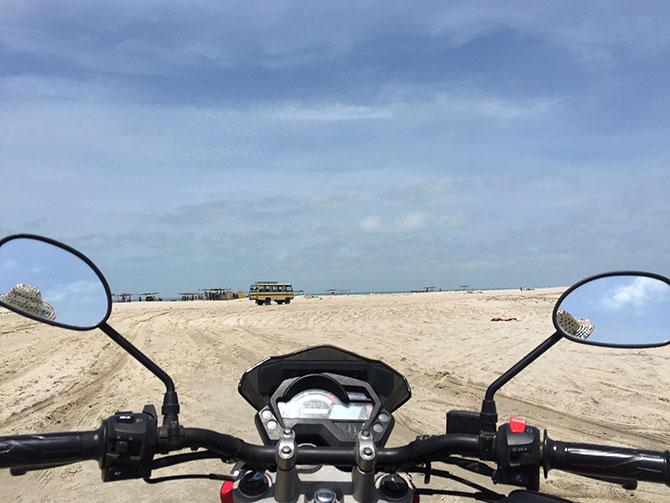 As the doughty, packed to the gills Mahindra 4WD vehicle bounces along the tracks left by others of its ilk, along the undulating sand dunes leading up to the seaside, you strain your eyes to see the desolate yet mesmerising sights outside.
It is just sand dunes, as far as the eye can see, in various shapes and grey shades. But on the horizon is a sliver of silver that expands as you weave across towards it, into the glorious sea that is at times green as emerald and suddenly azure as a clear summer sky.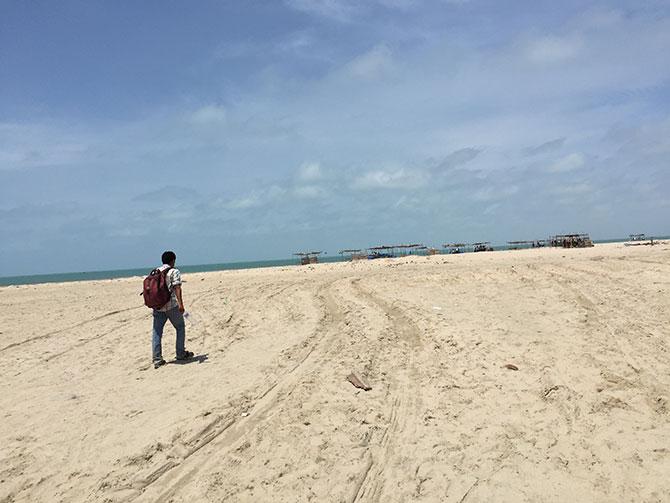 Just as the waters of Indian Ocean and Bay of Bengal merge here in many hues, Dhanushkodi is where legend, faith and macabre recent history mingle to form a skein of emotions as you gaze across the severe, sere, landscape.
Legend has it that Ram crossed over to Lanka to rescue his wife Sita from Ravan's clutches from here. This is where he built the Ram Setu, with floating rocks (one of them is under lock and key in a temple in the ghost town), to cross over to Thalaimannar, a few kilometres across the Palk Straits.
Legend further tells that on his successful return he destroyed the bridge with the tip of his arrow on the request of the new king of Lanka, Vibhishan, thus immortalising the town's name (dhanush + kodi meaning end of a bow).
Political parties may squabble over the legend's veracity but for the local folk this is all part of history, just as there are spots associated with Ram and his life in distant Ayodhya. On the way from Rameswaram to Dhanushkodi is the Kodhandaramar temple, where Vibhishan is said to have surrendered to Ram and anointed king of Lanka.
The association with Ram, and the proximity to Rameswaram, where the ancient warrior-king is said to have prayed to Lord Siva before embarking on his journey to Lanka, vest the town with divinity.
For most devotees who visit the eponymous Siva temple in the temple town, a visit to Dhanushkodi, around 25 kilometres away, is a must, a bath in the ocean not advised owing to the treacherous waters but still indulged in.
Lore has it too that a pilgrimage to Kasi/Varanasi/Benaras is incomplete without praying at Rameswaram.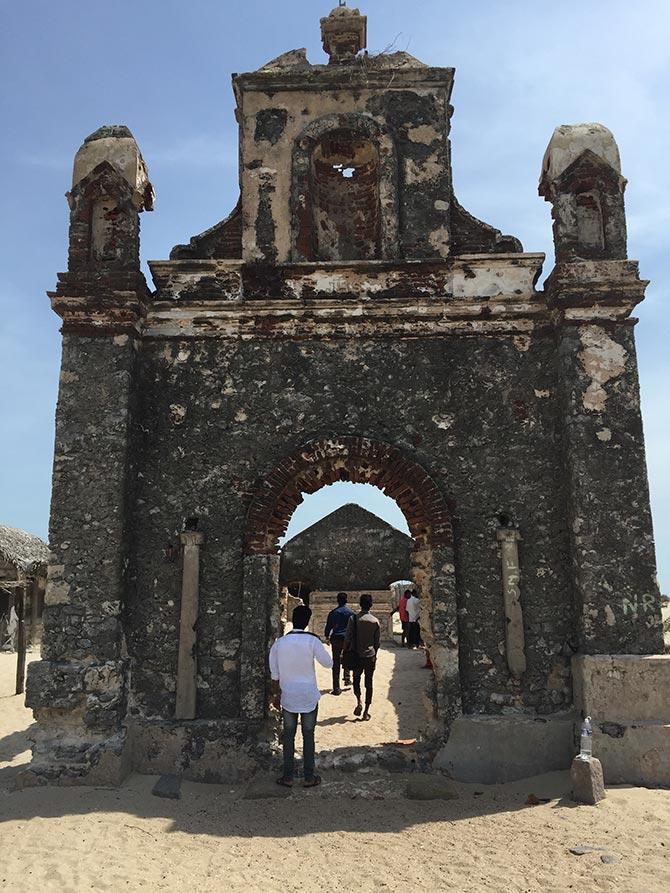 But growing up in Tamil Nadu in the 1970s-'80s it is not distant happenings or the power of faith that you remember the town for but a horrid December night from 50 years ago.
When a furious cyclone swept the then bustling town, people, buildings, everything into the all-devouring oceanic maws, the metres-high tidal waves even swallowing up a whole train with all 115 on board.
It was something that stays seared into your memory the way only a nightmare can.
What about the people on the train? What were their last thoughts as their carriages were yanked into the sea by forces beyond comprehension?
What of the townfolk, did anyone survive? What is the place like today?
Till the disaster, Dhanushkodi was like any other Indian town. It had a port for traffic to and from Sri Lanka; it had a railway station, a post office, hotels, the usual urban accoutrements you will find in any town of that vintage.
Pamban, the island in Ramnad district which houses Rameswaram and Dhanushkodi, was connected to Mannar in the mainland via a railway line. And regular trains would ply between Madras Egmore and the tip of the island, disgorging and collecting men and materials from the ships from Thalaimannar that would come calling at the port.
Today, all that is left of the town are skeletons of what was, and a splattering of hutments occupied by the fishermen families who continue to live there.
After the December 23-23, 1964, cyclone the town was declared 'unfit for occupation' and it doesn't look like anything has changed on the ground.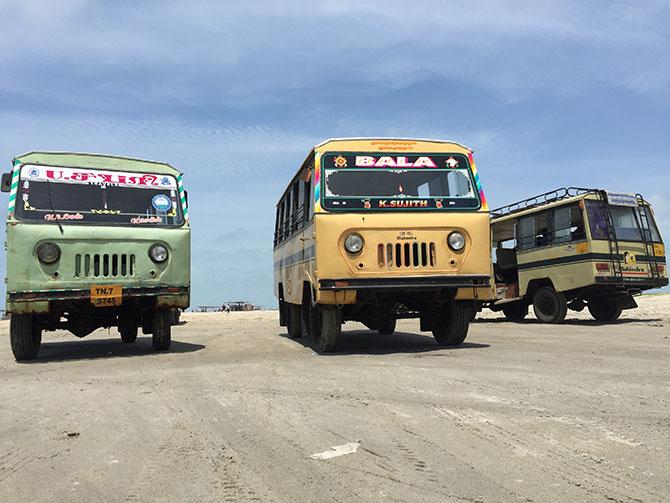 To get to Dhanushkodi you will have to drive down from Rameswaram, from where a clutch of 'tempos', as the ancient Mahindra 4WDs are called, ferry you till land's end, the south-east corner of Pamban island.
Traffic is regulated, so even if you have a 4WD of your own you will need to register it at the checkpoint at Mukundarayar Chathiram where all tempos, waiting for passengers, are grouped.
Once upon a time there was no regulation and movement was easy. But once Sri Lanka's Tamil ethnic problem began to intensify, this was where boatloads of Tamil refugees would alight, and as the militancy in the island-nation grew virulent the authorities moved in, clamping down on any illegal entry.
On a clear night, it is said, the lights of Thalaimannar can be seen.
***
The road from Rameswaram goes beyond the barricade at Mukundarayar Chathiram but no vehicles are allowed beyond this point. One can walk all the way on this road, which looks like a good half hour's trek. There are stalls selling vaazhakkai bajji (coconut fritters), sugarcane juice and such. Fried fish is also sold here, but usually in the evenings, we are told.
This point is, for those who don't wish to undertake the short but time-consuming drive in decrepit vehicles to land's end, known poetically as Arichal Munai in Tamil (or, Erosion Point), the walk along the coast will do fine. But if you decide to go all the way, remember, some tempo drivers really pack it in, like ours did, and charge Rs 100 per head, otherwise the norm is Rs 150. They are also open to hiring out their vehicles for smaller groups but on fixed payment, say, around Rs 2000.
If your driver is a voluble man, like ours was, you will get a running commentary of the scenery on the way. 'There, that was the track there that got blown away.' 'Here, you can see the tracks from that night.' All this is in first person, like he was witness to that traumatic night from 50 years ago.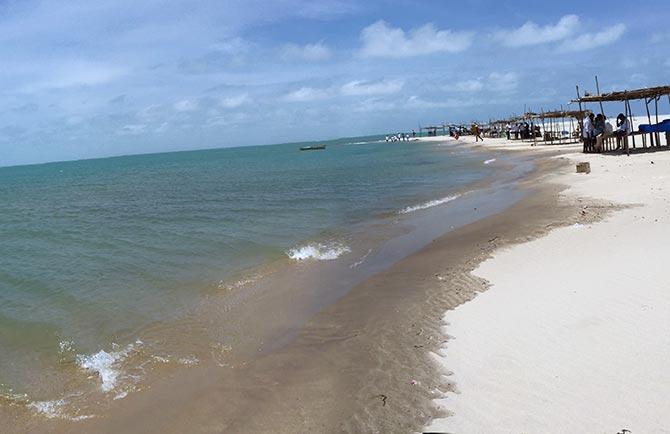 The locale is perfect for film shootings, and as if on cue our man rattles off a list of directors who have shot here, starting from Mani Ratman in Kannathil Mutthamittal and including many others.
Arichal Munai is mesmerising and inviting. There are a few stalls here, selling the usual souvenirs (shells, and more shells, in all shapes and sizes), water, lime juice etc.
The right setting for a chilled beer given that the sun is glaring down at you, you tell yourself, but alas, no luck with the spirits. Although, judging from the odours emanating off a group, where there is a swill, there is a way.
After spending around 30 minutes at the waterfront – really, if you are not swimming, how long can you withstand the afternoon's scorching sun even if the view is breath-taking?
The tempo trundles to the village some distance away. Which is when the reality of what happened that night 50 years ago hits you.
The church, its roof blown off, silhouette dominant, stands like a silent sentinel over the destroyed homes around, and there's a small temple next door. A little further is what our driver-guide says was the railway station.
The water tank was next door, what is left of it are the columns, pointing an accusatory finger at the skies.
There are a few hutments where fisher-folk live, there's a local school with classes till the eighth standard. Kids try to sell shells to visiting tourists for Rs 10 a pop.
The tourist traffic is constant, through the year except during the rains, and amounts to a few thousands. The numbers are expected to go up exponentially once the sanctioned road from the Mukundarayar Chathiram till Arichal Munai becomes a reality, by next year.
There are earthmovers clearing the way for it, and there's an air of expectancy among the locals that with connectivity their lives too will improve.
Hotels will come in, so will electricity and regular water supply, schools and hospital… And a ghost town will finally be laid to rest.
Dhanushkodi needs to snap out of it, 50 years is enough time to grieve.
But for now, everyone is grim-faced on gazing at the remainders of what nature's fury can do, and the return journey is sombre.
You too can share your travelogues! Send in your travel experiences along with photographs to getahead@rediff.co.in (subject: Travelogue) and we will publish select responses right here on Rediff.com!