New York City's Central Park charms Geetanjali Krishna in every season.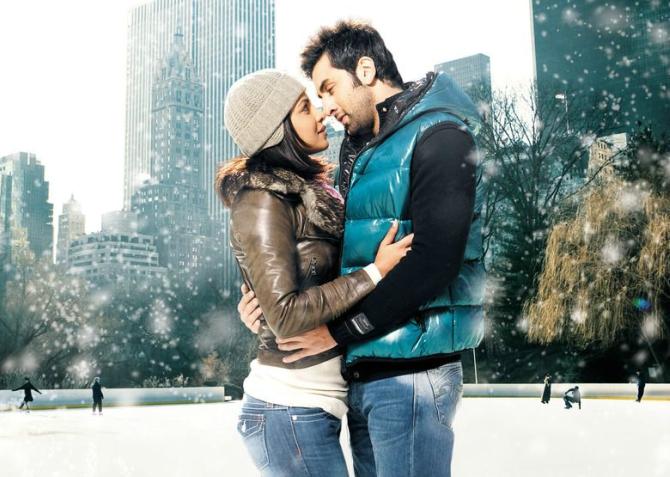 Winter at Central Park.
The iconic Wollman Rink in Central Park has been featured in several films, including Priyanka Chopra and Ranbir Kapoor's Anjaana Anjaani.
I've always believed that a city is as good as its parks. Not surprising then that my love affair with New York began with Central Park.
The day we landed, a local friend offered to take me to the Metropolitan Museum of Art.
'If you don't mind the walk, we could cut across Central Park,' said she. Thank goodness I was wearing sensible shoes.
The park turned out to be such a miraculous oasis of nature amid NYC's concrete and glass skyscrapers that I ended up spending the day exploring its many wonders, from the Wollman Rink to Sheep Meadow, and Bow Bridge to Bethesda Fountain.
Central Park defined my experience of New York on that trip.
Every morning, I'd brown bag my breakfast or lunch and head there armed with a book.
The lake would be full of mallards and geese, with the odd boat bobbing placidly against the backdrop of the New York skyline.
I developed a special fondness for the Ramble, a forested area where plump squirrels would poke into picnic lunches left unattended. Turtles sunbathed on the edges of the lake, while the park celebrated summer with a series of free concerts and Shakespeare in the Park.
Once, I struck up a conversation with an alarmingly fit personal trainer named Sally who was enjoying a breather at Bethesda Fountain. She was there training a 65-year-old for a marathon.
'Central Park really inspires people to run,' she said robustly. 'You should try it.'
I remembered with a short-lived pang of guilt, the calorie-ridden burger from Shake Shack in my brown bag, and refrained from comment. But her remark did make me start walking there every morning, and this has now become a much loved ritual whenever I visit New York.
Seasons in New York are dramatically variable, with summers as hot as in North India and blustery winters during which snow blankets everything in sight.
When it melts, plants resurrect triumphantly and the park is a sight to behold. I saw this when I next visited to New York one April, and headed straight to Central Park with the excited anticipation of meeting an old friend.
The old friend looked rejuvenated, resplendent with baby animals, cherry blossoms and tulips in every nook and cranny.
My morning excursions to the park tended to extend till noon and I spent many a happy hour exploring its woods and walkways.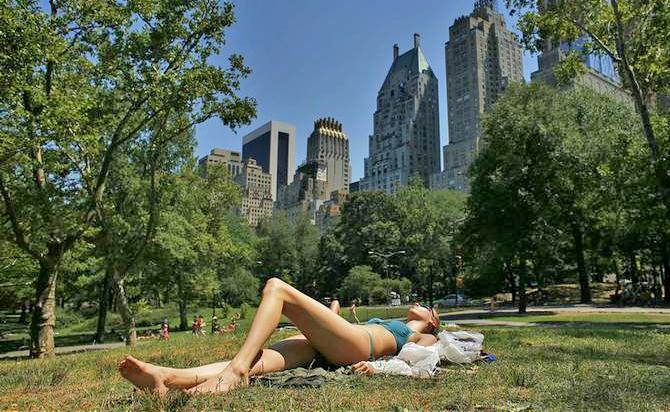 Summer in Central Park.
Photograph: Eduardo Munoz/Reuters.
The dance of seasons at Central Park continued when I found myself in New York in late September another year.
The trees in the park were just beginning to turn colour.
One morning, I tagged along with a group of birders to spot species of redstarts, sparrows and finches in the Ramble. The lush grass in Sheep's Meadow was a beautiful counterpoint to the glass behemoths behind it.
'Give it two months,' said one of my birding buddies. 'It'll be all dreary and covered with snow!'
But when I did get to visit my old friend one winter, I was transfixed by the trees, with their icing sugar-like dusting of snow.
The iconic Wollman Rink, where the 1970 Hollywood hit, Love Story was filmed, was full of skaters and sightseers warming their hands on hot chocolate. Of course, today, the ice skating rink is better known as the project that Donald Trump completed.
The story goes that six years after the city began renovations on the rink in 1980, Trump declared to Mayor Ed Koch that he could complete the project in six months. And he did.
Apparently, when New York Times asked Trump if he would skate on the rink, he famously declined, saying: 'There are too many people who would like to see me fall on my rear end.'
Some things, unlike the landscape of Central Park, don't change.
On a more serious note, my rambles through Central Park have made me realise that parks don't just cool urban temperatures, absorb carbon, muffle traffic noises, filter pollutants, uplift the mood, reduce anxiety and more.
I'm obsessively in love with parks and urban forests because they give me hope. Hope that old trees, young plants and wild creatures can still find a home inside the concrete jungles of our cities.
And that's something to hope for, isn't it?