From Mathura to Udaipur, we tell you the places to head to this month.
Come March and both Indians (and foreigners alike) wait for Holi, the festival of colours.
Almost every city in India -- especially the ones in North India -- celebrates Holi.
But have you witnessed the traditional festivities in Vrindavan or experienced a cultural Holi in Shantiniketan, Kolkata?
This year, Holi on a Monday and it gives you the opportunity to enjoy a long weekend.
Also there's the Mewar festival in Udaipur from March 29 to 31.
If you haven't planned your trip yet, here's our Top 4 travel picks for the month of March.
March 11 to 13: Mathura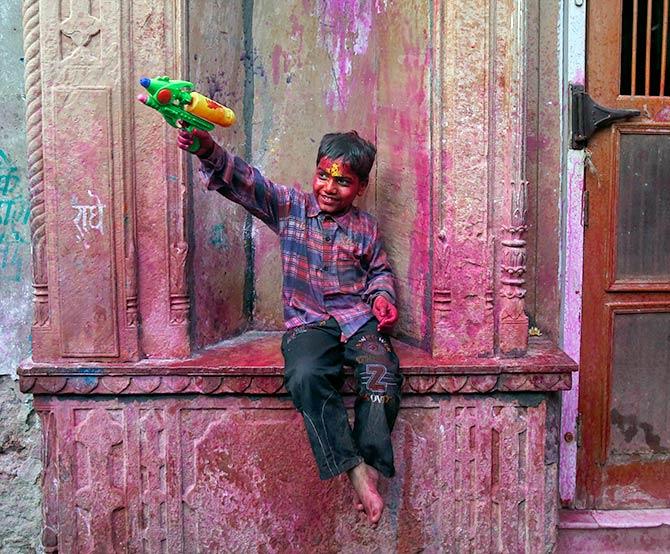 IMAGE: A boy plays with a water pistol during the Holi celebrations in a lane near the Bankey Bihari temple in Vrindavan.
Photograph: Vivek Prakash/Reuters
Why: Holi
Holi, also known as the festival of colours, heralds the beginning of spring and is celebrated across India with great gusto.
However, if you want to experience a traditional Holi celebration, head to Vrindavan.
Here, people celebrate Holi for over a week.
A favourite among tourists, the temple town, which is located in the Mathura district of Uttar Pradesh, draws thousands of tourists every year during Holi.
Things to do
Start your day on a religious note by visiting the small temples lining the ghats of Mathura.
Taste the Mathura ka peda and sip bhang as you join in the celebrations.
Alternatively, you can visit the villages of Barsana and Nandgaon (also believed to be the hometown of Radha and Lord Krishna), where locals celebrate Lathmaar Holi. Women dress in colourful clothes and thrash the men of the village. In their defense, men can only splash colours on women.
Traditionally in Hindu culture, widows are expected to renounce earthly pleasure and that's why they do not celebrate Holi. But women at the shelter for widows in Vrindavan, who have been abandoned by their families, have begun celebrating the festival by throwing flowers and coloured powder. How about being a part of their Holi celebrations and bringing a smile on their faces? You can also watch the Raasleela, a re-enactment of the dance between Lord Krishna and his lover, Radha.
How to get there: If you're travelling by air, you can take a flight to Indira Gandhi International Airport, New Delhi. From the airport it is a four-hour drive.
You can also take a train to Vrindavan Railway Station.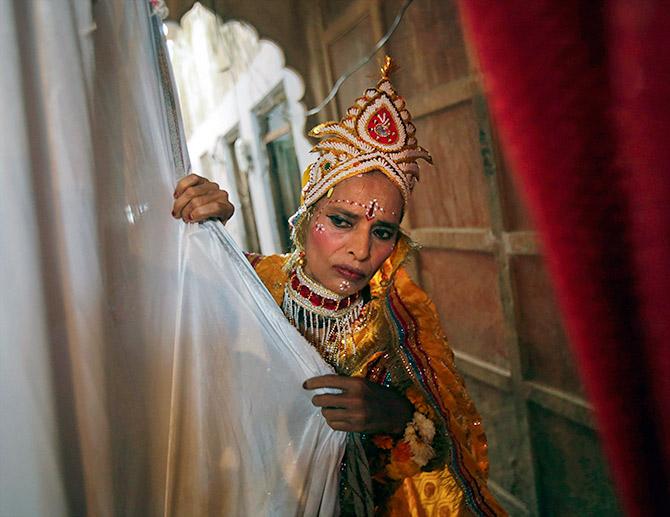 IMAGE: A woman dressed as the Hindu goddess Radha looks out from behind a curtain during a Holi celebration at the Meera Sahavagini Ashram in Vrindavan.
Photograph: Vivek Prakash/Reuters
---
March 11 to 13: Shantiniketan, Kolkata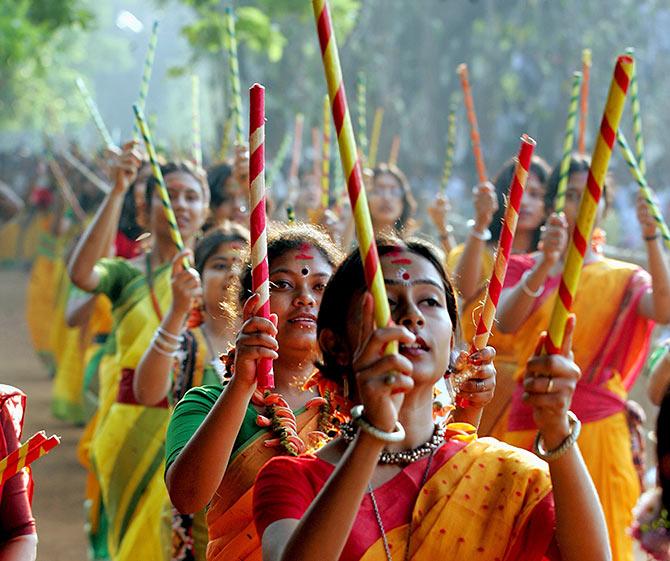 IMAGE: Indian students dance during the celebration of Basanta Utsab, also known as the Spring Festival, at Shantiniketan. The festival marks the end of winter in the Hindu calendar.
Photograph: Jayanta Shaw/Reuters
Why: Holi
At Shantiniketan, spring is welcomed not just with colours, but with beautiful songs and dances.
Dressed in yellow, the students organise a procession early in the morning where they dance, sing songs by Rabindranath Tagore and other Baul singers, play the dhol and throw colours on each other.
It is a visual treat to watch them in action. Lunch is an authentic Bengali style and evenings are reserved for cultural performances.
Things to do
Visit Tagore's ashram.
If you plan on having a longer vacation, you can visit Kolkata and also go to the Ballavpur Wildlife Sanctuary.
How to get there: You can take a cab from the airport to Shantiniketan. It will take you around three hours.
You can also take a train to Bolpur, and then cab it out from there.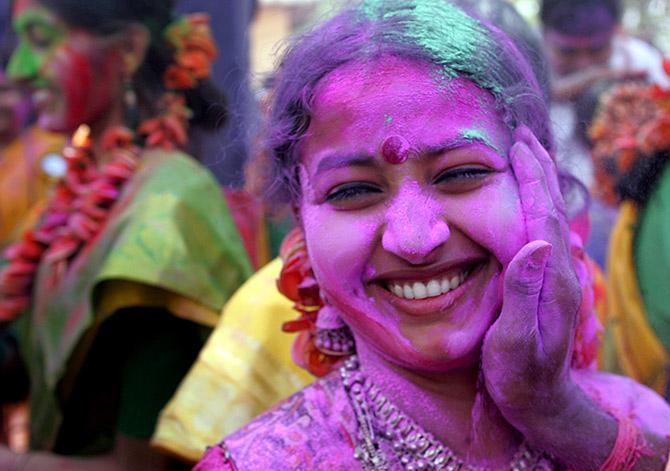 IMAGE: Coloured powder is applied on an Indian student during the celebration of Basanta Utsab, also known as the Spring Festival.
Photograph: Jayanta Shaw/Reuters
---
March 30 to April 1: Udaipur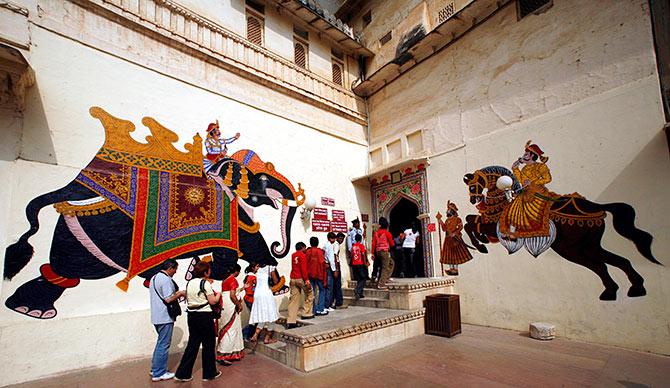 Image: Tourists stand in a queue outside the entrance of the City Palace in Udaipur.
Photograph: Vijay Mathur/Reuters
Why: Mewar festival
Once in a year you get to witness the Lake City in all its glory. The Mewar festival coincides with the popular Gangaur festival, which takes places across Rajasthan to celebrate the arrival of spring.
Be prepared to be thrilled with colourful performances, dance, music and some amazing fireworks at this three-day fest.
During the festival, women carry idols of Lord Shiva and Goddess Paravati through different parts of the city and finally taken to the Gangaur ghat where they are transferred into special boats and then immersed.
You will also spot the royal boat of the palace during this festival.
The festival is still celebrated the way they did it 75 years ago and always ends with a outstanding display of fireworks. It is a delight to see the fireworks light up the sky in the evening.
Things to do
A boat ride on Lake Pichola is a must.
If you have the time, you can make a quick stopover to Ajmer and visit the dargha there.
The Ajmer Urs, which is held to commemorate the death anniversary of Sufi saint Moinuddin Chisti, takes place during March 29 to April 6.
How to get there: Udaipur is easily accessible by road, train and air.